You can probably blame this one on me, I had the recap 99% complete before Mariano Rivera even took the mound in the ninth. It was getting late and I wanted to get to bed at a reasonable hour. My bad guys. I hear Boston's parade is scheduled for Tuesday and the Yankees are already scouting Stanford's Mark Appel for the first overall pick next June.
Freddy Sez: Hey, Not Bad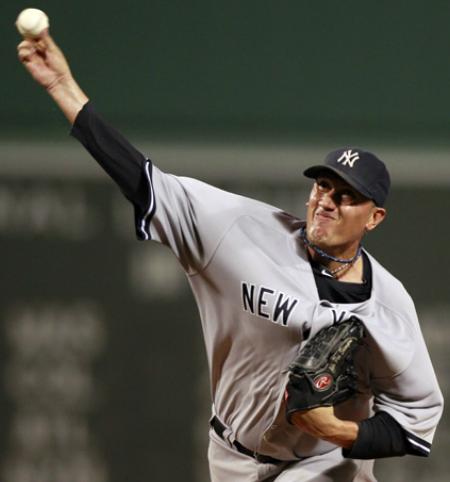 Did you expect five innings of one run ball out of Freddy Garcia? Did you expect him to actually throw five innings after the Red Sox loaded the bases with no outs in the second inning? I sure didn't, not on either count. But he did it, that son of a bitch.
Garcia escaped that second inning jam by allowing just one run, and he nearly wiggled out of it unscathed before Marco Scutaro's two-out single. The Sox didn't exactly pound the ball either; Kevin Youkilis walked, David Ortiz grounded a single through the right side, and Carl Crawford reached on an infield single before Garcia got a strikeout and pop-up from Josh Reddick and Jason Varitek, respectively. Sweaty Freddy pitched around a leadoff walk in the third, a two-out walk and single in the fourth, and a leadoff single in the fifth.
All told, Garcia walked three and allowed five hits, all singles and only three out of the infield. He had to work, throwing 96 pitches (54 strikes, 56.3%) to get just 15 outs, and just eight of the 22 men he faced saw three pitches or less. Nine of his non-strikeout outs came on the ground as well. It's totally cliche but I don't care, Garcia had the kind of night that is typically described as gritty and gutty, a veteran pitcher not succumbing to pressure, stuff like that. I'm behind the point of caring about the process, Freddy got the results and has been all season. One run in five innings against the Red Sox is getting the job done.

Everyday Shortstop
I get on Eduardo Nunez a lot, more than most I'd say. But give the kid some props, that was a pretty big homerun off Josh Beckett in the fifth inning. Beckett left a 1-0 cutter up in the zone and Nunez put his patented hack on it, driving the pitch over the wall in left and into the light tower. It tied the game at one, though the fallacy of the predetermined outcome says it's should have been a two-run shot if Russell Martin hadn't gotten thrown out trying to stretch a single into a double one batter earlier. Beggars can't be choosers, the game was tied and that's all that matters.
Escape
Things got a little hairy an inning after Nunez tied it up, though it was hardly a well-built rally for the BoSox. Boone Logan came into face a triumvirate of lefties, but he walked David Ortiz after throwing what appeared to be strike three and strike four. Carl Crawford managed to squeeze an infield single through the left side to put men on first and second with none out. Josh Reddick popped up for the first out, then in came Cory Wade to face the bottom two hitters in the order.
Uncharacteristically, Wade started the corpse of Jason Varitek with three pitches out of the zone. The fourth one was out of the zone too, but Varitek hacked at it and popped the ball up in foul territory. That was a gift, and the second out. Marco Scutaro fouled off a few two strike pitches before reaching on what felt like Boston's millionth infield hit of the game (it was actually their third) to load the bases, then Wade ran the count to 3-0 on Jacoby Ellsbury. He got the called 3-0 autostrike before Ellsbury fouled off two straight pitches, then the Boston center fielder flew out to left on a gutsy changeup. It was far, far from easy, but Logan and Wade navigated a scoreless sixth so Joe Girardi could hand the ball off to his big guns.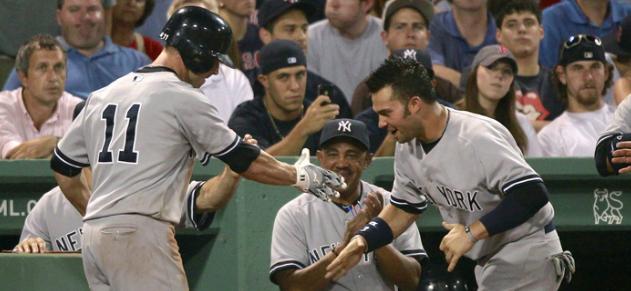 Leadoff Hitter
Because Nunez taking Beckett deep wasn't unexpected enough, the Yankees took the lead after Wade's escape job when Brett Gardner slugged a solo homer into the Red Sox bullpen in the top of the seventh. There were two outs in the inning and Matt Albers threw the Yankees' leadoff man one too many sliders, catching just a little too much of a plate with the third consecutive slide piece. Gardner golfed it out, it wasn't a terrible pitch but not great either. Usually you can get away with a pitch like that against a guy like Brett, but Albers had no such luck this time.
Blown Save
I hate when this happens. After some stellar seventh and eighth inning work from Rafael Soriano and David Robertson, the immortal Mariano Rivera was human in the ninth. Scutaro led the frame off with a double off the Green Monster then moved to third on Ellsbury's sacrifice bunt. Pedroia drove him in with a sacrifice fly to tie the game and eventually send it to extras. Mo got beat on two inside cutters to right-handed batters, probably the one spot he has to be perfect. He wasn't and that cost 'em the lead.
Initially I was pretty aggravated that Girardi did not send him back out there for the tenth following the nine-pitch ninth, especially with the off day tomorrow, but you know what? Forty-one-year-old closer, not the most important game in the world … I'm fine with it. Ben talked me down from the ledge. Anyway, Phil Hughes needed just 13 pitches to give up the game-winning run in the tenth, doing so on an Ortiz ground rule double, Crawford intentional walk (IBB to a guy with a sub-.300 OBP? really?), and Reddick single. Sucks, but it was fairly predictable.
Leftovers
How about 0-for-10 with runners in scoring position? That's pretty pathetic. The Yankees left a man on second in the third, fourth, fifth, and sixth innings plus the bases loaded in the seventh. You'd never know this was the second best hitting team with men in scoring position in baseball by actually watching them play. Nick Swisher and Eric Chavez went a combined 0-for-9 with six strikeouts, so that was a huge black hole behind the middle of the order. I miss A-Rod.
Gardner stole a base in the fourth and another in the ninth, his 20th and 21st consecutive steals without being caught. That broke Paul Molitor's AL record for consecutive successful steals in a single-season (20), and Gardner's just two away from tying the MLB record. Go Brett go.
Soriano has retired all 12 men he's faced since coming off the DL, including five on strikeouts. I won't hate the signing as long as he pitches exactly like that for the next two years and two months. I can't imagine Hughes will start as scheduled on Tuesday, there's no point. Give him a few extra days, we really don't know how many warm-up pitches he threw in the bullpen and what not. Just don't put him back in the bullpen, that's stupid.
It's pretty amazing that ESPN got rid of Joe Morgan and still managed to downgrade their Sunday night booth. I'm glad to know that Bobby Valentine thinks Gardner will be a year in, year out 20 homerun hitter before his career is over because he saw him hit one out against the Red Sox. Anyway, the Yankees fall one game back of the Sox in the AL East but are still seven games up in the wildcard. Boston has won the season series against the Yanks for the first time in seven years.
Box Score, WPA Graph & Standings
MLB.com has the box score and video highlights, FanGraphs some other stats, and ESPN the update standings.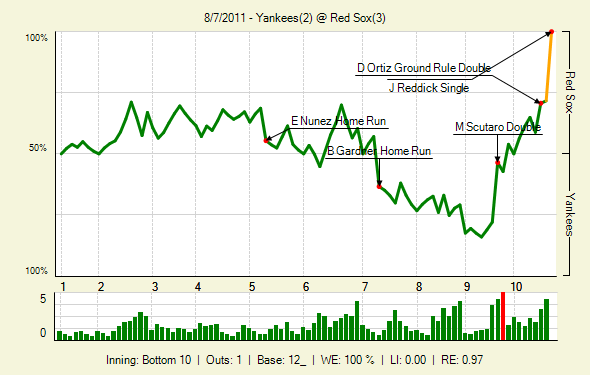 Up Next
The Yankees are off on Monday, then will return home to the Bronx for what is probably their most important series of the season (to date). I guess Ivan Nova will start the opener on Tuesday against Dan Haren and the rest of the Angels. A.J. Burnett would be the other option. If you decide to head up to the Bronx for that game, RAB Tickets get help get you there on the cheap.