The Yankees are hot hot hot right now, and the White Sox pitching staff felt their wrath on Wednesday night. This one got out of hand early.
First Inning Fun
You know what my new favorite thing is? Seeing the look on the other team's manager's face when the Yankees are pounding away on offense. Especially when you have two unlikable guys like Buck Showalter (last series) and Ozzie Guillen (this series), that makes it even better. After Brett Gardner and Derek Jeter led off the game with bunt singles, Ozzie had that look on his face in the dugout, and it was pure awesome. Following Curtis Granderson's bloop single to load the bases with none it, that look turned into thaaat look. You know what I mean.
Mark Teixeira drove a first pitch Gavin Floyd fastball into deep center for a sacrifice fly, and Robinson Cano followed that up with a three-run homer on a cutter that caught too much of the plate. The Yankees had a 4-0 lead with one out in the first, and the one out came on a well struck ball hit to the wrong part of the park. We were all pretty happy with the early lead, but they didn't stop there.
The Cycle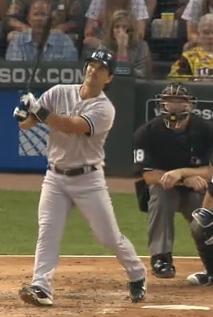 Almost two years ago to the day (August 2nd, 2009), Melky Cabrera hit for the cycle against the White Sox in this same park. No one on the Yankees hit for the cycle in this game, but they combined to do it as a team in the third inning.
The inning started with a single from Cano and then Eric Chavez's first homerun as a Yankee. It was 8-1 at that point, but then Jorge Posada doubled, Russell Martin walked, Gardner singled, and Jeter singled. It was now 9-1 with two men on base for Teixeira, who lined what looked like a solid single to center. Alex Rios, who is having a season every bit as bad as Adam Dunn, leaned down to make the catch, but he simply whiffed. The ball got by him and rolled to the wall, scoring both Gardner and Jeter and sending Tex to third. It was his first triple since 2009, and it completed the team cycle in the inning. It also pushed the Yankees lead to 12-1, and by the end of the inning, it was 13-1.
OMG A.J. WTF
You know, I try to write something nice about A.J. Burnett, then he goes and does this. He allowed a run in the first on a sacrifice fly before pitching around two singles in the second and one single in the third, but then he completely collapsed under the weight of that 12 run lead.  The ChiSox scored five runs in the fourth, three on a Carlos Quentin homer, then another run in the fifth before Joe Girardi mercifully pulled his starter from the game.
Eight of the last 12 men Burnett faced reached base, three on extra base hits. All told, the White Sox touched him up for 13 hits in just 4.1 IP, scoring seven runs. This is the same White Sox team that picked up a total of 13 hits in their last two games combined. They got that in less than five innings against Burnett. It's the first time A.J. failed to complete five innings this season, and he's now given up 25 runs and 57 baserunners in his last six starts (35.1 IP). It's too bad he makes so much money, otherwise he'd be the one looking over shoulder in this six-man rotation business.
Leftovers
Although things got kinda sorta interesting in the middle innings, but the Yankees offense restored order and blew the game open in the seventh inning. Everyone in the starting lineup had at least one hit and one run scored, though most guys had multiples of each. The top three hitters in the lineup combined to go 12-for-17 with eight runs scored and seven driven in. Jeter had his fourth career five-hit game and his second in the last month. He's hitting .333/.380/.495 in 109 plate appearances since coming off the disabled list, which is pretty damn good.
Gardner (three), Granderson (four), Cano (three), and Chavez (three) all had multiple hits. Grandy hit his league-leading ninth triple, and he's got an outside chance at being the first player since Jim Rice in 1978 to lead the AL in triples and homers. There's way, way too much offense to recap, so I suggest clicking the box score link below and reading through it. I do want to mention that Chavez is growing a mustache now, and between that and his swing, he's totally got a Don Mattingly thing going on. It's pretty uncanny.
Another nice job by Cory Wade, who cleaned up Burnett's mess in the fifth without allowing an inherited runner to score before tacking on a scoreless sixth. I liked the move to sign him, but he's exceeded even my expectations. Luis Ayala chucked two scoreless frames, and Rafael Soriano sat down all three guys he faced in the ninth. Yankees pitchers haven't walked a batter in 30 innings now, not since Freddy Garcia walked Nick Markakis in the third inning of Sunday's game. That's pretty amazing.
Floyd gave up a career-high ten earned runs, and he became just the second White Sox pitcher in the live ball era to give up ten runs in less than three innings. It's the second time in his last five starts he allowed seven or more runs, and the third time in his last eight starts that he allowed six or more runs. The Yankees have won six games in a row now, outscoring their opponents 56-35. Like I said, hot hot hot.
Box Score, WPA Graph & Standings
MLB.com has the box score and video highlights, FanGraphs some other stuff, and ESPN the updated standings.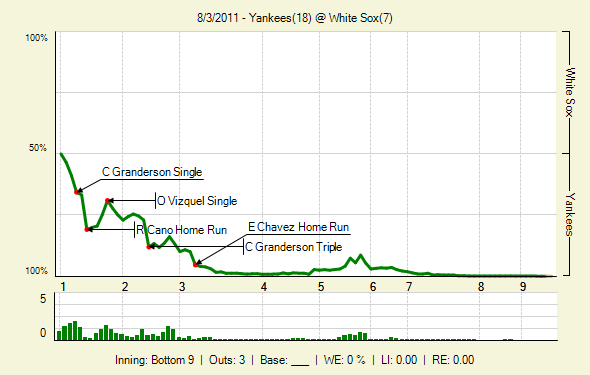 Up Next
The Yankees will go for the rare sweep of a four-game series on Thursday night, when Ivan Nova makes his latest case to stay in the rotation against Phil Humber. That's another night game because apparently every team but the Yankees is entitled to a getaway day. Lame.