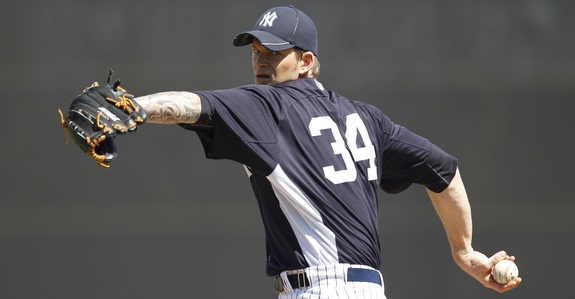 For the last … I dunno, week or two or four we've talked ad nauseum about the Yankees' rotation, about whether Phil Hughes or Ivan Nova should be starting, about if/how Bartolo Colon and Freddy Garcia will hold up down the stretch, and about how totally awesome CC Sabathia is. But then there's A.J. Burnett, almost a forgotten man in a rotation full of stories much easier to talk about. Burnett has rebounded from his brutal 2010 season but he's not to being the guy he was in 2009, which is what I expected when I wrote our season preview …
Call me (cautiously) optimistic, but I think we'll see a Burnett that is better than what he was in 2010 this season, but perhaps not as good as he was in 2009. That would put him right around a 4.50-4.60 FIP, so let's split the middle and call it 4.55. That would be the third worst full season of his career, but spread out over 30 or 31 starts, you've got a two, two-and-a-half win pitcher. Would you take that out of A.J. this year? I would, but perhaps my expectations are too low.
A.J. has a 4.66 FIP at the moment, so I'm just a little off, but we still have another eight weeks to go. His 3.93 xFIP looks a lot better and is exactly league average because he has been a little homerun unlucky, with 14.8% of his fly balls allowed leaving the park. Last year that number was 11.6%, the year before 10.8%, and for his career it's 10.9%. Five of the 20 homers he's given up in 2011 have been classified as either "lucky" or "just enough" by Hit Tracker, two categories that tend to be volatile from year to year. Burnett's ground ball rate (49.0%) is his highest since 2007, so it seems odd that he'd be giving up more homers now (1.30 HR/9) than anytime in his career.
Anyway, about two weeks ago I wrote about evaluating Freddy Garcia based on results and not process, and I'm almost at that point with Burnett. He's completed at least five innings in all 22 starts so far, something he did just 23 times last year. Only seven times has he allowed more than three earned runs and only three times did he exit a game with the Yankees down more than two runs (three runs each time). Twelve times he exited with a lead, so he's certainly kept the Yankees in the game. Leaving seven games down one or two runs sucks, but those are hardly insurmountable leads given the offense backing him. I guess it's also worth nothing that the Yankees have lost half of his 22 starts, but in nine of those losses they scored three or fewer runs. In fact, here look at this…
April 25th vs. White Sox: 8 IP, 3 H, 1 R, 1 ER, 2 BB, 2 K
May 11th vs. Royals: 7 IP, 1 H, 1 R, 1 ER, 5 BB, 6 K
June 13th @ Athletics Indians: 7.2 IP, 5 H, 1 R, 1 ER, 1 BB, 8 K
Those are Burnett's three best starts this year by Game Score, all registering a 72. The Yankees scored a total of three runs in those games and lost all three (all three runs came in the Kansas City game too). A little offensive help and they could have been 14-8 in his starts instead of 11-11. For shame.
Burnett's strike out rate (7.81 K/9) and swing and miss rate (9.3%) are both up considerably from last season (6.99 and 7.9%, respectively), which might be The Larry Rothschild Effect. His walk rate has also climbed a bit, from 3.66 uIBB/9 to 4.03 uIBB/9, which is a product of throwing just 39.8% of his pitches in the strike zone, his lowest rate since the data started being recorded in 2002 and the third lowest in baseball this season. His ground ball rate is his best in years, but like I said, I'm not caring too much about the process at the moment, after last year I'll just be happy with positive results regardless of how (un)sustainable they may be.
Sabathia has been the clear number one this year with Colon and Garcia settling in nicely as the two and three, but Burnett's improvement from last year has gone a little under-the-radar if that's possible. By no means is he great, but he's been a solid back of the rotation guy for Joe Girardi and is giving his team a chance a win. Burnett will give it another go against the ChiSox tonight and hopefully do what he's been doing most of the year: just keep the Yankees in the game.