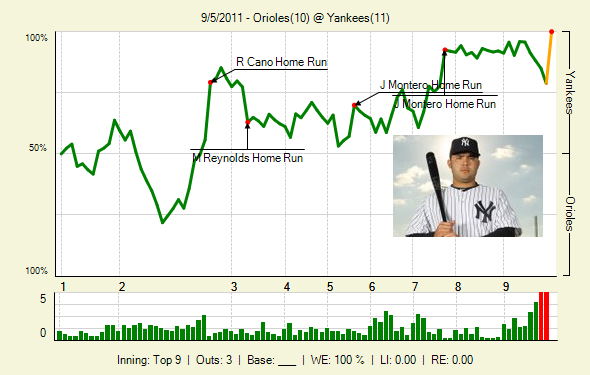 Freddy Garcia sure picked a good day to have his worst outing of the year. The bats showed up for both teams on Monday while the pitchers apparently decided to take the day off in observance of our nation's workforce. Let's recap the win…
Obviously, the big story of the day is Jesus Montero's first two career homeruns. Both came off a pretty good reliever in Jim Johnson, who came into the game having allowed just three homers all year (0.35 HR/9), one off a righty. The first one was a fifth inning solo shot on a fastball up that gave the Yankees a 9-8 lead, the second a seventh inning two-run job on a fastball down that extended the lead to 11-8. Both were opposite field out to right (not cheap either), making Montero the first 21-year-old to hit two homers in a game since Manny Ramirez. It was quite fun to watch, I must say.
Garcia got bounced after just 2.2 IP, after allowed nine hits and seven runs. Both Nick Markakis and Mark Reynolds tagged him for homers. Not a particularly great day for the starter, who gave way to Scott Proctor. Proctor allowed a game-tying solo homer in Robert Andino in the fifth, his only real blemish in two innings. Then came Aaron Laffey (0.2 IP), Luis Ayala (1.2 IP), Boone Logan (0.2), and Cory Wade (0.1 IP), all generally effective. Joe Girardi said after the game that both David Robertson and Rafael Soriano were unavailable due to their recent workloads, so it was a good day to have some September call-ups lying around.
Lost in Montero's day was Robinson Cano's third grand slam of the season, perhaps the most predictable grand slam of all time. I'm not quite sure what Matt Wieters and Chris Jakubauskas were thinking throwing him seven straight 91 mph fastballs, but hey, I'm not complaining. That bomb turned a 5-4 deficit into an 8-4 lead. Mark Teixeira chipped in a solo homer, Curtis Granderson a two-run double, and Andruw Jones a run-scoring single. Every starter had a hit except for Brett Gardner. No nonsense day for the offense, that's for sure.
Things got a little sticky for Mariano Rivera in the ninth, when he gave up two hits and hit a batter (one run), but he stranded the tying and go-ahead runs at third and second, respectively, by striking out J.J. Hardy on a cutter away. Mo's 38th save of the season is number 597 of his career, so he's still got a decent shot to tie (or top) Trevor Hoffman's record of 601 career saves before the season ends.
Brett Lawrie and the Blue Jays walked off against the Red Sox, so the lead in the AL East increased to 2.5 games and three in the loss column. The Rays beat the Rangers thanks to yet another Jamie Shields complete game, so the lead on the wildcard spot remained at 9.5. The magic number to clinch a postseason berth dropped to just 14. MLB.com has the box score and video highlights for those that missed Montero's homers. FanGraphs has some other stuff, and ESPN offers the updated standings.
The Yankees have won five straight (undefeated in The Montero Era!) and will look to extend it to six against the Orioles on Tuesday evening. Phil Hughes will give it a go against Tommy Hunter, and RAB Tickets can help get you in the door if you want to attend.