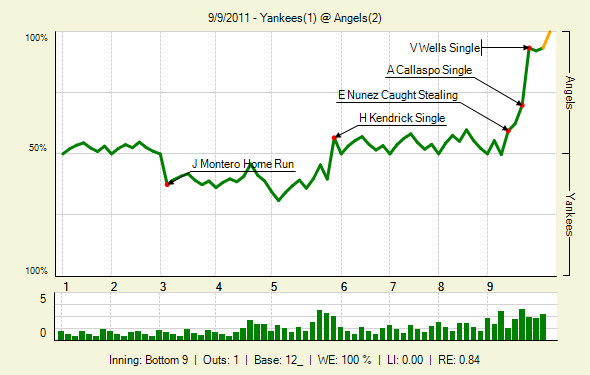 On the bright side, at least they didn't lose in extra innings this time. To the bullet points…
The Yankees have scored exactly one run in their last 16 innings, and that was Jesus Montero's solo homer off Jered Weaver in the third, a bomb over both bullpens to left. I honestly can't remember the last time they had two runners on base at the same time, the whole offense is just stagnant. Perhaps it's fatigue, given how ridiculous the last few days have been. Better to be slumping now than in three weeks, I guess.
Know what the sad part is? Bartolo Colon was pretty damn good.  The only blemish on his line came when he had to get four outs in the fifth inning because Derek Jeter rushed a throw with the slow-footed Jeff Mathis plodding down the line. The error extended the inning and eventually led to the tying run. The defense has been pretty awful over the last few games as well, so is that another fatigue thing? Maybe, maybe not. Anyway, Colon struck out five and walked just one in seven innings, getting five strikeouts and eight grounders.
After another dominant eighth inning from David Robertson, Joe Girardi ran up the white flag in the ninth with Aaron Laffey (ground ball single) and Luis Ayala (line drove single, hit batter, walk-off sac fly). The bullpen was short yet again (how can a bullpen be short with 19 pitchers on the active roster?), but you know what? One earned run in nine innings is good enough to win. The blame goes to the offense in this one.
The Rays beat the Red Sox, so the lead in the division remains at 2.5 games while the lead in the wildcard shrunk to eight. Gotta hope Tampa sweeps that series, just so they close the gap on Boston and make them sweat a little down the stretch. The magic number to clinch a playoff spot stays stuck on 12. Anyway, here's the box score, the FanGraphs stuff, and the standings.
Girardi said after the game that Nick Swisher had an MRI on his injured left elbow, but he didn't have the results yet. I'm sure we'll hear more tomorrow. These same two teams will give it a go on Saturday, when Dan Haren gets the ball against CC Sabathia. That's another night game, starting at 9:05pm ET.