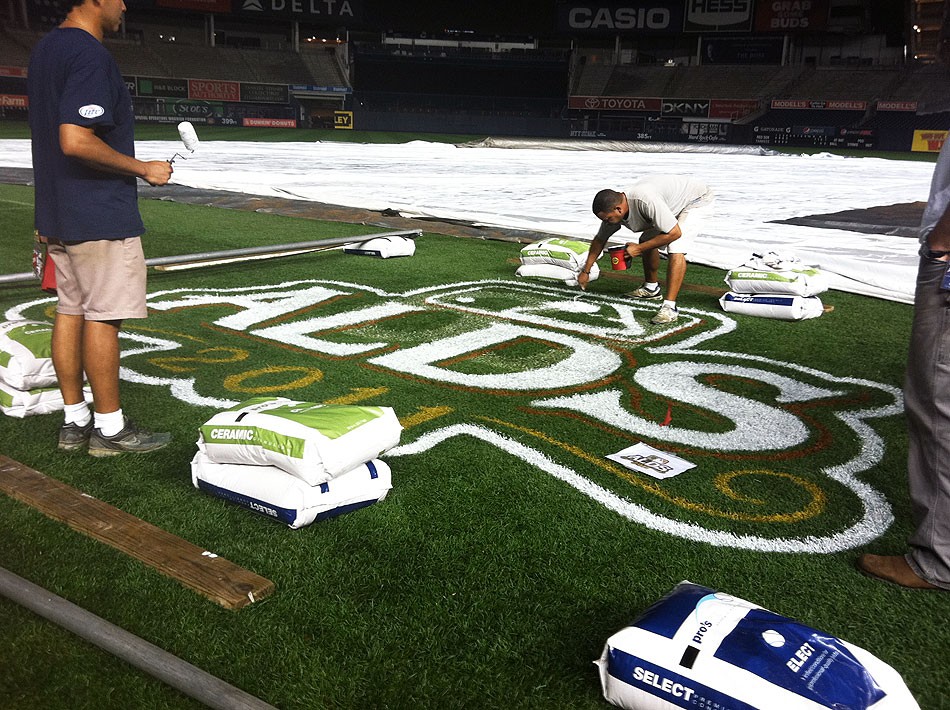 My three days in Tampa are over. I spent the majority of time here stuck in Tropicana Field, the second worst park I've ever been too (sorry, Oakland). Give the current ownership group credit though, they improved the place by livening up the color scheme (remember when the place was one shade of green? yuck), the in-game entertainment (Rays' dancing grounds crew >>> YMCA), and the concessions, but it's still a third-rate facility. A team with that much talent and success (three playoff appearances in the last four years!) deserves better.
Anyway, this trip was an absolute blast and I was lucky to be here in person to witness one of the biggest and most memorable regular season games in baseball history. I'm flying home today, so I leave you with some random thoughts and observations from St. Pete …
It's a total afterthought, but the Yankees actually finished the season on a four-game losing streak. There were some tough losses in there too; the 14-inning game with the Red Sox, Matt Joyce's go-ahead homer off Rafael Soriano (don't forget the triple play!), and of course last night's blown seven-run lead. At any other point in the season, those are killer, heart-breaking losses. Not after you've clinched though. Like I said, the four-game losing streak is an afterthought.
Remember when Red Sox owner John Henry joked about "The MT Curse" after Yankees lost their eighth straight game to Boston to start the 2009 season? He was referring to Mark Teixeira as you know by now, and since then, the Sox have missed the playoffs twice and been swept out of the ALDS in the other year. They haven't won a postseason game since Game Six of the 2008 ALCS. Look at this box score. Cliff Floyd and Chad Bradford played in that game, that's how long ago it was.
How about this stat: prior to last night, the Red Sox were 76-0 when leading after eight innings this season. Here's another one: Jon Lester's two-run, six-inning effort lowered Boston's starting rotation's ERA to 7.08 for September. How in the world does that happen? How does a team with a $160M-something payroll have to consider trading for Bruce Chen (!!!) on the last day of the season in case they need him to start a potential Game 163? It's unthinkable, it really is. I'm curious to see where they go from here and who takes the fall, because you know someone will.
How about the Orioles? The Fightin' Showalters finished the season by winning ten of their final 15 games, and all 15 were played against teams either in the playoffs or fighting for a playoff spot (Rays, Angels, Red Sox, Tigers). That's some job of playing spoiler right there.
I was pretty surprised at how loose the Rays were yesterday afternoon. Three players set up a makeshift flag (out of a towel and a rope stanchion) in right field before batting practice and were hitting golf balls at it from home plate. A couple others were running routes and playing catch with a football. I guess that's what happens when a team has nothing to lose, they were playing with house money. No one expected them to be in that situation yesterday.
Check out Steve Slowinski's photo recap of last night over at DRays Bay. A picture is worth a thousand words, and there's about 15,000 words of baseball goodness in there. Also want to say thanks to world famous* Rays bloggers Jason Collette, Tommy Rancel, and Erik Hahmann for being awesome fans and even better people. Always great to see them.
And finally, give it up to the beat writers. I left the Trop at 2:15am this morning, and those guys were just settling in with stories to write and 6:30am flights to catch. There's eleven of them covering the team full-time (plus several fill-ins throughout the year), and they're fantastic. We're lucky to have them. Special thanks goes out to Bryan Hoch, who was stuck sitting next to me in the press box for three days and not only didn't complain about being next to the dopey blogger, but also treated me like I was one of the guys chasing the team all summer. These fellas deserve their own appreciate thread one of these days, they really do. We've got it good in Yankeeland.
* May or may not be exaggerating. You decide.