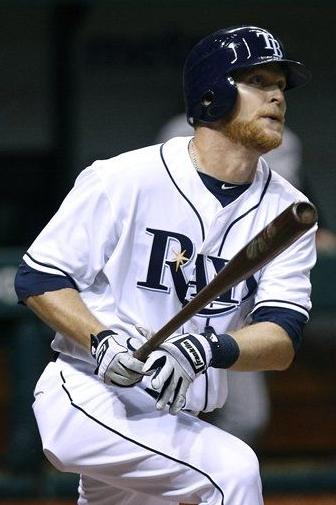 Baseball achieved perfection on September 28th, 2011. Just shut down MLB. We're never going to top this.
One Strike
I mentioned this the other day, but when we sat down a few weeks ago to figure out what series would be a good one to attend, we picked this one because it had the potential to be meaningful. Then the Yankees went and clinched everything within a matter of days, and as far as they're concerned, this series meant nothing. Just don't get hurt, that was the goal. I flew down Monday morning expecting three Spring Training games, but holy smokes. This was the most amazing trip ever.
I can't even put this into words. This one had total laugher written all over it (more on that in a bit), but then the comeback. Oh my goodness that comeback. Boone Logan got it started with his general awfulness, and Luis Ayala continued it by allowing a huge, enormous three-run homer to Evan Longoria to cut the deficit to one in the eighth inning. Then Dan Johnson. My word. I mean, you do realize the Rays were down to their final strike of the season, right? Down a run, two outs, 2-2 count, and Cory Wade left an 83mph changeup right over the plate to his teammate with Tampa's Triple-A affiliate earlier this year. Solo homer, tie  game. This place was nuts. Completely deafening.
Johnson has a knack for this stuff, you know. He hit a monster pinch-hit homer off Jonathan Papelbon in September 2008, keeping the Rays in first place during their run to the World Series. He hit a walk-off homer against the Sox late last season as well, keeping them within striking distance of the division crown, the division crown they eventually won. There's a reason Jonah Keri calls Johnson the Great Pumpkin, the guy rises up once a year to do this. Simply amazing.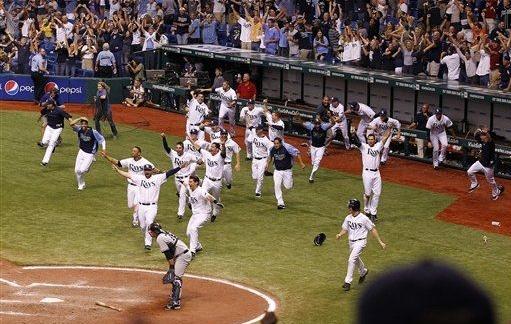 Just One More Strike
At some point during the bottom of the 12th inning, half the televisions in the press box tuned into the Red Sox-Orioles game. The Sox were still winning at that point, but when I turned my head to look at the screen, all I saw was outfielders running for a ball. The crowd erupted. I have no idea how they knew, but they knew. The Orioles had just tied the game. The cheers were so loud that B.J. Upton had to step out of the batter's box. Papelbon had Nolan Reimold down to the final strike of Baltimore's season when he gave up that game-tying  double, the same final strike of the season that Johnson was down to against Wade. Just one more strike. That's how close each team was to the end of their season. One strike.
A few moment later, Robert Andino – surely Robert effin' Andino by now – singled to left. Reimold chugged around third. The cheers started about halfway between third and home, and they somehow got even louder when he slide in safely with the winning run. One more strike, that was it. That close to winning the game, and Boston couldn't get it done.
Not even a minute later (apparently it was eight minutes later according to the announcement here, but I don't buy it), Longoria hit Scott Proctor's 56th pitch out of the yard on a line drive to left. Game over, season over. For the Red Sox, anyway. The Rays completed the comeback from seven runs down and nine games back, and are headed to the postseason as the wildcard team. Boston goes home, home to answer questions about a historic September collapse. This place just exploded. I thought the building was loud after Johnson's  homer, but that was nothing. The fans were just warming up their vocal cords. I can't believe that just a few days ago, I came down here expecting boring games. This was absolutely  incredible. The very  reason I love this game. No other sport can top this.
Save Some For The ALDS
As you already know, things started very poorly for the Rays right in the very first inning. What should have been a scoreless, 19-pitch inning for David Price turned into a one-run, 29-pitch inning when Ben Zobrist booted what should have been an inning-ending ground ball by Robinson Cano. Completely routine play, Zobrist just straight up botched it. Just like that, the pressure was on Tampa.
The game was decided (or so we thought) after Mark Teixeira hit a grand slam on a 3-2 fastball with two outs in the second, a shot that took the wind right out of the sails of pretty much everyone at Tropicana Field. Price completely missed his spot, but that wasn't the problem. You know what the problem was? It's that Price allowed a double to Eduardo Nunez, a single to Brandon Laird, and a walk to Derek Jeter. You're just asking for trouble when you do that, and Tex was happy  to oblige.
It was 5-0 after the grand  slam, the Yankees tacked on two more runs when Teixeira hit a solo homer in the fourth and Andruw Jones hit a solo homer in the fifth. This was Tex's fourth multi-homer game of the season, and the 33rd of his career. Just think, he came in with just seven hits in 31 career at-bats against Price (.226).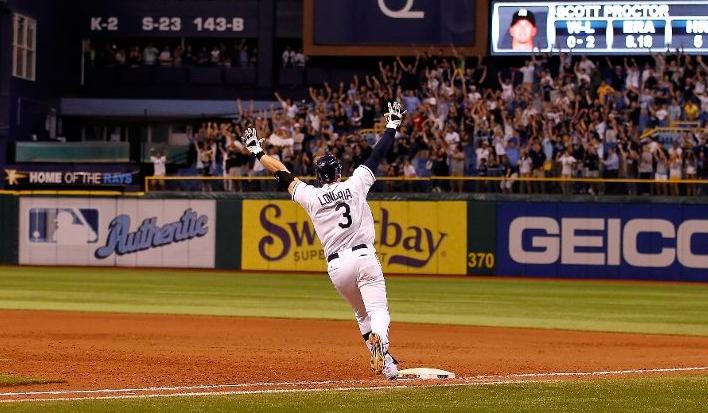 Leftovers
Jeter needed to go 1-for-1 or 2-for-4 to finish the season at exactly .300, but he went 0-for-3 with a walk to finish at .297. Considering where he was earlier this season, just getting up to .297 is a minor miracle.
The Yankees had runners on the corners with no outs in the top of the 12th, but got out of it when Greg Golson got caught too far off third base and Chris Dickerson struck out ahead of Brett Gardner's ground out. Pretty amazing how close we were to a very, very different story.
The next pitcher set to come out of the bullpen for Tampa was Jamie Shields, who threw 117 pitches on Monday. Furthermore, Joe Maddon said after the game that Upton had some cramping (I believe in his leg, but don't hold me to that), and was going to have to come out of the game if there was a 13th inning. They were out of position players,  so they would have lost the DH.
Box Score, WPA Graph & Standings
Oh baby. MLB.com has the box score and video highlights, FanGraphs some other stats, and ESPN the updated standings.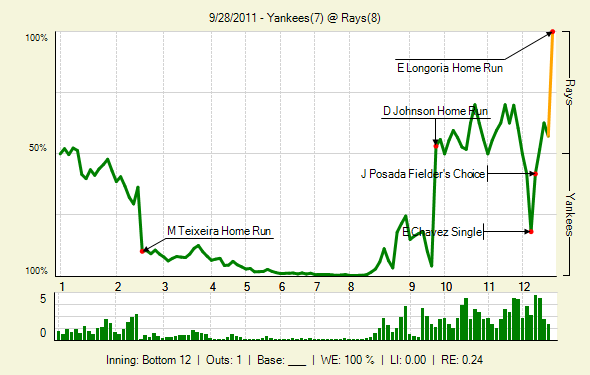 Special Bonus WPA Graph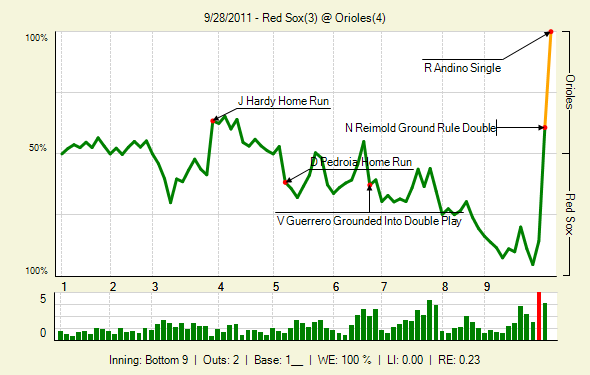 Up Next
Hard to believe it, but the regular season is over. The Yankees are off on Thursday in the sense that they don't have a game to play, but they are holding a workout at Yankee Stadium in the afternoon. The ALDS kicks off on Friday night, when CC Sabathia takes on Justin Verlander and the rest of the Tigers in Game One.