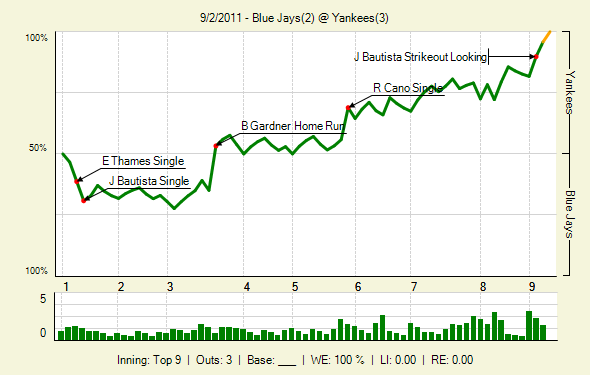 Friday's game sure was a bit more mellow after those three games in Boston, eh? I can't remember the last time I felt so relaxed in a one-run game. Let's recap…
The first inning was a bit shaky for Ivan Nova, but he got out of the frame after allowing just two runs because Brett Gardner was beast modin' it in left. He made a nice sliding snow cone catch on Edwin Encarnacion's line drive and was able to catch Jose Bautista wondering too far off first rather easily to end the inning. Outfield defense was actually a pretty common theme on the night, with Curtis Granderson and Andruw Jones also making nice catches at the wall.
After the first inning, in which he allowed the two runs on a walk and two hits, Nova cruised right along and did not allowed a baserunner until a sixth inning double by Eric Thames. In fact, the only baserunners he allowed after the first were the double, an intentional walk to Bautista, and on an error.  Nova struck out four, but uncharacteristically allowed eight air outs compared to just seven on the ground. Either way, he was fantastic.
Gardner's not just about defense, you know. He planted a two run-homer into the right field seats in the third inning, tying the game at two. Brandon Morrow always seems to be tough on the Yankees with that high octane fastball/slider combo, but he hung one to Brett and paid for it.
The third (and game-winning) run came in a nice little two-out rally in the fifth, when Robinson Cano singled in Derek Jeter following a single and a Granderson walk. Robbie was hacking away at Morrow's slider down-and-in all night, but the Toronto right-hander left one up and Cano knocked it to shallow-ish center. The Yankees only had four hits in the game (Gardner, Jeter, Cano, and Jones) and none after Cano's single in the fifth.
David Robertson was unavailable because he was "a little stiff," but Rafael Soriano stepped in and fired a scoreless eighth before Mariano Rivera closed things out with a 1-2-3 ninth. It was his 37th save of the season and number 596 of his career, so he's got a very legit chance at 600 as well as Trevor Hoffman's career record (601) this year. Anyway, Robertson will be available on Saturday but Soriano and Mo will not because of their recent workloads.
The Red Sox got completely wrecked by the Rangers, so the Yankees moved into sole possession of first place in the AL East by half-a-game and one game in the loss column. The Rays also lost to the Orioles, so the lead in the wildcard race is up to 9.5. The magic number to clinch a playoff spot is 17, jumpin' Jerry Hairston Jr. in the sidebar. Here is the box score, the FanGraphs stats, and the standings.
Game two of this three-game set will be played on Saturday afternoon at 1pm ET, when Bartolo Colon matches up against Ricky Romero. If you're heading up to the Bronx to catch the game, RAB Tickets can help get you in dirt cheap.