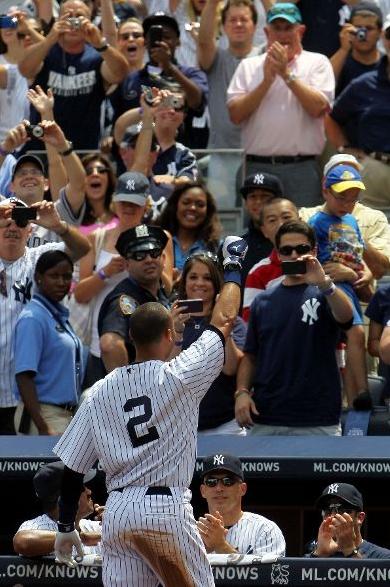 As you surely know by now, the Yankees season came to end last night, a 3-2 loss to the Tigers in the decisive Game Five of the ALDS. Fingers will be pointed, blame will be assigned, and (of course) little credit will be given to Detroit for their win. We're going to see a lot (and I mean a lot) of talk about what went wrong this year and why the Yankees failed (again!) to win the World Series, but the bottom line is that the Yankees lost a best-of-five series in which they outscored their opponent by eleven runs. It happens.
No one ever likes to see their team finish the season with a loss, but that's what will happen to seven of eight playoff teams every year. For a lot of clubs, just getting to the postseason is exciting enough; get there and anything can happen. In New York it's considered a birthright though, and rather than acknowledge that achievement, we're too busy tearing everyone down following a postseason exit. Last night's loss puts a bit of a damper on what I think was an otherwise incredibly fun season, one full of surprises and milestones.
First of all, there weren't many people expecting the Yankees to make the playoffs in the first place. After losing out on Cliff Lee, the starting rotation was going to crumble to pieces and the Yankees would be lucky to win 87 games. We were all sure of it. They instead won 97 games, finishing with the best record in the AL and six games better than the second place Rays. The Red Sox, aka the reincarnation of the 1927 Yankees, were seven back of New York following their pitching-fueled September collapse. Oh the irony. That alone was pretty awesome.
Then there were the individual performances, especially the unexpected ones. Bartolo Colon came to camp as a non-roster invitee and was throwing 96 on the black for the first three months of the season. Freddy Garcia got more ugly swings and misses than any Yankees pitcher I can remember. Ivan Nova went from not being able to get through a line more than once (he had that problem this April, remember) to being undefeated in the second half and a legitimate number two starter in the playoffs. Jesus Montero starred in September. Curtis Granderson completed the transformation from platoon outfielder to MVP candidate. David Robertson was the best Yankees reliever since Mariano Rivera in 1996. Robbie Cano was still the great Robbie Cano.
While those guys were doing that stuff, we had quite a bit of history to enjoy. Derek Jeter picked up his 3,000th career hit on a homerun of all things, part of a 5-for-5 day that including a game-winning hit in the later innings. Mo saved 44 games, tied for his most since 2004, and became the second man to ever record 600 career saves. Because that wasn't enough, he later surpassed Trevor Hoffman's career mark of 601 saves to become the game's all-time saves king, as he should be.
Over the next few weeks, we're going to look back at the 2011 Yankees before switching gears and looking ahead to the 2012 (and beyond!) Yankees. An early playoff exit is never fun, but it shouldn't take away from all the good things that happened during the regular season. The Yankees gave us a lot to root for and cheer about in 2011, a lot more than they gave us to complain about.