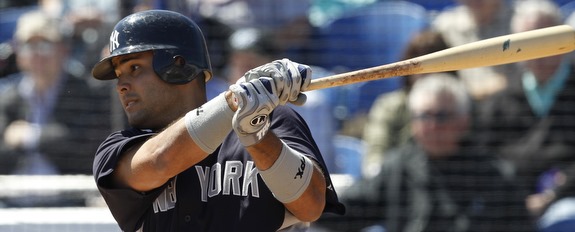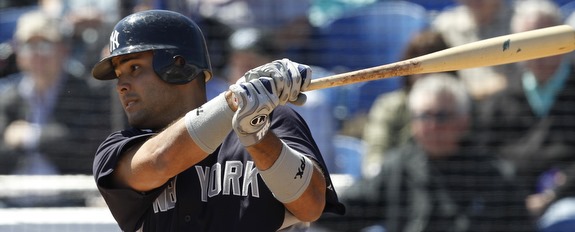 You might have seen this earlier, but Dan Szymborski posted his 2012 Yankees ZiPS Projections early Monday afternoon, the first team of the offseason. You can click the link and peruse all of the projections at your leisure, but I'm going to spend some time focusing on everyone's favorite player, Jesus Montero. We'll discuss the other guys at some point this offseason … eventually.
Following his big September debut (.328/.406/.590 and a .421 wOBA), the ZiPS system forecasts a .271/.333/.486 batting line with 37 doubles and 27 homers in 579 at-bats for Montero in 2012. At first glance, that might seen a bit disappointing because of the generally low AVG and the OBP, but it most definitely shouldn't be. I said this on Twitter, but if Montero does that next season, he'll probably win Rookie of the Year even if the majority of his at-bats come as a DH*. ZiPS isn't being tricked by that big September either, the system called for almost exactly the same thing for 2011: a .276/.334/.503 line with 34 doubles and 28 homers in 539 at-bats.
* For comparison's sake, Eric Hosmer hit .293/.334/.465 with 27 doubles and 19 homers in 523 at-bats this year, and he should finish either first or second in the voting.
I see Montero's current situation as similar to Ivan Nova's after last season, at least to a certain extent. Nova wasn't great in September 2010 but he showed enough to warrant a much longer looking 2011, which he got and in turn rewarded the Yankees. Montero made such a strong impression last month that the team has almost no choice but to play him full-time next season, it's just a question of where. We've talked about the whole DH/backup catcher thing, but putting it into practice is much easier said than done. The ZiPS numbers don't mean anything at the end of the day, but they're a nice little reminder of just how much Montero can help the Yankees if given the chance.
Standard Disclaimer: Projections are not predictions. Dave Cameron put it best when he said "Projections are information about what we think we currently know, while predictions are speculation about things that we probably cannot know."