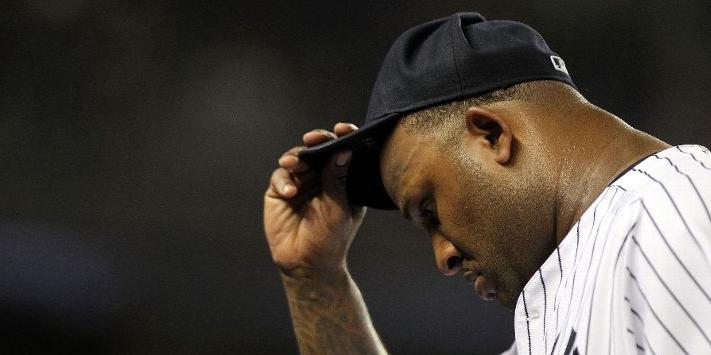 CC Sabathia has every reason to void the remaining four years and $92 million on his contract. While that's the most money any player will have ever left on the table, there is a 100 percent chance he'll exceed that total, in both years and dollars, on the open market. But that won't stop the Yankees from trying to prevent his impending free agency.
According to a New York Post report, the Yankees are currently preparing an offer, or a series of offers, intended to retain Sabathia before his opt-out date arrives. Their idea consists of a five- or six-year deal with a raise over Sabathia's current $23 million annual salary. That sounds like a reasonable offer, and there's definitely a chance Sabathia could accept.
Chances are the six-year offer is the only one that gets it done. Six years at $24 million per season totals $144 million, which exceeds the offer the Yankees made for Cliff Lee last offseason. That's fair, given how much Sabathia has contributed to the Yankees in the last three years. They can even bump that up to $145 million, thereby exceeding Lee's record $24 million annual salary. A five-year deal would certainly have to come in at around $125 million, and would include at least one option.
The Yankees stand to learn plenty with such lucrative offers. If Sabathia accepts, then he was true to his word about enjoying New York and his declarations of, "I'm not going anywhere." If he declines a six-year deal worth $140 to $145 million, then the Yankees have to question Sabathia's intentions. Again, $145 million over six years would give Sabathia the highest average annual value of any pitcher contract in history, to go along with his highest gross total of $161 million. Should he decline such an offer, he's signaling that he would consider an offer from another team that, in all likelihood, wouldn't constitute much more than a marginal increase over the Yankees' offer.
Even so, a six-year offer to a 31-year-old pitcher might seem like a lot. But consider that 1) the Yankees made a six-year offer to Lee last off-season, 2) there is no pitcher on the market who matches Sabathia's abilities, and 3) Sabathia's importance to the team's success the past three seasons. For instance, he has averaged 34 starts and 235 innings per season with the Yankees. In the three years before Sabathia arrived the Yankees had six pitchers reach 200 innings, but none eclipsed 218 in any season. Also, none had an ERA within 15 points of Sabathia's average 3.18 ERA. That is, he's been a consistently top-notch workhorse. That's the type of pitcher the Yankees can pay a premium for.
Without Sabathia in 2012, the Yankees would be in quite a bind. They'd absolutely have to go after C.J. Wilson, and Wilson simply isn't as good as Sabathia. Even when you factor in the contract Wilson would require, Sabathia seems like the better value. The Yankees recognize this, and will prepare an offer that appears difficult to refuse. If you truly liked pitching somewhere and they offered you a six-year deal that paid you more per year than any pitcher in history, wouldn't you take it?