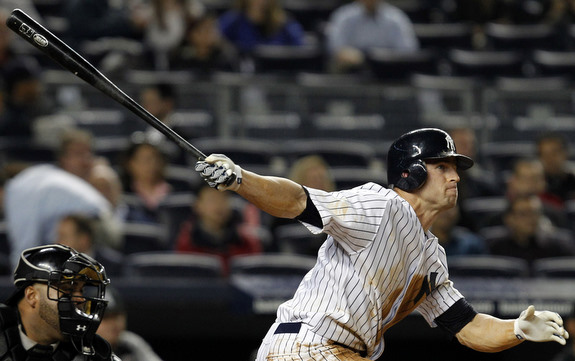 The Yankees are no strangers to the multi-year deal. In the last five years they've signed nine free agents, whether their own or from other teams, to contracts of at least three years. They've also executed two contract extensions of three or more years in that span, for CC Sabathia and Robinson Cano. Every member of the Yankees infield originally signed a deal of three years or more.
Yesterday Moshe looked at the possibility of signing Russell Martin to an extension. That would give the Yankees a superb defensive catcher for the next few years, and would allow them to gradually work in Jesus Montero. There are only three other Yankees position players whom we haven't covered: Brett Gardner, Curtis Granderson, and Nick Swisher. Any of these three could get an extension offer this winter, but Gardner appears the most likely. He's about to hit his first season of arbitration, so now could be the time to lock him up at a reasonable rate.
Depending on how you view the numbers, Gardner might be the most underrated player in the league. From 2010 through 2011 he accumulated 11.3 fWAR, which ranks 13th in all of baseball. Ask a random sampling of fans, and Gardner might not even rank in the top 50 position players. That's a huge discrepancy, and the perception might make Gardner a prime extension candidate.
The issue with Gardner's run value is that it almost entirely derives from his defensive numbers. We can see that Gardner is an elite defender in left; even with the eyeball test it's hard to argue that he gets to more balls than his peers. It's the degree of his superiority that's under question. Almost half of Gardner's value comes from UZR, which in the last two years has totaled more than 50 runs. That's almost 20 runs better than the second-highest UZR in the last two years — at any position. Is Gardner really this good?
While there exists the chance that yes, Gardner is eons better than his peers in the field, it doesn't seem as though he's a singular talent. It's more likely that he's superior to his peers, just not to the degree that UZR suggests. Still, his defense does bring considerable value to the table. His offense is a weapon, too. In the last two years he has a 111 wRC+, meaning he's performed above average. His .364 OBP ranks 26th among players with at least 1,000 PA in the last two seasons, and he's stolen the second most bases. The combination leaves the Yankees with a valuable asset.
The only issue is with Gardner's ability to continue what he's done in the last two years. Since 1950 there are only 18 players who lasted 5,000 or more PA with an OBP greater than .350 and a SLG under .380. A few of the contemporary names might not inspire much confidence, either: Chone Figgins and Luis Castillo. Castillo is probably the better example. His performance only dropped off in his age-34 season, after a number of knee injuries. From 1999 through 2009 he produced an OBP of at least .350, which works very well for Gardner. While Figgins has been pretty horrible with the Mariners, his true decline really began this year, in his age-33 season. Even in his first season with Seattle he produced a .340 OBP.
Gardner enters his age-28 season in 2012, and is eligible for free agency following the 2014 season. Any extension should probably buy out a year of free agency, so a four-year deal with an option could be the best course of action should the Yankees pursue this. MLB Trade Rumors estimates Gardner's salary at $3.3 million. It's tough to project going forward, since it will depend on his performances in the next two seasons. Chances are he'll earn between $14 and $17 million in his arbitration years. A four-year, $22 million deal, with an option and a buy-out, could possibly get the job done. That would cover Gardner through his age-31 season, which is around the time that his comparables started to fall off.
Chances are that the Yankees will work out a one-year deal with Gardner this year and then reassess next off-season. It's tempting to lock up a player that brings a range of skills to the table. Gardner gets on base, steals bags, and plays superb defense. If the Yankees can get him locked up at a reasonable rate for four seasons, it could benefit them going forward. It pays to have a player like Gardner on the roster.