For my money, there are few things more thrilling in modern-day baseball than a complete-game shutout. A large part of my thirst for the complete game is that unless you're Roy Halladay or Cliff Lee, it's a feat that's grown rarer as baseball marches on. Last season there were 75 complete-game shutouts, or 2.5 per team, although four teams didn't record a single one — Cleveland, Houston, Kansas City, and somewhat surprisingly, San Diego.
That 2011 tally of 75 may have been up from 2010's 59 and 2009's 63, but even though CGSHOs seem to be coming somewhat back into vogue, it hasn't necessarily been that way for the Yankees.
The Yankees technically authored three complete-game shutouts in 2011, although only two were of the nine-inning variety. Phil Hughes was credited for a complete-game shutout for his rain-shortened six-inning win against the White Sox on August 2nd, but that really doesn't count.
Truly, keeping an opposing team off the board for nine full innings is a pretty herculean task. When Bartolo Colon did it on Memorial Day back at the end of May, I was exceptionally pumped, as it was the first Yankee complete-game shutout since Sabathia authored one against the Orioles on May 8, 2009, not to mention the fact that if you'd told me Colon would pitch a CGSHO at any point in the 2011 season I would've thought you were crazier than the National League for making pitchers hit. It was also only the third recorded by a Yankee since 2006, and if you go back over the last 10 seasons, Yankee pitchers have only recorded 17 complete-game shutouts. Admittedly the Yankees' potential shutout tally is inherently limited by the presence of the Greatest Closer of All Time, but that only adds to the scarcity and makes the accomplishment that much more impressive in my eyes.
As great as Bartolo's game was, if you sort by Game Score, CC Sabathia threw an even more dominating start a month-and-a-half later, which, at 87, was the top Game Score by a Yankee pitcher of the 2011 season. At the time, it represented the second-highest WPA for a starting pitcher in all of MLB after Francisco Liriano's no-hitter. Sabathia's CGSHO wound up finishing third overall come season's end.
Given Sabathia's dominance of the Rays on July 10th, I wanted to see how exactly he attacked them that afternoon. The following is a breakdown of Sabathia's complete-game shutout compared with his insane eight-start run from June 25nd through August 1st (62.2 innings, 78(!) strikeouts, 16 walks, .503 OPSa, 1.01 ERA), his entire season, and the league average numbers for left-handed pitchers: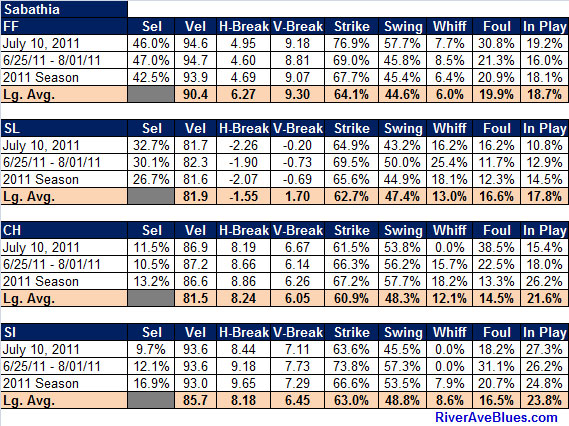 Sabathia's four-seamer was something else on July 10th, averaging 95mph, going for a strike over three-fourths of the time, coaxing a swing well over 50% of the time, and generating a well-above average percentage of whiffs. Interestingly, he increased his deployment of the slider both during the July 10th game and throughout his eight-start run, compared with how frequently he used it on the season.
I say interesting because CC appeared to be getting into some trouble later in the season due to increased slider usage, although looking at the data in this chart compared to the August data in that link we see that the slider was breaking slightly less during his rough August stint (-0.43 inches of V-break compared to -0.73 during the dominant run) and was also roughly one mph slower. Those are both such minimal changes that I don't feel comfortable drawing any conclusions about the slider one way or another, although given how important it is to CC's repertoire it's possible something even as minor as 0.30 less inches of average vertical break at one mile per hour slower would have a deleterious effect.
But I digress. The other interesting thing that sticks out to me on the above chart is that CC got zero swings-and-misses on on his sinker during the eight-start beast run, despite throwing it 12% of the time. Like any good sinkerballer, it's obviously more of a pitch-to-contact pitch for him, but I hadn't really realized that about his sinker until I looked at the numbers.
In any event, I'll eagerly await the next CC Sabathia shutout complete-game shutout, not to mention a few more insane 1.00-ERA runs he'd like to string together.