This week's mailbag is five questions long, four of them focusing on pitching. Remember to use the Submit A Tip box in the sidebar to send in your questions throughout the week.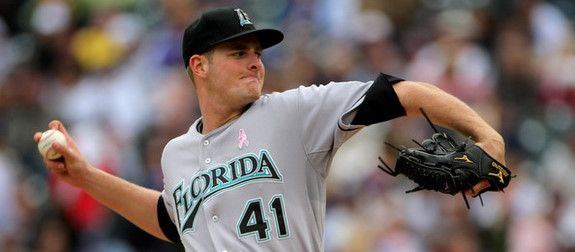 Mark asks: Chris Volstad could be non-tendered. Still young, great pitcher's body, may have hit ceiling though. Any interest?
The cat is pretty much out of the bag, the Marlins didn't even bother to invite Volstad to the unveiling of their new uniforms. So yeah, one way or the other, he's probably a goner this winter. You're right about the great pitcher's body, the kid is listed at 6-foot-8 and 230 lbs. on Florida's official site. He's still very young (just turned 25 in September), young enough that he still has some of that top prospect shine left.
Volstad has struggled in 584 big league innings (102 starts and one relief appearance), pitching to a 4.59 ERA with a 4.52 FIP. He's a sinkerballer, getting a ground ball 50.4% of the time, and I think part of his problem has been the Marlins' shaky infield defense over the last few years. A low-90's sinker is his bread-and-butter, but he'll also work with a changeup and slider, both in the mid-80's. Volstad doesn't miss many bats (5.83 K/9 and 7.0% swings-and-misses) and he's just okay at preventing walks (3.14 BB/9).
I have a feeling Volstad will draw a lot of attention if/when he's non-tendered, simply because he's still so young and has three more years of team control remaining. He's not great, but I think he could be serviceable in kind of a swingman/spot starter role, but another team will guarantee him a rotation spot and that's where he'll head. I like the idea, but it might not be practical.
Ed asks: What's your opinion on Mitch Stetter as a possible second lefty for the Yanks? He just elected free agency after being outrighted by the Brewers. In his career, he held lefties to a .194/.310/.335 line. Consider 2010 & 2011 as his lost years, Stetter could be a "low risk-high reward" piece for the bullpen.
Before this post, all I knew about Stetter was that he had a funky delivery (seen here) and Jack Moore of Disciplines of Uecker hated him. The 30-year-old is a free agent as you said, and his big league numbers against left-handers are pretty good: a .297 wOBA against with 63 strikeouts and 23 walks in 202 plate appearances. He's got similar numbers in the minors and like most lefty specialists, he's atrocious against righties. Completely unusable.
Stetter's problem is an utter lack of ground balls, we're talking just 26.9% grounders against lefties. That's quite extreme, and part of the reason why he can run into a little homer trouble. He's also an extreme slider guy, I mean 80.2% of his career pitches in the big leagues were a low-80's slide piece. His mid-80's fastball is basically a show-me pitch. I'd sign almost anyone to a minor league contract, they're zero-risk deals, but Stetter has little margin for error. Doesn't mean he can't get hot and pay dividends for a month or two though.
Nick asks: What happened to Tim Norton and should/will the AAA guys get Joba Chamberlain's spot until he comes back?
Norton had yet another shoulder problem, which is a shame because he flat out dominated last season (44 strikeouts and eight walks in 29 IP) and was on the verge of a call-up at the time of his injury. I have no idea if he'll be back next year, either Opening Day or at another point.
I expect next season's bullpen will look a lot like the one the Yankees ended this season with, meaning Mariano Rivera in the ninth with David Robertson, Boone Logan, Rafael Soriano, and Cory Wade backing him up. The last two spots could go to someone like George Kontos or Hector Noesi, or maybe they sign someone. I would be surprised if it was David Phelps or Adam Warren, those guys have to be stretched out as starters in case they need to make spot starts. That really should be the case with Noesi as well.
Marks asks: Jack Hannahan worth pursuing as Eric Chavez 2.0?
I know Joe's a bit of a Hannahan fan, or at least he's mentioned him as a potential bench option at various points over the last few seasons. The 31-year-old infielder does two things very well, and that's play defense and draw walks. Regardless of what metric you choose, they all rate Hannahan as a stud at the hot corner, and his walks rates have consistently been over 10% throughout his career (10.8% career).
The problem is that he just can't hit, we're talking a .231 AVG and a .127 ISO in nearly 1,350 career plate appearances. He also doesn't steal bases or offer much defensive versatility (just 13 career innings at the middle infield spots and 213 at first base). Hannahan, a left-handed batter, has consistently been a one-win player over the last four years despite sporadic playing time because he's a high-end defender and will work just enough free passes to be better than useless at the plate. It sounds like the Indians are planning to keep him next season, but he's a nice bench guy because he does at least one thing really well. Just don't expect him to come off the bench and get that big pinch-hit.
Moot asks: What do you think about Aaron Harang being a Yankee? He pitched well at times with the Reds and they have a homer friendly park just like the Yanks.
Harang is another one of Joe's guys, but I think he's closing in on his expiration date. He did pitch in a hitter's park in Cincinnati, and sure enough he gave up a ton of homers as a Red (1.2 HR/9). The homers were tolerable because Harang used to be a strikeout fiend and was stingy with the walks, but both his strikeout rate and walk rate have been heading in the wrong directions of late. Click the links for some graphs that really drive the point home.
All those big workloads earlier in his career (and under Dusty Baker) have cost Harang about two miles an hour off his fastball, and he's mostly 89-90 with a low-80's slider these days. He's always been a big fly ball guy (career 38.2% grounders), hence all the homers allowed. In some ways, he's a lot like Freddy Garcia, at least in terms of his peripheral stats. They just go about it in very different ways. Freddy knows he's not what he once was, so he's adapted and relies on trickery. Harang is still pitching the same way he did five years ago. I'd probably steer clear of him, but after Garcia this past season, who the hell knows.