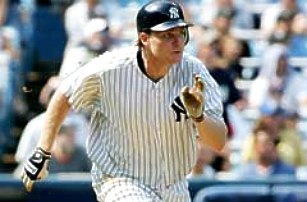 A lot of things went wrong for the Yankees in 2006, specifically the injuries to Hideki Matsui and Gary Sheffield and the collapses of 2005 saviors Aaron Small and Shawn Chacon. One of the outfield holes was plugged when Brian Cashman stole Bobby Abreu (and Cory Lidle) from the Phillies at the trade deadline, and he also shored up another hole by trading Chacon to the Pirates for Craig Wilson.
Melky Cabrera was doing a fine job as a rookie (.360 OBP), but Andy Phillips wasn't getting it done as the regular first baseman. Wilson replaced him after the trade, and his versatility was also supposed to be a plus. He was exactly the kind of guy everyone loves to suggest for a bench job these days; he'd hit 29 homers two years prior to the trade and was capable of playing four positions (catcher, first, and both corner outfield spots). Wilson had a dozen hits in his first ten games with New York, but he just stopped hitting after that. A 10-for-64 finish to the season dropped his Yankees' batting line to .212/.248/.365 in 109 plate appearances.
The Yankees let Wilson walk as a free agent after the season, and he didn't have much baseball left in him. He hasn't seen the big leagues since 2007, and hasn't even played in the minors since 2008. Wilson turns 35 years old today, so he's younger than I realized. Baseball-Reference says he managed to bank over $10M during his seven-year career, which is a pretty good head start on life after baseball.
* * *
Here is tonight's open thread. The Devils are the only local sports team in action tonight, so you're pretty much on your own as far as entertainment goes. You folks now what to do by now, so have at it.