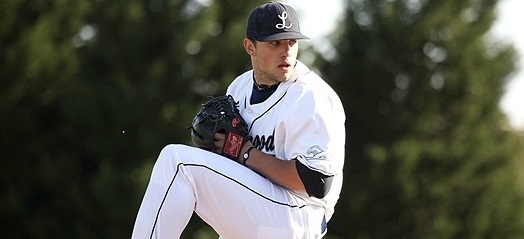 Mark Montgomery | RHP
Background
A standout player at Bruton High School in Williamsburg, Virginia, Montgomery set a school record by striking out 107 batters in 60 IP as a senior. He was named to the All-District Team his final three years with the Panthers, and was also named to the All-State and All-Region Teams as a senior. Team MVP and Player of the Year honors from the Virginia Gazette and All-Daily Press followed his final year. He also ran track. Montgomery wasn't much of a pro prospect at the time though, so he went undrafted in 2009 and headed to Longwood University.
Before heading to school, Montgomery pitched for the Fairfax Nationals of the Clark Griffith League (a wood bat collegiate summer league) after graduating. He earned a spot on the league's All-Star Team by striking out 28 batters in 15 IP. Once at school, Montgomery started three games and came out of the bullpen in 17 others as a freshman with the Lancers. He pitched to a 5.57 ERA with 64 strikeouts and 24 walks in 63 IP, and he didn't allow a single homer. Although he was recruited as a shortstop, he ended up on the mound.
Montgomery was installed as Longwood's closer his sophomore year, saving six games in 22 appearances. He improved his slider and used it to strike out 45 batters in 35 IP. After the season, he headed to the Coastal Plain League (another wood bat summer league) and pitched for the Edenton Steamers. Montgomery struck out 33 and allowed just seven hits in 18 IP, prompting Baseball America (subs. req'd) to rank him as the eighth best prospect in the circuit.
Again serving as the Lancers' closer, Montgomery allowed just a dozen hits and three earned runs in 30.1 IP as a junior. He struck out 48, and finished his career at Longwood as the school's all-time leader in saves (16). Montgomery made a pair of appearances for the Peninsula Pilots of the Coastal Plain League after the season, striking out five of the seven men he faced. Baseball America (subs. req'd) ranked him as the 18th best prospect in Virginia prior to the 2011 draft, and the Yankees selected him in the 11th round, the 359th overall pick. He signed quickly for an unknown bonus.
Pro Debut
Assigned to Short Season Staten Island after signing, Montgomery was not long for the NY-Penn League. He struck out ten of the 19 men he faced across four appearances, then was promoted to Low-A Charleston. Montgomery made 22 appearances with the River Dogs, saving 14 games and striking out 41 batters in 24.1 IP. On July 1st, his first appearance with Charleston, he struck out five Rome Braves in one inning thanks to a pair of wild pitches. All told, he struck out 51 batters in 28.1 IP after turning pro (16.20 K/9).
Scouting Report
Short and sturdy at 5-foot-11 and 205 lbs., Montgomery has a classic reliever's profile. He's a two-pitch pitcher, sitting 91-92 mph with the fastball and running it up to 95 on occasion. His bread-and-butter offering is a wipe-out slider that is just allergic to bats. In their draft report card, Baseball America (subs. req'd) said the pitch "grades as major league plus already." There aren't many kids out there touting an above-average big slider just a few weeks after their 21st birthday.
Montgomery's biggest flaw his control, as he walked 13 batters in his pro debut (4.13 BB/9). His college walk rate was much better though (3.09 BB/9). The Yankees have made an effort to acquire players with strong makeup and work ethic in recent years, and Montgomery is no different. Earlier this summer he told Adam Himmelsbach that he's a fan of 1am workouts, and he drinks a Red Bull in the seventh inning to get amped up for his appearance in the ninth inning.
2012 Outlook
It was only 24.1 IP, but Montgomery manhandled the Sally League and should move up to High-A Tampa to open next season. He'll be in line for a midseason promotion if he does well there. The Yankees have little reason to hold him back; relievers should move quickly and they won't get a real read on how his stuff plays until he gets to Double-A. Single-A kids don't have much of a chance against a big league slider.
My Take
I think it's impossible to not like Montgomery. He's got the gaudy performance with the knockout pitch and scouting report to back up the stats. The Yankees have done a nice job of turning their middle-of-the-draft picks into useful players under scouting director Damon Oppenheimer, none better than David Robertson. Montgomery is cut from a similar cloth — a slightly undersized, high-strikeout right-handed reliever with a dominant breaking pitch — though he'll probably have more of a platoon split than Robertson because of the slider. Either way, Montgomery is exactly the kind of guy that could shoot up the minor league ladder and force his way into big league consideration by 2013.