The following is a guest post from Tyler Wilkinson, the madman behind all but one of the graphics available at The RAB Shop. He wrote about everyone's favorite topic, Joba the Starter. If you're uninterested in living through that discussion again, then just skip right over this post.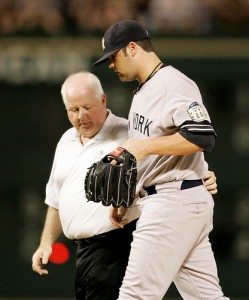 Joba Chamberlain's ascent and decline have been well documented. He was a fire-balling 21-year-old bubble wrapped to protect him from his manager. A reliever. A starter. A reliever again. Hurt. Fat. Hurt again. And now, four and a half years after being fit for pinstripes, nearly forgotten.
We have seen the mountain top. We know what waits there. We know that in 2008, a 22-year-old Joba with all the pressures of New York on his back threw 65 innings over 12 starts for the Yankees, striking out 10 and walking 3 per game. We know that in 2009, his 31 starts didn't go as well, with the strikeouts dropping to 7.4 and walks climbing to 4.4. He also hit 12 batters, presumably all of them Youkilis.
A pitcher who at age 23 had started 43 games with varying levels of success, striking out 9.6 batters per 9 innings. That's more than Clemens at his age. More than Nolan Ryan, Koufax, Maddux and other arbitrary Hall of Famers that were all given more of a chance than Joba. Would Chamberlain have reached their level? Almost certainly not. Should 221.2 innings as a starting pitcher determine an inability to succeed? Almost certainly not.
As Chamberlain recovers from the Tommy John Surgery that cut his 2011 campaign short, it is easy to look back on the potential he exuded and wonder where it all went wrong. It is also easy to write his Yankees obituary. But as we embark on a 2012 season with a Yankees rotation infested by doubt and A.J. Burnett's ghost, now is the time to exhume the corpse of Joba and give it one more try.
There's no excuse not to. For one, Joba's mere presence is a luxury. Relegated to the sixth inning behind David Robertson, Rafael Soriano, and Mariano Rivera, Joba's anticipated contribution to the 2012 squad is negligible. As witnessed when Joba went down last season, Joe Girardi is more than capable of filling innings with spare part relievers. Losing him to the starting rotation would have virtually no affect on the bullpen and if it becomes evident that the experiment is failing, Joba can go right back to the pen with no harm done.
The main reasons to try it are the current state of the rotation and the now omnipresent budget. Joba Chamberlain at his peak is the number 2 starter the Yankees are searching for. In an offseason where the Yankees have chosen not to throw money at big money targets like C.J. Wilson and Mark Buehrle, or even one year deals for the likes of Hiroki Kuroda or Roy Oswalt, Chamberlain lays in the weeds as a cost-controlled option already on the books. A lottery ticket sitting in the Yankees' wallet that doesn't even require a trip to the store. If the 2008 version of Joba the Starter turns up, he's an improvement over every non-Sabathia member of the current rotation. If 2009 Joba turns up, he still may be an improvement over back-end question marks like Phil Hughes, Burnett and an even older Freddy Garcia.
There is no downside. Joba will not be ready for Opening Day, so start him in AAA. He has minor league options left. Let him prepare as a starter, get reacclimated to the schedule, the pitch counts, the feeling of losing a game in which you pitched well enough to win. If he gets hurt, the Yankees are where they were in 2011; a playoff team with a shutdown bullpen and question marks in the rotation. If he pitches terrible, same deal. But, on the microscopic chance he succeeds, the Yankees have their coveted pitcher. Cheap. For the 2013 season as well, before he becomes a free agent. An answer to an offseason of questions. A cost-effective solution for the suddenly thrifty Steinbrenner boys. Joba is a lottery ticket worth scratching, now more than ever. Here's hoping for the jackpot.