On June 22 of this past year I noted that the 2011 Yankee pitching staff appeared to be on its way to racking up one of the franchise's lowest single-season ERAs in years, and in fact, the team finished out the year with a 3.74 mark — the Yankees' lowest seasonal ERA since the 1985 squad compiled a 3.69 ERA.
These tallies included both starting and relief pitching, and so today I wanted to take a look at some of the historical ERAs of Yankee starters to see just how good Yankee fans had it in the pitching department in 2011, at least compared with some other Yankee teams of recent vintage. To begin with, below is an update to the starting pitching chart I created back in an August post that took a look at how well-rounded the 2011 Yankees were.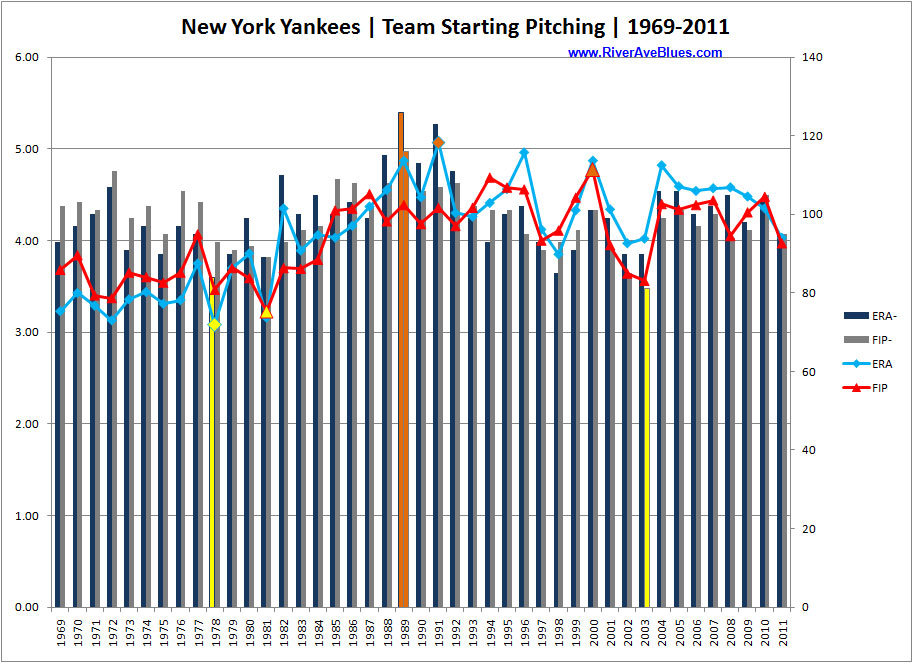 At the time of that August post, the Yankee starting rotation had pitched to a 3.83 ERA (94 ERA-) and 3.88 FIP (96 FIP-), with the former representing the 13th-lowest mark — and 3rd-lowest since the team's legendary 1978 (3.08 starters' ERA) season — of the 43 Yankee clubs surveyed.
The Yankee starting rotation finished the 2011 season with a more-than-respectable 4.03 ERA (95 ERA-) and 3.97 FIP (95 FIP-), with the former tying the 1985 team's mark for 18th-best of the last 43 seasons, though perhaps more importantly for Yankee fans of a certain age, the 4th-lowest ERA since 1985, which underscores both the dramatic increase in offensive levels of the last 25-plus years as well as the fact that it's pretty damn difficult to put together a rotation in the AL that pitches to a sub-4.00 ERA.
The next chart shows the individual ERAs of the Yankee starting rotations — based on innings pitched — since 2003 (as always, click to enlarge):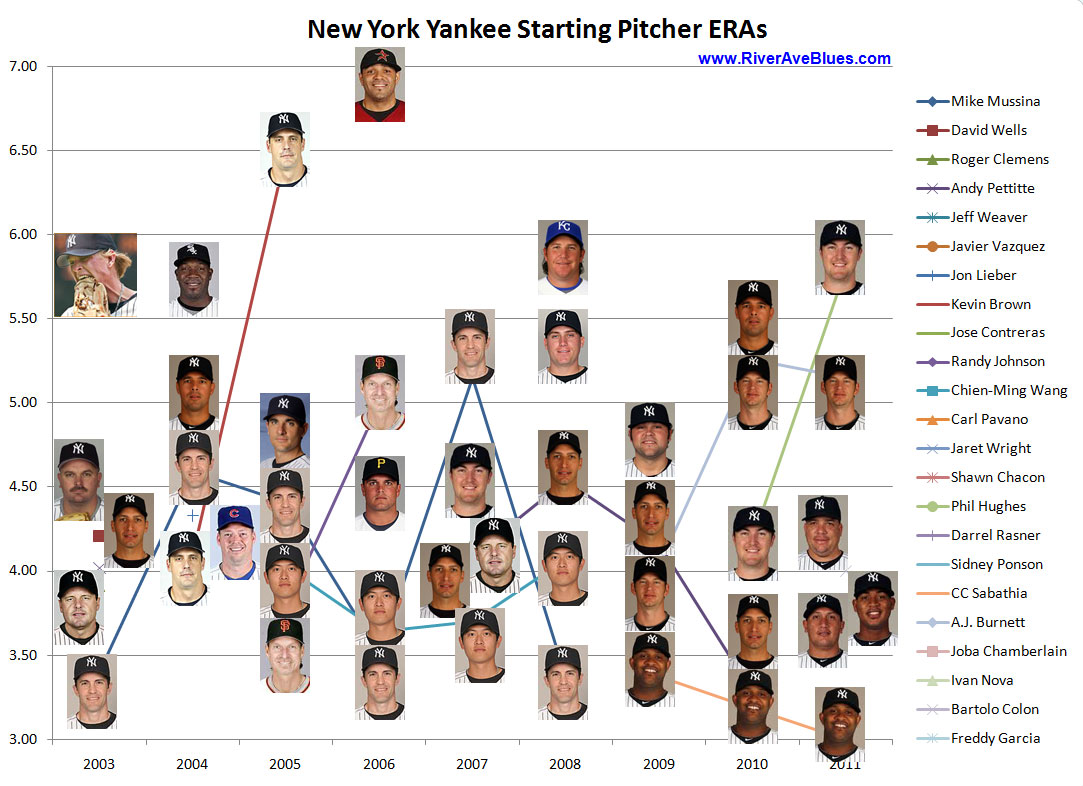 A couple of things jump out at me:
Though the Yankees did the right thing cutting bait with Chien-Ming Wang when they did, it's easy to forget that he was a pretty critical component of the 2006-2007 teams, compiling a total of 9.1 fWAR over those two seasons.
As I discovered last offseason, Mike Mussina may have been one of the more underappreciated Yankees in recent memory.
The Yankees have let a rather surprising number of starters put up 5.00-plus ERAs over the last nine seasons.
CC Sabathia has already been worth every penny he has yet to earn in pinstripes.
Good starting pitching is hard to come by.