The following a guest post from David Gershman, better know as The Gersh around the Twitterverse. He spent last summer covering the NY-Penn League, and today gives us a firsthand scouting report on Mason Williams, the Yankees top position player prospect now that Jesus Montero is headed to Seattle. You can follow Gersh on Twitter at @Dave_Gershman.
Of all the talent I was able to spectate in 2011, hardly anyone caught my eye to the extent of Mason Williams, Staten Island's everyday center-fielder. The New York-Penn League technically ranks as the third lowest developmental level in baseball, ahead of the Pioneer and Appy Leagues and the Gulf Coast League. Therefore, finding talent to keep an eye on is somewhat rare. As a matter of fact, on a good year there might only be one elite-level talent worth watching in the Penn League. While I'm not claiming Williams to be an elite-level prospect, his upside and advanced skill-set are through the roof, clearly making him a must-see talent.
A scout once requested my opinion on Williams and my reasoning for touting him as much as I did last season. I replied, "After months of Extended Spring Training work, Williams began to hit the cover off of the ball right out of the gate and continued doing so even after the first week of the season. There wasn't any point throughout the year in which he cooled off, and it was rather astonishing." I labeled his everlasting performance as astonishing simply because inconsistency is so common amongst prospects at the short-season level. And it's especially colloquial for those playing their first season as a professional. On to the report.

Williams is a terrific athlete with assets and upside that could make him an above-average major leaguer in the not-too-distant future. Quick hands, loads of bat speed and a smooth bat plain make him an advanced hitter, one that hits both lefties and righties without much problem for someone of his age and level. Williams is prone to making bad contact at times, given his high tendency to swing early in the count and, more importantly, at lousy pitches, but plate discipline is an aspect of his game I imagine he'll be working to ameliorate until he reaches the majors.
While his approach needs some tuning, he has the right idea. As one professional scout noted, "a hitter constantly swinging at pitches early in the count would generally warrant some concern, but if the hitter is either making good contact with pitches in the zone or swinging at hittable pitches than there isn't much of a problem, and Mason Williams often overdoes it, he customarily accounts for both."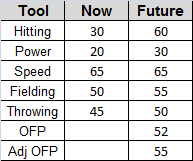 Williams has a thin and wiry frame, but contains tons of physicality and, in correspondence, some of the most physical upside the Yankees system. He isn't expected to possess too much power down the road, but certainly enough to avoid being considered a "slap-hitter" of any sort. Remaining a center fielder isn't a question, but the role system (at least according to two scouts), suggests that Angelo Gumbs might be a more adequate center-field option than Williams should both progress at a similar rate. Williams' plus range and baseball instincts, at least for me, make him a more-than-viable candidate to be an every day center-fielder for the Yanks down the road.  Williams seemed to have developed refined accuracy as last season progressed. Accuracy sure is expected to develop accordingly, but arm strength is slightly different. As players fill out and develop more fortitude and muscle, they improve the distance and accuracy on their throws. Being that his arm is currently below average unquestionably is a non-issue.
Williams' current and future tool grades are to the right and up a bit. If you need an explanation as to how these grades work, you can read my primer on how professional scouting reports are compiled.
The reason I gave Williams such a low power projection is mostly due to lack of leverage and loft in his swing. Although it's quick and stays through the zone, it's choppy and rather flat. That doesn't make him a bad hitter by any means; it just decreases his power projection. That said, he's shown the ability to hit to all fields and, in doing so, drive the ball. Additionally, I upgraded his overall future potential (OFP) because his range and speed suggest such an adjustment.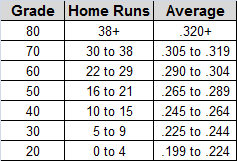 All professional scouts have a specific computer program that automatically adjusts OFP based on the weight of the prospect and his positional grade requirements. Meaning, center fielders are supposed to have plus range and speed, even if they aren't that good of hitters. However, what if a first-baseman grades out to have 30 power but 70 speed and defense? His adjusted OFP would lower significantly since first base is a power position. Thus, center field is a speed and defense position.
The Yankees have a rare commodity in Williams, a clear center-fielder with the ability to hit. He's only 20-years of age, so the Yankees obviously won't be rushing him at any point. That said, if he shows he can hit in Charleston I'd expect him to finish the season off in Tampa and eventually head to Trenton sometime in 2013. Unlike his time spent in Staten Island, Williams won't be hitting .349 in Charleston this season, but you can unequivocally expect a to see improvements and maturity in Mason Williams' game. He's a bright player with a bright future.