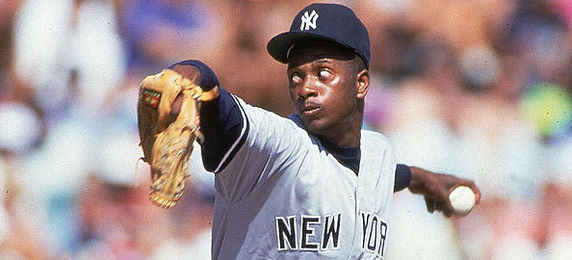 The Brien Taylor story is a sad one and a familiar one. Drafted first overall back in 1991, the high schooler from some remote corner of North Carolina was supposed to be the next great Yankee left-hander. Instead, his career was derailed after just two seasons by injury, a self-inflicted injury at that. I wrote about Taylor's career and life over at FanGraphs on Wednesday, an ode to the best pitcher none of us ever got to see…
Pitching prospects may as well go out to the mound in bubble wrap these days, protected with pitch counts and innings limitations and the like. Back in 1992, things were very different. Less than one year out of high school, a 20-year-old Taylor was assigned to the High Class-A Florida State League and threw 161.1 innings across 27 starts in his pro debut. He struck out 187 of the 663 batters he faced (28.2%), walked 66 (10.0%), and allowed just three homers. Baseball America considered him the second best prospect in the game after the season, behind only Chipper Jones.

"From a development standpoint, Taylor showed the Yankees all they wanted to see: well above-average arm strength, an effortless delivery and the ability to locate pitches with rare precision," wrote the publication in their AL East Top 10 Prospects issue, published in February 1993. "Taylor's fastball reached 98 mph on occasion and consistently hit 95. He also threw a power curve and changed speeds off it. Scouts marveled at Taylor's ability to keep his head as he unleashed his full arsenal of pitches … Scouts say he'll be ready for New York by September."

Bumped up to the Double-A Eastern League the next season, Taylor again made 27 starts, this time throwing 163 innings. His strikeout (21.1 K%) and walk (14.3 BB%) rates took a step back, and he gave up more than twice as many homers as the year before, a whopping seven dingers. It was a disappointing performance given the hype, but for a kid less than two years out of high school in Double-A, he more than held his own. That was the last time Taylor would experience success on a baseball field.
Not counting the recent guys, Taylor is one of just three first overall selections to never reach the big leagues, joining Steve Chilcott (1966) and Matt Bush (2004). He was a bust but not the wrong pick, those are two entirely separate ideas. Taylor was a phenom, arguably the best high school pitching prospect in draft history, and he got hurt in a freak, off-the-field accident. You can't get on the Yankees for that, but that's never stopped people. Click the link and check out the entire piece, I hear it's pretty awesome.