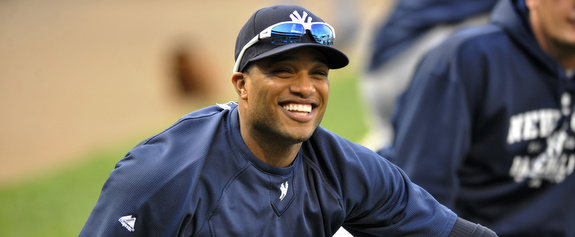 Over the last two season, no player has been more integral to the Yankees' success than Robinson Cano. Well, maybe CC Sabathia, but we'll stick to position players tonight. Cano, who turned 29 back in October, has hit .311/.365/.533 with 87 doubles and 57 homers since the start of the 2010 season. In terms of fWAR (12.1) and bWAR (10.9), Robbie's been the 10th and 11th best position player in all of baseball over the last two seasons, respectively.
Eleven years ago today, the Yankees signed Cano as an international free agent out of the Dominican Republic for just $150k. That's $25k less than they gave Melky Cabrera the very same year. Cano has been the Yankees' best homegrown position player since Derek Jeter and Jorge Posada, an MVP candidate who's come into his own as one the game's best players over the last few seasons. Is there a player on the team more fun to watch hit? I don't think so.
* * *
Here is tonight's open thread. The only local team in action is the Rangers, who Time Warner customers still won't be able to watch because the Dolans pulled MSG. Use this thread to talk about anything your heart desires, it's all good.