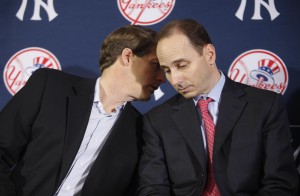 It's been a very slow offseason for the Yankees, who have spent a whopping $6M* on free agents. All of that money went to re-signing their own players as well: $4M to Freddy Garcia and another $2M to Andruw Jones. That's it. We've heard quite a bit about their unwillingness (or inability) to increase payroll, particularly long-term with regards to the 2014 austerity budget. That could change though, as Buster Olney is reporting (Insider req'd) that the team will make a decision about whether or not to expand its current budget "in the next couple of weeks."
An increased budget will change the equation dramatically for the Yankees, particularly the pitching equation. Edwin Jackson is still lurking out there, as are Hiroki Kuroda and Roy Oswalt. In my crazy world even Ryan Madson is rotation option. As we see this morning with the Paul Maholm deal — one-year, $4.25M with a club option when comparable pitchers got two guaranteed years earlier in the offseason — prices are starting to come down just a bit as Spring Training draws closer. The Yankees will simply reevaluate their budget, and possibly adjust it.
From here, this sounds like an awful lot like the next step towards Jackson becoming a Yankee. Joe recently wrote about the similarities between the Edwin rumors and last year's Rafael Soriano rumors, and this kinda sorta fits the theme. The only difference is that last year we knew they had the money to spare after losing out on Cliff Lee, whereas this year they might have to up their payroll to accommodate a new pitcher. Remember, increasing the budget is not guaranteed at this point, it's just up for consideration.
My rough estimation has the Yankees right around $200M with their payroll at the moment, and bringing in a pitcher like Jackson or Kuroda or Oswalt would push them into the $210-213M range. Coincidentally, the team's final payroll for luxury tax purposes was $212.7M in 2011, so perhaps they're willing to go back to that level next year. Obviously it's not that cut and dry, but you get the idea. The market for those three pitchers isn't exactly hot right now, and the fact that they're still available this late in the winter indicates that other teams haven't deemed them worthy of their asking price either. The Yankees have the advantage of money, but right now it's unclear if they'll decide to use it.
* Obviously this doesn't include the $122.5M they re-invested in CC Sabathia, but he technically wasn't a free agent. Tomatoes tomahtoes.