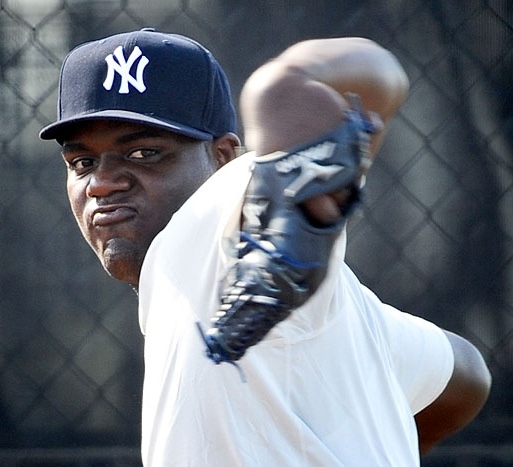 Pitchers and catchers officially report for duty this Sunday, but a number of players are already in Tampa preparing themselves for the upcoming season. One of those players is Michael Pineda, and yesterday would have been a typical pre-Spring Training day had he not been involved in the Yankees' biggest transaction in more than two years.
"It's my first day and I'm excited because it's my first time practicing with the New York Yankees," said the right-hander, who was all smiles on Day One. "It's my first time living in Tampa and I don't know [the area], so I wanted to come early and get in a couple practices before Spring Training starts. I like to come in early."
Pineda insisted on speaking English to the media, and both Kevin Kernan and Anthony McCarron provided a recap of his first day on the job. He played some light catch in the bullpen — "About 65," he joked when asked how hard he was throwing — and ran sprints, pretty standard stuff. Like everyone else, Pineda wants to works on some things in camp, specifically his changeup and two-seamer. He also acknowledged that his second half fade last year was the result of fatigue.
"First half, my arm was strong and I was feeling great and the second half, I'm feeling a little tired," admitted Pineda. "The other teams know me. It's a long season."
The Mariners took care of Pineda down the stretch, having him make just three starts during the final 31 games of their season. He threw only 287 pitches after August 27th, and his workload increased by just 31.2 innings from the year before. Of course big league innings are more stressful than minor league innings, but he said he feels fine now and is ready to go. It's worth noting that while his ERA spiked in the second half, his strikeout and walk rates never wavered.
Pineda also spoke briefly about his relationship with Robinson Cano, who he first met last year when the Yankees were in Seattle and again at the All-Star Game. "My head is (spinning) because I've never stayed in New York," he remembers telling Cano after the trade. "He said, 'Don't worry man, I'll take care of you' … I love this guy. He's my friend." Pineda is also looking forward to picking CC Sabathia's brain, and not just because they share the same height (both listed at 6-foot-7). "I want to learn from him and I want to say hi because he's a great pitcher."
No player in camp will be under a more watchful eye this spring than Pineda, just like Jesus Montero will be out in Arizona with the Mariners. Fair or not, being the Yankees' big offseason move comes with pressure in all forms; the pressure to perform, the pressure to say the right thing, the pressure to be perfect in as many ways possible. Pineda's first day at camp was uneventful in the grand scheme of things, which is perfectly fine. There will be plenty time for scrutiny later whether he (or you) likes it or not. It's the nature of the beast.