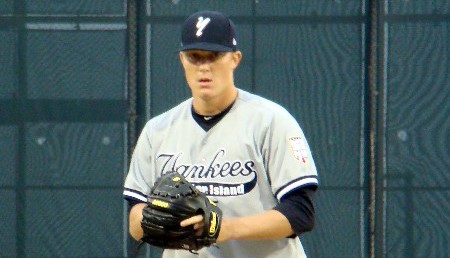 Phil Wetherell | RHP
Background
A graduate of Stewardson-Strasburg High School outside of Champaign, Illinois, Wetherell starred as both a pitcher and position player for the Comets. He lettered all four years and was thrice named to the All-Conference Team, plus he played basketball and made the honor roll all four years. Wetherell wasn't much of a pro prospect however, so he went undrafted in 2008 and ended up at Kaskaskia College, a two-year school. He threw 55.2 IP and led the Hilltoppers to the Great Rivers Athletic Conference Championship, posting a 4.04 ERA with 50 strikeouts and 18 walks. After again going undrafted, he transferred to Western Kentucky.
Wetherell pitched sparingly as a sophomore, throwing 29.1 IP with 23 strikeouts, 12 walks, and a 4.91 ERA in 21 appearances. He took on more responsibility as a junior, making a team-high 30 appearances and leading the club with five saves. He struck out 44 and walked 19 in 59.1 IP, posting a 4.10 ERA. Wetherell gained exposure and benefited from being on the same team as Kes Carter, a top-50 draft prospect that lured scouts out to Bowling Green. Baseball America (subs. req'd) ranked Wetherell as the eighth best prospect in the state before the draft, and the Yankees drafted him with their eighth round pick last June, the 269th overall selection. He signed quickly for $122,500.
Pro Debut
The Yankees assigned Wetherell to the Short Season Staten Island Yankees after signing, where he served as Branden Pinder's primary setup man. He pitched to a 2.40 ERA and a 3.03 FIP, striking out 41 batters (12.3 K/9 and 31.1 K%) and walking 15 (4.50 BB/9 and 11.4 BB%) with 52% ground ball rate in 30 IP. The Baby Bombers won the league title as Wetherell threw five scoreless innings across four appearances in the club's five playoff games.
Scouting Report
Listed at 6-foot-5 and 225 lbs., Wetherell is one of those rare pitchers that came into pro ball with a splitter. It's a legitimate strikeout pitch that falls off the table, offsetting his 91-95 mph fastball well. There is some herky-jerkiness in his delivery, which hinders his control and makes him prone to leaving pitches up in the zone. He's not homer-prone though, just hit-prone at the moment — six homers and 120 hits allowed in 118.1 IP since transferring to Western Kentucky.
Wetherell has the makings of a slider but lacks a true breaking ball, though the fastball-splitter combo is enough to succeed out of the bullpen long-term. His arm is relatively fresh compared to most college relievers, and he hasn't dealt with any kind of injury problem since graduating high school. Like most players the Yankees draft these days, his makeup and work ethic are considered pluses. You can see some video from last September on Mike Ashmore's YouTube channel.
2012 Outlook
Wetherell is ticketed for the Low-A Charleston bullpen to open the season, though as is always the case with relievers, he could be in line for a quick promotion if he shows overwhelming stuff at that level.
My Take
This is the ninth Prospect Profile I've written this offseason, and five of them have featured relievers. That wasn't in any way intentional, but it says a little something about the quality bullpen depth the Yankees have down in the minors. Wetherell stands out from the crowd a bit as a fastball-splitter guy, which is intriguing only because there are so few relievers with that repertoire compared to fastball-slider and fastball-curveball. The Yankees have relatively little invested in him given his draft slot and bonus, but the upside is a strikeout reliever that doesn't figure to have much of a platoon split. Wetherell needs to work on keeping the ball down though, and that's much easier said than done.