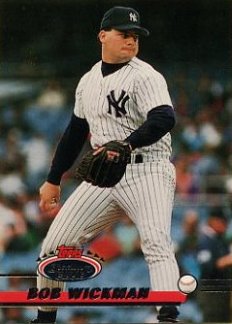 It's easy to remember Bob Wickman for his days as a hefty closer with the Indians and Braves, but once upon a time he was a skinny little setup man in the Bronx. The Yankees drafted Wickman in the second round of the 1990 draft acquired Wickman from the White Sox in the Steve Sax trade, and a few months later he was part of their second half rotation. He flopped as a starter in the first half of 1993, prompting a move to the bullpen.
Wickman never looked back after that, and in 1994 he was Buck Showalter's workhorse setup man. He threw 70 innings in relief and led the league with 53 appearances (remember, they only played 113 games because of the strike), pitching to a 3.09 ERA. Wickman struggled a bit in 1996 — 4.67 ERA in 79 IP across 58 appearances — before being traded to the Brewers for Graeme Lloyd. Lloyd helped the Yankees to the World Series later that year while Wickman settled in and had a long, productive career as a late-inning reliever.
Today is Wickman's 43rd birthday, and I'm going to use this as an opportunity to tell you about our plans for Old School Week. Joe kicked things off with his Charlie Hayes post this morning, and during the rest of the week we're going to focus the majority of our content on the good ol' days, meaning the 80's and 90's. Maybe the 70's and early-2000's as well, who knows. I figure we've sufficiently covered the pitching staff, the DH candidates, all the important stuff with the current team, so this was a good week to get nostalgic. Hope you enjoy.
* * *
Here is tonight's open thread. The Knicks and Nets are playing tonight, plus there's a Caribbean Series game on ESPN Deportes/ESPN3.com. Talk about whatever you like here.