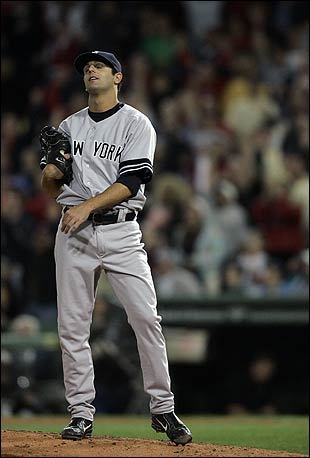 Everyone wants to make a name for themselves during the course of their lives, creating some kind of legacy that at least friends and family will remember them by. Baseball players are in the public eye and leave much bigger legacies than regular schmucks you like and me, and if they're lucky enough that legacy will be a positive one. Derek Jeter, Mariano Rivera, Reggie Jackson, Aaron Boone, David Cone, Bernie Williams … we'll remember those guys for all the good they did in pinstripes for many, many years to come. Chase Wright isn't so lucky.
Unless you're a new Yankees fans, I mean you started following the team within the last year or two, there's only one way to remember Chase Wright. April 27th, 2007, third inning. The Yankees were up three-zip on the Red Sox at Fenway Park thanks to Jason Giambi, who doubled in a pair in the first inning and singled in another run in the third. Wright started the bottom of the inning by getting Kevin Youkilis to fly out to the warning track in right, an ominous sign. David Ortiz then lined out to left for the second out. That's when it happened.
2-1 pitch to Manny Ramirez: homer to to left-center
1-2 pitch to J.D. Drew: homer to right-center
1-1 pitch to Mike Lowell: homer to left
1-0 pitch to Jason Varitek: homer to left
Within the span of 13 pitches, Wright had surrendered four consecutive homeruns to turn a 3-0 lead into a 4-3 deficit. He struck out Wily Mo Pena to end the inning, then was replaced by Colter Bean (!) to start the fourth. The Yankees went on to lose 7-6. Wright was send back to Double-A Trenton after the game, then threw two innings during his September callup. He spent the next season in the minors, then was traded to the Brewers for Eric Fryer (who was later traded to the Pirates for Eric Hinske) before the 2009 season.
Wright hasn't been back to the big leagues since that September callup in 2007, instead toiling around in the minors with rather hideous results: 5.39 ERA in 386.2 IP with the Brewers. Today is his 29th birthday, and unless Wright makes some significant adjustments, he'll never return to the big leagues and those four homers in Fenway will remain his legacy. Harsh.
* * *
Here is your open thread. The only local clubs in action tonight are the Knicks and Nets, but you can use this thread to talk about whatever you want. Go nuts.