Left-handed pitchers are the cats of Major League Baseball because it seems like they get nine lives. No one put those lives to the test more than Steve Howe.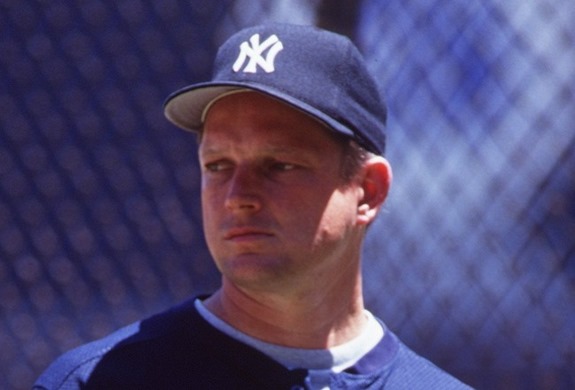 The Dodgers drafted Steve Howe with the 16th overall pick in the 1979 draft, sending him and his golden left arm right to Double-A out of the University of Michigan. After 13 minor league starts to finish the year, Howe made the big league roster out of Spring Training the next season as a reliever. By the end of April, he was Tommy Lasorda's closer.  At 22 years old, Howe threw 84.2 relief innings across 59 appearances and pitched to a 2.66 ERA. He saved 17 games and beat out Bill Gullickson and Lonnie Smith for the NL Rookie of the Year Award.
The work stoppage limited Howe to just 41 appearances and 54 innings in 1981, though he still saved eight games and pitched to a 2.50 ERA. The Dodgers beat the Yankees in the World Series that year, with Howe throwing 3.2 scoreless innings to clinch the title in Game Six. His first All-Star Game selection followed in 1982, as he threw 99.1 innings across 66 appearances, saving 13 games and posting a 2.08 ERA. At 24 years old, Howe had three stellar big league seasons, a Rookie of the Year Award, an All-Star Game berth, and a World Series title to his credit. He was a certified star, but then everything started to fall apart.
During the 1982-1983 offseason, Howe underwent treatment for cocaine addiction. He returned in time to start the season, and was his usual dominant self. He allowed just two unearned runs in his first 14 appearances and 22.1 innings, but on May 29th he had to re-enter treatment for his cocaine problem. The club fined him $54k and then-commissioner Bowie Kuhn placed him on three years probation upon his release from treatment in late-June. Two weeks later, the club suspended him after he showed up late to a game, but drug tests came back clean. He was reinstated the next day.
Howe was again brilliant down the stretch, pitching to a 2.14 ERA in 32 games and 46.1 innings after returning to the club following his midseason treatment. Five days after throwing two perfect innings against the Astros on September 19th, the Dodgers suspended Howe indefinitely after he missed the team's flight to Atlanta. He also refused to take a drug test.
"Howe was unable to give satisfactory reasons for his failure to call the Dodger office to explain the circumstances," said then-Dodgers vice president Fred Claire. "Howe was asked to take a urinalysis test to detect the presence of prohibited substances, but he refused to take the test."
The commissioner's office started an investigation, and Howe's lawyer advised him to sit out the rest of the season. His Narcotics Anonymous sponsor confirmed that he was under the direction of physician but not at a rehab clinic.
"One thing I can tell you, Steve is not on narcotics," said Roy Bell, Howe's attorney. "I can't afford to have Steve stressed out any more by the fans, the media, the pressure. I don't think he can take the emotional strain."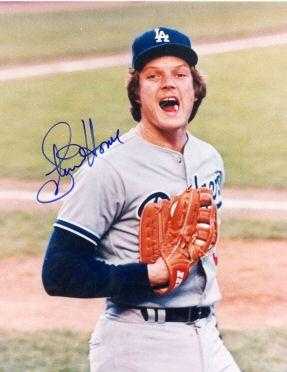 On December 16th, 1983, Kuhn suspended four players for one year due to their use of illegal drugs. Howe was one of the four, but unlike the other three players (Willie Wilson, Willie Aikins, and Jerry Martin, all of the Royals), his case would not be reviewed on May 15th. He'd have to wait the full year. The players union was understandably upset, and they ended up filing grievances on behalf of all four players. Howe eventually settled his grievance and agreed to miss the full year.
"My doctor, my therapist and fellow members of my recovery program have urged me to take more time before subjecting myself to the high emotions and stress of a pennant race," said Howe in a statement following the settlement.
After sitting out the 1984 season, Howe returned to the Dodgers in 1985 and showed the kind of rust you'd expect after a year-long layoff. He owned a 4.91 ERA though mid-June, then was placed on the restricted list after the team determined he was "incapable of handling his assignment" He failed to show up for a game against the Braves a week after arriving late for a game against the Astros. Drug tests came back negative, however. One week later, the club released him.
Left-handers will continue to get chances though, and a month later the Twins signed him. Howe threw 19 ineffective innings for Minnesota (6.16 ERA) down the stretch, then admitted to team officials in September that he'd relapsed. They released him the next day. Howe spent the 1986 season as an unaffiliated player in the minors, essentially auditioning himself during a 49-inning stint with the Single-A San Jose Bees. The Rangers signed him to a minor league contract in July of 1987, and he went on to throw 31.1 innings (4.31 ERA) for Texas after being called up in early-August.
The Rangers had given Howe a one-year, $1M deal for 1987, but the contract was terminated after he violated the terms of his treatment program and failed to show for a mandatory offseason workout in January. Alcohol, not cocaine, was the problem this time. A comeback attempt in Mexico went nowhere, and it wasn't until March of 1990 that then-commissioner Fay Vincent allowed Howe to return to the minor leagues under the condition that he participate in a strict aftercare program. He was still banned from the Major Leagues until 1991, however.
Howe spent the 1990 season as an unaffiliated player with the Single-A Salinas Spurs, though he missed time with minor shoulder tear and a not so minor blood clot in his lung. He threw 17 innings for the Spurs, then another 31 in winter ball in Mexico. Howe had not pitched in the big leagues for three full seasons, but then-GM Gene Michael invited him and Len Barker to work out for the Yankees in February of 1991. Barker didn't show much of anything, but Howe impressed enough that the team officially invited him to camp as a non-roster player.
"He's getting a chance because he's good," said Michael. "There's always a need for more left-handed pitching … He's been clean for two years. I asked a lot of people a lot of questions about him, his makeup, the type of person he is. I feel there's been a lot worse things done in baseball than bringing Steve Howe back. If it was my son or your son, you'd want to give him another chance."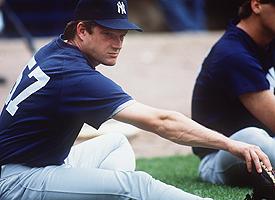 The Yankees were trying to replace the departed Dave Righetti, their long-time lefty closer who signed with the Giants as a free agent. Howe looked sharp in camp, but the team opted to send him to Triple-A Columbus to start the season. His contract allowed them to do so for up to six weeks. He allowed one unearned run in 18 innings for the Clippers, then was rewarded with a callup when the team decided to release the dreadful Andy Hawkins in early-May.
Howe did not allow a base hit in his first 4.1 innings for the Yankees, briefly usurping Steve Farr as closer. He threw 48.1 innings across 37 appearances that year, posting a 1.68 ERA. The old Steve Howe was back, but unfortunately that applied to more than just baseball. The two sides agreed to a new one-year, $600k deal with incentives after the season, but less than two months later he was in trouble again. Howe was arrested six days before Christmas at his home in Montana for cocaine possession, a felony charge. He was arraigned and released, and the Yankees stood by their troubled southpaw.
Federal prosecutors later amended the charge to attempted possession of a dangerous drug, a misdemeanor. The team invited him to a January promotion event at the Javits Center, which was followed by a not guilty plea in February. A few days later Howe struck a light pole with his car and fled the scene, resulting in a $125 fine. His trial was postponed from March 30th to May 5th, and a few days prior to the trial the two sides struck a plea deal. As part of the deal, he pleaded guilty to the attempted possession charge.
While all that was going on, Howe was pitching for the Yankees, and rather effectively as well. He allowed just six earned runs in his first 20 appearances (22 innings), saving six games in seven chances. He wouldn't appear in another game all season. On June 8th, Vincent banned Howe from baseball for life as a result of the guilty plea. The union filed a grievance claiming the suspension was "without just cause within the meaning of the basic agreement and arbitration panels' decisions in the area of disciplinary suspensions."
The grievance went to arbitration in November, which resulted in Howe's reinstatement. The Yankees brought him back for the 1993 season, and as part of the terms of his reinstatement, he was drug tested every other day. Howe missed time with an ankle injury that season, but otherwise stayed out of trouble. He threw 50.2 innings across 51 appearances, though his ERA was unsightly 4.97. He returned to the Bronx in 1994, missed some time with a groin injury, and pitched to a 1.80 ERA in 40 innings. He'd saved 15 games in 19 chances before the work stoppage. As a reward, the Yankees exercised their $2.3M club option and kept him for 1995.
Howe, now 37, was required to maintain "legitimate employment in a structured environment" per the terms of his probation stemming from the 1992 drug charge, so the Yankees put him to work in the ticket office during the strike in early-1995. He earned a $772 a week living allowance. Frustrated by the strike, Howe spoke about retiring or crossing the picket line and becoming a replacement player in March, but he did neither. The strike ended on April 2nd, and Howe reported to camp with all the other Yankees.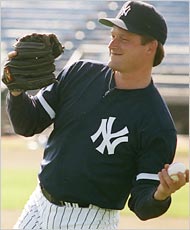 The recently acquired John Wetteland took over at closer while Howe struggled in middle relief following the work stoppage. He posted a 4.96 ERA in 56 games and 49 innings, and rumors surfaced in July that he was distributing amphetamines to teammates. Nothing ever came of it, though. Howe returned to the Yankees in 1996, but at 38 years old and with a drug-abused body, he was basically done. He allowed a dozen runs in his first 17 innings of the season, and on June 22nd, the Yankees released him.
Two days after being released, Howe was arrested at JFK Airport when security found a loaded .357 Magnum in his suitcase. His probation was over by then, and he ultimately pleaded guilty to gun possession and was sentenced to another three years' probation and 150 hours of community service. The Giants had agreed to sign him, but backed out following the arrest.
Howe attempted a comeback in 1997 with the Sioux Falls Canaries of the independent Northern League, but after 13.2 innings, he gave up. His baseball career was over. The former World Series clinching closer retired with a 3.03 ERA and 97 saves in 606 innings spread across 17 years and 12 seasons. In 229 games for the Yankees, he pitched to a 3.57 ERA in 227 innings. Baseball-Reference lists Howe's career earnings as $8.525M, a pittance compared to what he could have earned if it wasn't for his addiction and seven suspensions.
A motorcycle accident put Howe in intensive care with collapsed lungs and a ruptured trachea in August of 1997, and he was later charged with drunk driving in connection to the accident. Charges were later dropped because prosecutors determined that his blood test was obtained improperly, however. He recovered and managed to stay out of the public eye for nearly a decade.
Howe, who was married with two kids, got into the energy drink business and owned a company in Arizona after baseball. He was driving from Arizona to his home in California on April 28th, 2006 when his pickup truck left the road and rolled several times in the median. Howe was ejected from the vehicle and killed. Toxicology reports showed that he had methamphetamine in his system at the time of the accident. He was 48. Having come back from seven drug-related suspensions and one motorcycle accident, Howe's ninth life was his last.