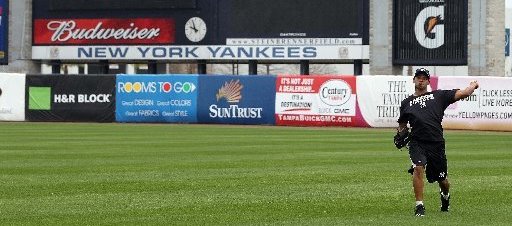 The Yankees have spent a good portion of the last several offseasons trying to find a competent left-handed reliever, getting next to no return on the millions of dollars spent on proven commodities like Damaso Marte and Pedro Feliciano. Aside from the ownership-driven Rafael Soriano signing, disaster contracts like those have resulted in the Yankees scaling back their spending on non-Mariano Rivera relievers in recent years.
"I used to sign (Paul) Quantrill, (Steve) Karsay, Gabe White, all these veteran relievers," said Brian Cashman earlier this week. "Now, our bullpen, for the most part, is homegrown or low-risk guys like Cory Wade who we popped off the waiver wire. The bullpen has become a cheap thing for me."
The pipeline of relievers in the minors — George Kontos, Chase Whitley, Mark Montgomery, Branden Pinder, etc. — is flush with talent, but most of those guys are a year or two away from the big leagues. Thankfully, the big league bullpen is well-stocked save for one final spot that is up for grabs in camp. Given the Yankee' (and really all of baseball's) obsession with left-handed relievers, there's been a bit of an assumption that the final spot could go to a second southpaw like Mike O'Connor, Clay Rapada, or Rule 5 Draft pick Cesar Cabral. That's not necessarily the case, however.
"I think you could use [a second lefty]," said Joe Girardi yesterday. "You look at our guys in the late innings, you're probably going to go to them, and you're not going to worry about the second left-hander, so I don't think it's a necessity. But if you get a left-hander that can maybe give you a little distance or that you're not afraid to use against right-handers, I think it could be valuable."
Girardi doesn't exactly come off as sounding desperate for a second lefty to combat the David Ortizes and Carlos Penas of the AL East. There's definite value in having a competent second lefty, but at the end of the day the most important thing is to have a quality reliever in that spot, regardless of handedness. As Girardi implied, the Yankees are blessed with several righties who are more than capable against lefties, specifically David Robertson.
I am curious to see Cabral this spring, only because he's not a retread like O'Connor or Rapada and theoretically has some kind of upside at age 23. He's a fastball-changeup guy, which is the kind of stuff typically used against batters of the opposite hand and not necessarily in left-on-left matchup situations. Cabral was a starter in the minors as recently as last season, so perhaps he can be that second left-hander as a multi-inning type. I don't want him on the roster just because of the arm he throws with, however. Take the best reliever, figure out the rest later.