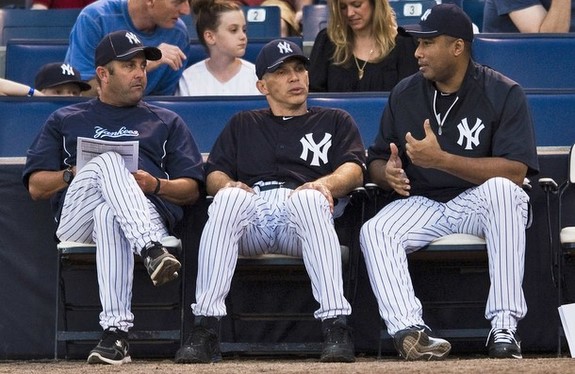 The Yankees lost to the Blue Jays 7-5 this afternoon, and the biggest news of the day was Freddy Garcia's right hand contusion. Thankfully x-rays came back negative after he got hit by an Edwin Encarnacion line drive. Freddy allowed two runs in three innings, including an Encarnacion homer. Manny Banuelos got roughed up pretty bad, allowing four runs on three hits and two walks in one inning of work. One of those hits was an Encarnacion homer. That guy really did some damage today.
Yankees' center fielders went a combined to go 4-for-5 today, with Curtis Granderson (pair of doubles) and Dewayne Wise picking up two knocks each. Mark Teixeira also singled to the opposite field off a right-handed pitcher, so hooray for that. Frankie Cervelli, Doug Bernier, and Cole Garner all doubled, accounting for all of the club's extra-base hits. D.J. Mitchell hit two batters in three otherwise perfect innings, recording four outs with strike three and five others on the ground. Not bad. Here's the box score and here's the latest from Tampa.
Michael Pineda has changed his between-start routine. He now throws his bullpen session two days before starts rather than three, which is what he did with the Mariners last year and is most comfortable with. Joba Chamberlain, Hiroki Kuroda, Rafael Soriano, Dellin Betances, and Matt Daley all threw their scheduled side sessions today. [Chad Jennings]
David Robertson jogged on a treadmill for 30 minutes today and didn't feel any pain or soreness in his right foot. There's a pretty good chance he'll throw a bullpen session this weekend. [Jennings]
Nick Swisher left today's game with minor tightness in his right groin. It doesn't sound like a big deal though, just a precaution. I'll worry if we don't see him for a few days. [Mark Feinsand]
George Kontos was scheduled to appear in his first game of the spring this Friday, but he'll instead throw another round of live batting practice tomorrow and probably get into a game at some point over the weekend. [Jennings]
Here is your open thread for the night. The Nets and Mike D'Antoni-less Knicks are both playing tonight, and MLB Network will be airing some games as well. Talk about whatever you like here, go nuts.