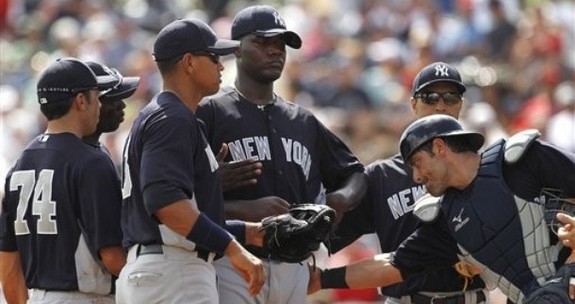 Joe Girardi said tonight is a "big start" for Michael Pineda, a solid indication that the Yankees are thinking way to hard about this rotation stuff. If the answer was any more obvious, it'd slap them in the face. Here is tonight's lineup…
SS Derek Jeter
CF Curtis Granderson
2B Robinson Cano
3B Alex Rodriguez
1B Eric Chavez
C Russell Martin
DH Andruw Jones
RF Justin Maxwell
LF Brett Gardner
RHP Michael Pineda
Available Pitchers: LHP Boone Logan, LHP Cesar Cabral, LHP Clay Rapada, RHP Cory Wade, RHP George Kontos, RHP Ryan Pope, RHP Chase Whitley, and RHP Preston Claiborne are all available if needed.
Available Position Players: C Gus Molina, 1B Addison Maruszak, 2B Eduardo Nunez, SS Doug Bernier, 3B Bill Hall, LF Dewayne Wise, CF Chris Dickerson, and RF Zoilo Almonte will replace the starters. C Francisco Arcia and UTIL Kevin Russo are also available if needed.
Tonight's game starts at 7:05pm ET and can be seen on YES locally and MLB Network nationally. Enjoy.