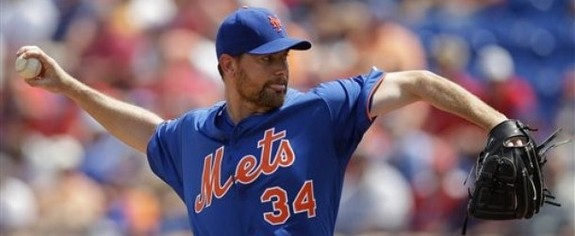 Believe it or not, today is the first time the Yankees and Mets will play each other in a Spring Training game since 1996. I guess that's what happens when the two clubs play in the same state, but on opposite coasts. Here's the lineup…
LF Brett Gardner
DH Nick Swisher
1B Eric Chavez
RF Andruw Jones
SS Eduardo Nunez
C Frankie Cervelli
CF Dewayne Wise
2B Bill Hall
3B Doug Bernier
RHP Ivan Nova
Available Pitchers: RHP David Phelps and RHP D.J. Mitchell are both scheduled to pitch, their final chance to make an impression and win that last bullpen spot. RHP George Kontos, RHP Brandon Pinder, RHP Mark Montgomery, LHP Juan Cedeno, and SwP Pat Venditte are also available if needed.
Available Pitchers: C J.R. Murphy, 1B Kyle Roller, 2B Kelvin Castro, SS Ramiro Pena, 3B Zach Wilson, LF Chris Dickerson, CF Abe Almonte, and RF Justin Maxwell will replace the starters.
Today's game starts at 2:10pm ET and can be seen on YES, SNY, and MLB Network. Enjoy.