Good series. Great series. The Yankees took all four Subway Series games from the Mets and have won eight of their last dozen games overall. Thursday night's final score was 7-5 and the game was not nearly as close as the score would lead you to believe.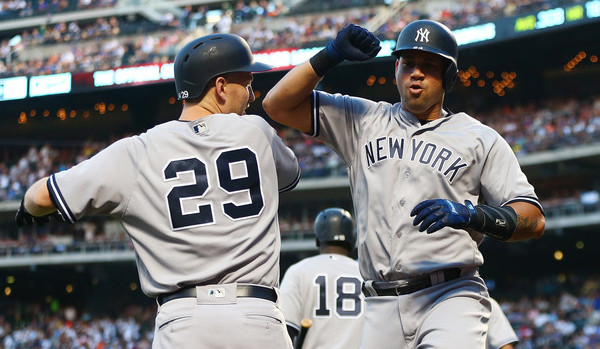 Gary Bonds
So I guess Gary Sanchez is going to go off every August? That is a-okay with me. Sanchez went into Thursday's game 15-for-47 (.319) with four home runs in 14 August games, and he left it 17-for-51 (.333) with five home runs in 15 August games. Credit the one-game benching or the lunch with Alex Rodriguez and Jennifer Lopez if you want. Me? I'm going to credit Gary Sanchez for being really, really good at baseball.
Sanchez gave the Yankees a real quick 3-0 lead Thursday night with a first inning three-run home run. I was just getting settled in to watch and Gary was already launching bombs. Brett Gardner reached on Steven Matz's throwing error — he fielded a weak tapper and airmailed the throw to first — and Aaron Hicks walked, setting up that three-run home run. It was an eight-pitch at-bat. Sanchez fell behind 0-2 and fouled off three two-strike pitches before Matz left a changeup up. Gary is locked in.
The Yankees broke the game open in the fourth inning. Three straight singles loaded the bases with no outs. Tyler Austin and Ronald Torreyes had legit singles, then Luis Severino's bunt attempt blooped into no man's land for a single. Dominic Smith missed the diving catch and Severino was safe. First career hit. Gardner laced a two-run double into the left field corner and Sanchez pulled a two-run single through the left side, and the rout was on. The Yankees led 7-0 after four.
The final line on Matz: 3.1 IP, 7 H, 7 R, 6 ER, 2 B, 4 K. He now has a 6.08 ERA (5.03 FIP) in 13 starts and 66.2 innings this season. Man. Remember kids, build around young bats like Sanchez and Aaron Judge (and Clint Frazier and Gleyber Torres). Not pitchers. Pitchers break. The Yankees put a hurtin' on Matz and took all the excitement out of the final Subway Series game within four innings.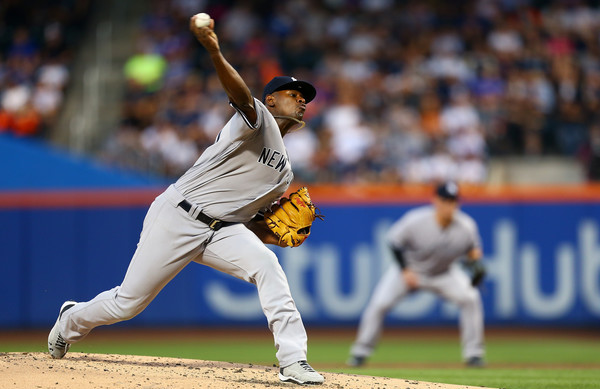 Stellar Severino
Nice rebound start for Severino, who got hammered for ten runs — ten runs! — last time out. I thought his stuff and delivery were as good as they've been all year. Everything was smooth and athletic and the ball was exploding out of his hand. I was a bit surprised Joe Girardi sent him back out for the seventh inning with a 7-0 lead and his pitch count at 93, but whatever. There's an off-day Monday and Severino's going to get an extra day to rest before his next start.
Severino's final pitching line: 6.1 IP, 4 H, 1 R, 0 ER, 3 BB, 9 K. It wasn't until the sixth inning that the Mets had a runner reach third base, and you can blame the run on Judge more than Severino. Judge dropped a fly ball in the right field corner and was (correctly) charged with a two-base error. Looked like he kinda got caught looking for the wall there. A single followed to score the runner who shouldn't have been on base in the first place. Meh. It happens.
Overall though, very nice start for Severino, especially after that dud against the Red Sox. He pitched aggressively, he pitched to both sides of the plate, he looked like himself, basically. That rough outing last weekend didn't carry over at all. If anything, Severino pitched angry. He's now sitting on a 3.18 ERA (3.02 FIP) in 150 innings this season. His previous career high is 161.2 innings in 2015. Hmmm.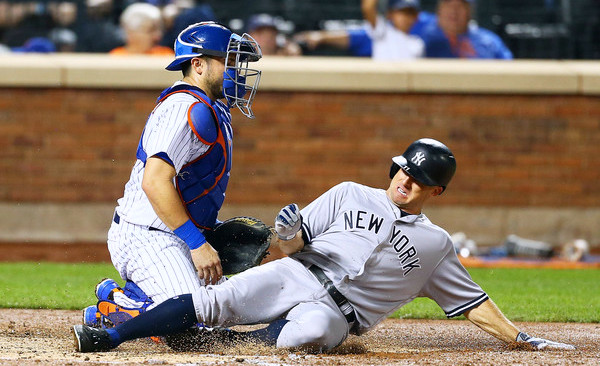 Leftovers
Bryan Mitchell made the game unnecessarily interesting in the ninth. Double, single, walk, grand slam. Dude. Just like that, it was 7-5 and Dellin Betances was on the mound. Groan. Betances got the final three outs on eleven pitches, so no big deal. Also, shout out to Chasen Shreve, who threw 1.2 scoreless innings and struck out Michael Conforto with the bases loaded and two outs in the seventh.
Two hits for Sanchez — he hit a fly ball to the wall in the third inning for an out — as well as Didi Gregorius and Austin. Gardner, Torreyes, and Severino each had a hit as well. Hicks and Gregorius drew the walks. Judge had a tough night, going for 0-for-4 with three strikeouts and a hit-by-pitch, plus the two-base error. Ouch. The Yankees went 4-for-8 with runners in scoring position, so that's cool.
And finally, the Yankees are done with interleague play this season. They went 15-5 with a +29 run differential against the Mets and various NL Central opponents. Who knew?
Box Score, WPA Graph & Standings
For the box score and updated standings, head over to ESPN. For the video highlights, go to MLB.com. Here is our Bullpen Workload page and here is the win probability graph:

Source: FanGraphs
Up Next
The Subway Series is over and the Yankees are going to Boston for another three-game weekend series against the Red Sox. They played them just last weekend. Left-ballers Jordan Montgomery and Drew Pomeranz are the scheduled starting pitchers for Friday night's opener at Fenway Park.