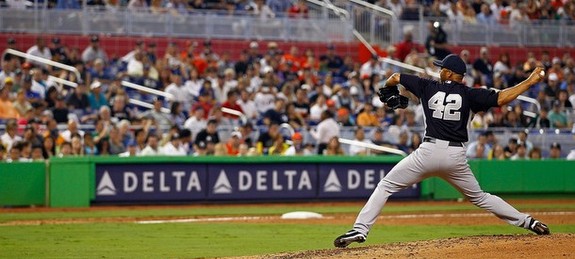 The Yankees beat the Marlins in their new ballpark last night, and now it's time for round two. There will be a few more people in the stands as they build up towards Opening Day, but it's still just a Spring Training game. Hiroki Kuroda will throw 60 or so pitches in his final tuneup before the regular season, and that will be that. Here's the lineup…
SS Derek Jeter
DH Curtis Granderson
2B Robinson Cano
3B Alex Rodriguez
1B Mark Teixeira
RF Nick Swisher
DH Raul Ibanez
C Russell Martin
CF Brett Gardner
RHP Hiroki Kuroda
Available Pitchers: RHP Phil Hughes, RHP David Robertson, RHP Rafael Soriano, LHP Boone Logan, RHP George Kontos, RHP Brandon Pinder, RHP Mark Montgomery, LHP Juan Cedeno, and SwP Pat Venditte.
Available Position Players: C Gus Molina, 1B Doug Bernier, 2B Bill Hall, SS Ramiro Pena, 3B Eduardo Nunez, LF Justin Maxwell, CF Abe Almonte, RF Chris Dickerson, and DH Andruw Jones will replace the starters.
Tonight's game starts at 7:05pm ET and can be seen on MLB Network. The blackout has been lifted in the Tri-State Area. Enjoy.