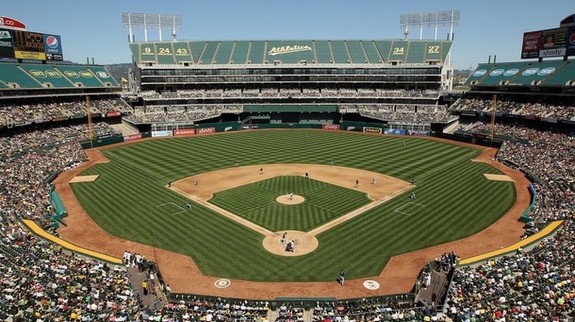 The Yankees are kicking off their first of two trips to Oakland and the West Coast this weekend. They've won 22 of 28 games against the Athletics over the last three seasons, including 10 of 12 on the road in California.
What Have They Done Lately?
The Athletics are flirting with .500 at 22-23, though their -20 run differential is the third worst in the AL. They just lost two straight to the Angels but had won two straight before that. They lost two straight before that and … well you get the idea. Teams sitting near .500 tend to alternate wins and losses.
Offense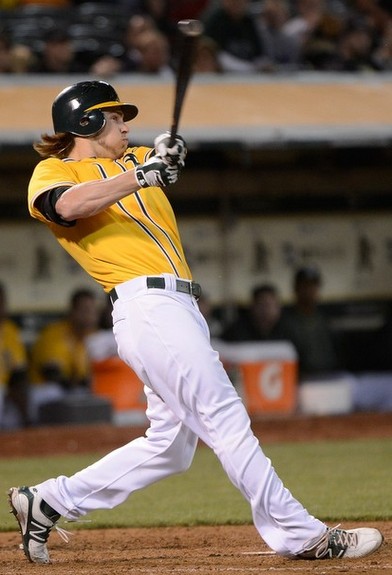 At 3.40 runs per game, the A's are the lowest scoring team in the AL this season. Their 77 wRC+ is the second worst in baseball to the Pirates, ditto their .287 team OBP. Former Red Sox Josh Reddick has been their best offensive player by far, with a 143 wRC+ and 11 homers to his credit. Yoenis Cespedes is on the DL with a hand injury and his 112 wRC+ is sorely missed. Seth Smith (106 wRC+) is the only other player on the club with at least 120 plate appearances and above league average production to his credit.
Leadoff man Jemile Weeks (75 wRC+) is off to a terrible start just like his brother, and the number two spot in the lineup has rotated between Coco Crisp (28 wRC+) and Cliff Pennington (64 wRC+) for the most part. With Cespedes out, cleanup duties behind Reddick belong to Smith and Jonny Gomes, who is destroying left-handers (147 wRC+) and holding his own against righties (109 wRC+). Brandon Inge has hit well since being released by Detroit (126 wRC+) but no one really expects him to keep that up. First baseman Daric Barton (86 wRC+) and catcher Kurt Suzuki (48 wRC+) have just stalled out after promising starts to their careers.
Oakland's bench is just unfathomably bad. Part-time DH/first baseman Kile Ka'aihue is the bright spot with an 89 wRC+, but backup catcher Anthony Recker (26 wRC+), extra outfielder Colin Cowgill (-1 wRC+), and corner infielder Josh Donaldson (-11 wRC+) have been inexcusably bad. I have no idea how you can carry two guys with negative production like that on your bench. Infielder Adam Rosales has one single and four walks in his eight plate appearances. I know the Yankees have been dreadful offensively, but sheesh. This is what a below average lineup really looks like, folks.
Pitching Matchups
Friday: RHP Ivan Nova vs. RHP Tyson Ross
With three starters — Brandon McCarthy, Dallas Braden, Brett Anderson — on the DL, the Athletics' rotation is patchwork at the moment. Ross has pitched to a 5.73 ERA (4.07 FIP) in seven starts with few strikeouts (4.54 K/9 and 11.2 K%) and too many walks (3.82 BB/9 and 9.4 BB%). He does get a healthy amount of ground balls though (55%). Ross has a very funky, upright delivery that adds deception to his low-90s two and four-seamers and mid-80s slider. He doesn't have much of a changeup, so it's basically the two fastballs and one breaking ball. The Yankees briefly saw him out of the bullpen a year or two ago.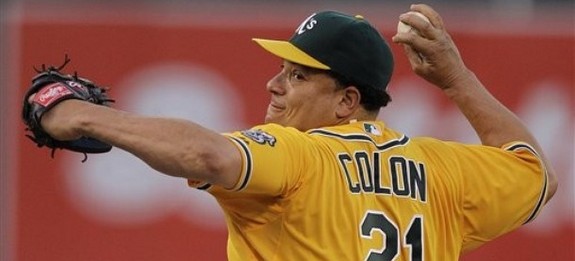 Saturday: LHP CC Sabathia vs. RHP Bartolo Colon
Colon threw a complete game shutout for the Yankees in Oakland on Memorial Day last season, and now he's looking to turn the tides this Memorial Day weekend. The hefty right-hander has a 4.09 ERA and a 3.95 FIP through ten starts, right in line with what he did last season (4.00 ERA and 3.83 FIP) despite the move out of Yankee Stadium and the AL East. Colon's strikeouts are way down (5.55 K/9 and 14.6 K%) but so are his walks (1.46 BB/9 and 3.8 BB%). His ground ball rate (44.1%) is identical to last season. He's still primarily an all-fastball guy, though he now sits right around 90 with the four-seamer and in the upper-80s with the two-seamer. His velocity this year is consistent with his second half fade last year (four-seamer and two-seamer). Colon has a slider and changeup, but as you know he rarely uses them.
Sunday: RHP Hiroki Kuroda vs. LHP Tom Milone
Part of the Gio Gonzalez trade, Milone is another low strikeout (4.99 K/9 and 13.9 K%), low walk (2.18 BB/9 and 6.1 BB%), moderate ground ball (44.2%) type. It's like the Twins are spreading. Anyway, Milone is a classic finesse lefty. He sits in the mid-to-upper-80s with two and four-seamers and uses an upper-70s changeup as his go-to offspeed pitch. A mid-80s cutter and a mid-70s curveball are rarely used fourth and fifth offerings. Soft-tossing rookie left-handers usually give the Yankees fits, especially if they've never seen them before, but they did take care of business against Will Smith on Wednesday night.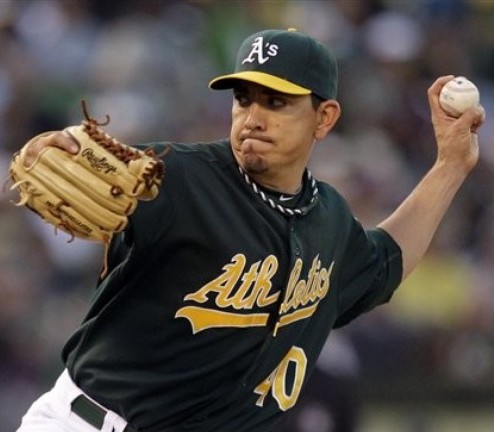 Bullpen Status
With a 2.57 ERA and a 3.74 FIP, the Athletics boast one of the game's most effective bullpens. Setup man Ryan Cook (2.69 FIP) is the only pitcher in baseball who has spent the entire season on the active 25-man roster and not allowed run. His scoreless streak is up to 22.2 IP. Brian Fuentes (2.79 FIP) replaced Grant Balfour (4.28 FIP) at closer after he had some rough outings a few weeks ago. Those three are manager Bob Melvin's go-to relievers in the late innings.
Travis Blackley (1.63 FIP in six innings), Jerry Blevins (4.61 FIP), and Jordan Norberto (3.00 FIP) give Oakland three more lefties in addition to Fuentes. Blevins is a specialist but Norberto has the stuff to face both righties and lefties, which he's been doing all season. Blackley had been out of baseball and playing all over the world until resurfacing this season, so his role hasn't really been defined yet. Jim Miller (3.99 FIP) is the only other right-hander in their bullpen. Like the Yankees, the Athletics had yesterday off so their entire bullpen is fresh. For the latest and greatest from Oakland, we recommend Athletics Nation and Beaneball.