It's been a while, but the Yankees final have themselves a winning streak. Wednesday night's 8-3 win over the Royals gave them the series victory and their second straight win, ensuring that we'll all feel good during Thursday's scheduled day off.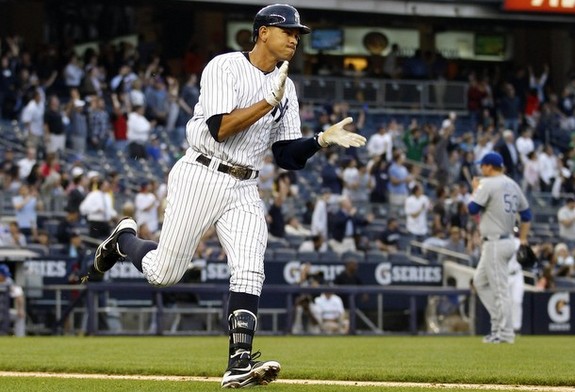 Gettin' Jiggy Wit It
There, there's your requisite Will Smith pun. Anyway, the rookie left-hander did not find Yankee Stadium to be a welcoming place for his big league debut despite the Yankees' reputation for struggling against southpaws they've never seen before. The second batter he faced (Curtis Granderson) hit a solo homer to right after trying to bunt for a hit not once, but twice. Smith followed that off by walking Mark Teixeira and giving up another homer to Alex Rodriguez. Being down three runs in the first is less than ideal debut.
The Yankees were relentless, scoring two more runs in the third when Derek Jeter trotted home on Teixeira's double play ball and A-Rod hit his second homer of the night. Alex equaled his homer total from his previous 108 plate appearances in his first two at-bats on Wednesday. Smith's debut ended with the three homers and five runs allowed after just 3.1 IP. That was all the Yankees would need because…
Dandy Again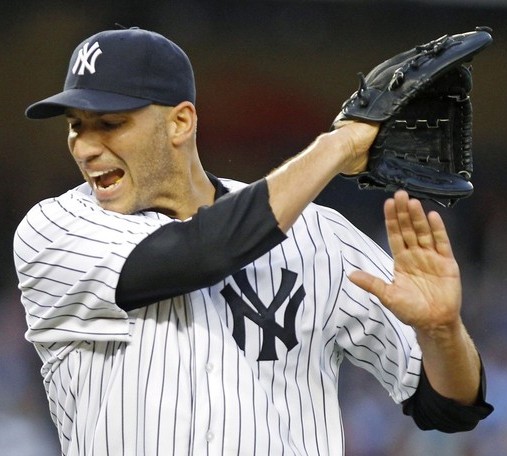 So, what do you think about Andy Pettitte's chances in the Comeback Player of the Year race? The veteran southpaw tossed seven strong innings against the Royals, allowing two runs on a pair of solo homers. The other five hits he allowed were totally weak, I mean three infield singles and two bloops. Pettitte struck out eight and got ten outs on the ground compared to three in the air. He threw 98 total pitches and 71 strikes (72.4%), which is crazypants.
We're only three starts into Andy's comeback, but this is remarkable. He not only looks like he never took a year off, he actually looks better than he did in 2010. Perhaps all the time off allowed his body to recuperate? Whatever it is, Pettitte looks marvelous. He's throwing everything for strikes and has been better than anyone could have realistically expected when he announced his return.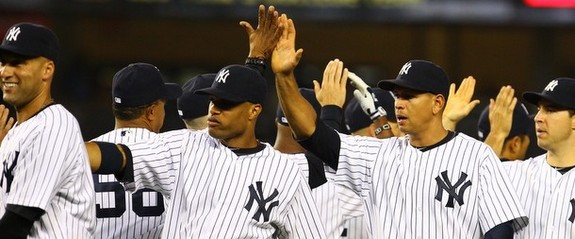 Tack-on Runs
The Yankees scored their five runs off Smith and then tacked on a few more off the bullpen. Their three-run rally in the fifth consisted of exactly one hit, and that was a bunt single by Jeter two batters into the inning. Jayson Nix led off by getting hit a pitch, Jeter singled and went to second on a throwing error on the same play, then Curtis Granderson walked, Teixeira walked (run scores), A-Rod grounded out (force at home), Robinson Cano grounded out (run scores), Nick Swisher got hit by a pitch to reload the bases, then Andruw Jones drew a walk to force in the third run.
Did they get the big hit with runners in scoring position? No, but it's really hard to complain with that rally. They worked three different pitchers pretty hard, drew a bunch of walks, leaned into some inside pitches, and kept the pressure on for three outs. Rallies like this were ending after five or six pitches because guys were anxiously hacking away over the last few weeks, but sitting back and letting the pitcher work himself into trouble in what the Yankees do best when they're right. This was the first time they looked like themselves in weeks.
Leftovers
Underrated moment: Mark Teixeira's diving 3-6-3 double play to end the third. The Royals had men on the corners with one out and were threatening to make it a game, but the double play ended the inning and preserved the three-run lead. It was a beaut.
David Phelps took over for Pettitte and allowed one run in two innings to wrap things up, though I swear he seems to fall behind every hitter (first pitch strikes to four of eight batters faced). It felt like he was in a three-ball count all night. He's going to have to clean that up if he wants more responsibility.
A-Rod's two-homer game was the 60th of his career, the seventh most all time. Jeter (two singles and a double) and Granderson (single and homer) had multiple hits as well. Teixeira drew three walks, Andruw drew two, and Swisher and Granderson each drew one. Cano and Russell Martin were the only players in the lineup who failed to reach base, though Robbie hit the ball right on the screws three times and came with just a fielder's choice to show for it.
Box Score, WPA Graph & Standings
MLB.com has the box score and video highlights, FanGraphs the advanced stats, and ESPN the updated standings.

Source: FanGraphs
Up Next
The Yankees are off on Thursday and will open a nine-game road trip in Oakland on Friday night, their first of two trips to the West Coast this season. Ivan Nova and Tyson Ross kick off that three-game series.