So what exactly do the Yankees do well right now? The answer is nothing other than lose and not bother to capitalize in run-scoring situations. They have that down to a science.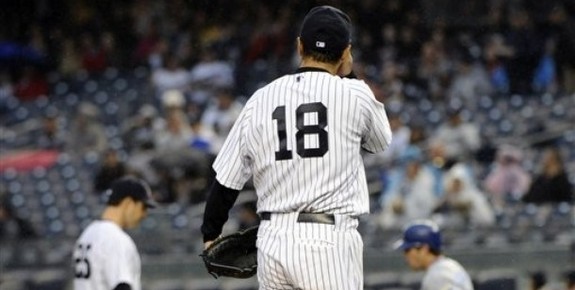 Pitching
Hiroki Kuroda wasn't terrible but he wasn't great. Three runs in 5.1 IP — two on a Mike Moustakas homer that would have sailed foul in a normal-sized stadium — shouldn't result in an automatic loss but that's life for a pitcher on the Yankees these days. Kuroda allowed seven hits and three walks (one intentional), giving up the first run(s) of the game for the eighth time in his nine starts. For once it would be nice if they didn't have to play catch-up with their supposed number two starter on the mound. Hiroki's performance continued a recent trend of starts that rate anywhere from "awful" to "meh."
Cody Eppley and Clay Rapada pitched well enough in their short relief appearances (not gonna ding Rapada for walking a right-handed batter) but Freddy Garcia got hammered, specifically by Jeff Francoeur. Frenchy launched a two-run homer and Garcia went on to allow five hits and a walk in 2.1 IP, striking out no one. He's quite useless, even for the 12th man on the staff.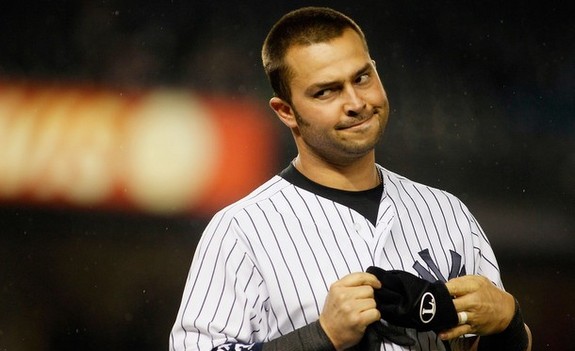 Hitting
Another night, another 13 (thir-friggin'-teen!) at-bats without a hit with runners in scoring position. That includes another bases loaded, no outs situation that yielded zero runs — Robinson Cano struck out looking, Alex Rodriguez struck out swinging, and Raul Ibanez flew out to deep left-center. That's the second time they've failed to convert a bases loaded, no outs situation into even one run in what, the last four games? They did it Friday as well, right? Gross.
Aside from A-Rod, who singled and doubled, the two through six hitters went a combined 0-for-13 with three walks and seven strikeouts. Curtis Granderson drew two of the walks, Cano the other. Russell Martin chipped in a pair of hits, then Mark Teixeira and Eric Chavez had one each to recap the offense. The Yankees have some serious offensive problems at the moment and they can't wait around for things to fix themselves much longer. These games count.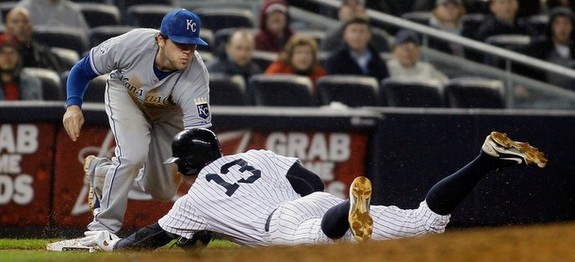 Leftovers
We have two candidates for stupid play of the nigth. First, why was A-Rod tagging up with one out in the sixth? He was on second and made it into third safely, but Alex Gordon's throw beat him to the bag and most of the time he'd have been out. I understand they're struggling to score runs, but forcing things and making stupid mistakes won't bring the bats back to life.
Secondly, what in the world was that play by Teixeira in the sixth? The Royals had a man on third and one out, but he got caught between looking the runner back to third and stepping on first after fielding a chopper. He ended up making a poor throw across the diamond and everyone was safe. Again, let's get back to smart baseball please. Look the runner back and step on the base for the sure out.
That's really it, I have nothing else to add. Monday's loss was the Yankees' third straight, sixth in seven games, eighth in ten games, and 14th in 24 games. Coupled with the Red Sox's win over the Orioles, the Yankees are now in last place in the AL East. They deserve every bit of it as well.
Box Score, WPA Graph & Standings
MLB.com has the box score and video highlights, FanGraphs the nerd score, and ESPN the updated standings.

Source: FanGraphs
Up Next
Game two of this three-game series will be played Tuesday night, though yet again the forecast looks ugly. If they do play, it'll be Phil Hughes and Luke Hochevar on the bump.