It wasn't pretty and it definitely wasn't easy, but the Yankees picked up their first 2012 win against the Rays on Tuesday night. David Robertson cut his teeth in the ninth inning with his first save of the post-Mariano Rivera era in the 5-3 victory.

Enter Strand-man (h/t Peter Botte)
Let's start this one in the ninth inning. The Yankees gave Robertson everything he could have possibly asked for in his first save chance following Rivera's injury, including a multiple run lead with the bottom of the order due up. Rafael Soriano had taken care of business against the heart of the order in the eighth and Mark Teixeira's run-scoring double down the line gave the team some late breathing room. Piece of cake, right? Wrong.
Things are very rarely easy with Robertson, who has definitely earned his Houdini nickname through the years. The first out of the inning was a simple ground ball to second from Jeff Keppinger, but Will Rhymes worked a walk as the next batter. Sean Rodriguez, the next hitter, nudged a ground ball single through the 5.5 hole to put the tying run on base. Robertson recovered to strike out pinch-hitter Brandon Allen for the second out, but leadoff man Ben Zobrist walked to load the bases and put the typing run in scoring position.
Bases loaded with two outs in the bottom of the ninth, and the absolute last guy the Yankees wanted to see at the plate was the guy due up: Carlos Pena. Pena's both willing to take a walk and capable of hitting a grand slam, but he's also prone to the strikeout. Robertson started him off with a breaking ball away for a called strike and followed up with a fastball away for a quick 0-2 count, and that's when the chess match began. A curveball down was taken for ball one, a fastball up for ball two. Neither was particularly close to being in the zone, so they were easy for a patient hitter like Pena to lay off. With a 2-2 count, the Yankees had one pitch to play with but did not screw around. Robertson painted the black with another fastball, getting a called strike three to end the game.
I plan on writing … something about this whole bullpen situation tomorrow, but I'm not exactly sure what. Robertson did what he always does in this game, but the feeling is quite a bit different when it happens in the ninth inning rather than the eighth. He's still gotta get three outs, but the fact that there's less margin for error makes it a little more nauseating. Let's hope David settles in and has some clean innings going forward now that he's gotten his feet wet.
Ivan Keeps It Together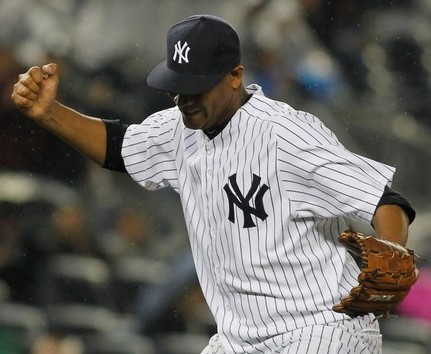 On Monday afternoon I wrote about Ivan Nova's need to keep his fastball down and more importantly, the team's need for him to get in a groove and become a reliable workhorse starter. He showed signs of doing exactly that against the Rays, retiring 13 of the 14 batters he faced before dancing around danger in the fifth and seventh innings. Overall, Nova struck out eight and walked two, surrendering two runs — solo homers to Matt Joyce Luke Scott and Jose Molina — in seven innings.
By far, the biggest outs of Ivan's night were the last two. The Rays put men on second and third with one out in that seventh inning, though Keppinger was held up at third base thanks in part to Nick Swisher's quick recovery of Rhymes' double. As expected, Nova went offspeed heavy to Sean Rodriguez and Molina, getting the former to fly out to medium right — Keppinger did not score thanks again to Swisher, who made a strong throw home — and the latter to strike out on three pitches. By WPA, those two outs were the second and third biggest outs of the game behind Robertson's strikeout of Pena. The score remained 3-2 and Nova left the game knowing he'd just thrown his best start of the season.

I-bomb-nez
Not many Yankees came into the game with respectable numbers against Jamie Shields, and Raul Ibanez wasn't one of them. He had just one hit in 15 plate appearances against the changeup specialist, but that one was the three-run homer he hit on Opening Day. Raul repeated that effort twice over on Tuesday night, hitting a two-run homer to open the scoring in the third before tacking on another run with a solo shot (off Burke Badenhop and the right field foul pole) in the seventh. Ibanez now has five homers this year, which is about four more than expected following his showing in camp.
One thing I think we can all agree on: when Raul gets a hold of one, he really gets a hold of it. According to Hit Tracker, his five homers a) have averaged 412 feet, b) were all considered "No Doubt" homers, and c) would have been out in all 30 ballparks. That's pretty awesome.
Leftovers
There was a little offensive funny business in this game worth mentioning. First of all, how come Curtis Granderson Alex Rodriguez didn't take third base in the top of the first? The third baseman was a mile away from the bag because of the shift. Nitpicking, I know. Secondly, Robinson Cano running home on contact on Swisher's ground ball in the fourth was terrible. The infield was in and the ball was hit directly to second, so Robbie was out by a mile. Gotta be a little smarter than that.
On the bright side, Granderson capped off a ten-pitch at-bat with a solo homer off Shields and Teixeira beat the shift for that insurance run in the ninth. Not only did they have the shift on, but Joe Maddon brought in the right-hander to flip Tex around to his weaker side. That was satisfying. Everyone in the lineup had a hit except for Swisher and Russell Martin, and the best at-bats of the night award goes to Alex Rodriguez. He walked in the first and laced a line drive single to center in the ninth, seeing a total of 30 (!) pitches in four plate appearances. That's part of the reason why Shields needed 100 pitches to record the first 15 outs.
Soriano's eighth inning was incredibly shaky, though I give him credit for limiting the damage. Zobrist led off with a triple, but Soriano rebounded to whiff Pena and B.J. Upton. He would have escaped the inning unscathed if not for the wild pitch that allowed Zobrist to score. Following a walk to Joyce, Soriano fell behind in the count 3-0 to Luke Scott before rebounding to strike him out. That was a little hairy. The new eighth inning guy has yet to have a 1-2-3 inning this season, which is nothing new, unfortunately.
The win was Joe Girardi's 400th as Yankees manager, so congrats to him. He's the seventh winning-est manager in franchise history and has a real chance to climb into the top five during his current contract. The top four — Joe McCarthy (1.460), Joe Torre (1.173), Casey Stengel (1,149), and Miller Huggins (1,067) — are pretty much out of reach though.
Box Score, WPA Graph & Standings
MLB.com has the box score and video highlights, FanGraphs some more stats, and ESPN the updated standings.

Source: FanGraphs
Up Next
Game two of this three-game set will be played Wednesday night, when David Phelps makes his second career start. Right-hander Jeff Niemann will give it a go for the Rays. RAB Tickets can help get you in the door if you want to head to the Bronx.