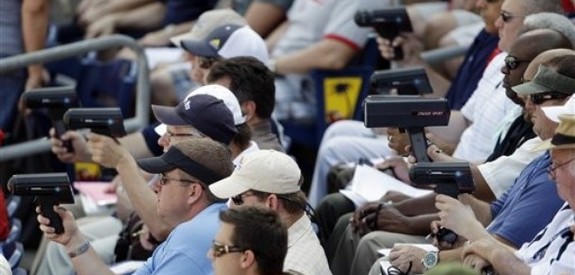 It's no secret that the Yankees have been unable to develop any quality starting pitching over the last … I dunno, five or ten or fifteen years. It's part of the reason why they had to go out and trade for a young arm like Michael Pineda, because they haven't been able to produce someone like that on their own. In fairness, the farm system was ignored for a long time in the early-to-mid-aughts, but guys like Joba Chamberlain, Andrew Brackman, and Phil Hughes haven't pan out in recent years.
I had been planning to write about the Yankees and their pitching development program for a few weeks now, though I just never got around to it. It's going to appear as though this is stemming from Phil Hughes' performance last night and Pineda's injury, but that honestly is not the case. This post has been in the works for a while. This quote from that anonymous scout guy (he gets around quite a bit, no?) in John Harper's latest column finally gave me the motivation to get this together…
"I know we all baby these guys now," one scout said, referring to young pitchers throughout baseball, "but I don't know, maybe the Yankees take it to an extreme with the innings limits and pitch counts, and their kids never learn how to push themselves when they're a little tired in situations where they need to get out of trouble.

"It's not just them, but you can only protect arms so much, and sometimes it doesn't matter at all because pitchers are going to get hurt. I just look at Hughes and Chamberlain and I can't figure out what happened to them, and now I don't like what I'm seeing from [Manny Banuelos and Dellin Betances] either."
I feel like the Yankees have managed to find this perfect balance between being both overly conservative and overly aggressive with their pitchers. They're conservative in the sense that they hold them to strict pitch counts, but aggressive in the sense that they run them up the ladder after a good half-season at a level. Just take Ivan Nova for example. He's the exception, a generally unheralded prospect who threw 575.1 IP in the minors before making his first MLB start. Compare that to Hughes (275 IP) or Joba (88.1 IP (!)) and it's not hard to see why Nova come up a more complete pitcher and able to contribute. Now obviously every pitcher is different and not everyone needs 500+ IP in the minors before being ready for the show, this is just one example using three guys we're all familiar with.
I think the scout in Harper's column has a really good point about kids being unable to learn "how to push themselves when they're a little tired in situations" while on strict workload limitations in the minors. Getting to the bigs and being effective as a young pitcher is hard enough, but you don't want to compound the problem by having the kid standing out there in the fifth or sixth inning with his pitch count at 100 when he's only thrown that many pitches in an outing a handful of times in his life. The big leagues is neither the time nor place for a pitcher to learn how to turn over a lineup three times or throw 100+ pitches in a start. It's possible — not necessarily easy — to have a young player extend himself in the minors for the benefit of development without putting him at serious risk of injury. We know too much work can be bad for a young pitcher, but too little work can be harmful in a different way.
The whole point of the minor leagues is to help players develop the skills they need to be successful in the big leagues, and for pitchers that includes working deep into games — sometimes without their best stuff — and going through a lineup multiple times. That doesn't mean they should run everyone out there for 120 pitches every five days, but this arbitrary five innings/80 pitches threshold we've seen employed so often in recent years accomplishes what, exactly? Hughes with Double-A Trenton in 2006 is a perfect example. He destroyed that league after his midseason promotion — 30.8 K% and 7.1 BB% with a 2.26 FIP in 116 IP — but he only threw more than five innings in 13 of 21 starts and not once in his final eleven outings. Again, we don't have all the information from where we sit, but it's hard to see how he was being challenged in that environment. More learning occurs when mistakes are made, not when things are easy.
Now obviously not every pitching prospect is going to work out, there's some level of attrition that's just unavoidable. Injuries are going to happen as well; pitchers can be babied to the nth degree and they'll still get hurt. They're cool like that. That said, I do think it's fair to question how the Yankees have gone about developing their young pitchers in recent years, though we also have to acknowledge that as outsiders, we only have a small piece of the information pie. All we know about player development is what we've picked up as laymen over the years while reading Baseball America and Keith Law and checking box scores on a nightly basis. In the wake of Pineda's injury and the failures of Hughes and Joba as starting pitchers, I do think that some level of self-reflection — more than the usual — has to take place on the Yankees' part. What they've been doing has not been working.