Whenever a team has beaten the Yankees with a ninth inning rally over the last 15 years, there was nothing more you could do than tip your cap because you knew they beat the best in Mariano Rivera. Wednesday night's 4-1 loss to the Rays was a stunning culmination of every Yankees fans' worst nightmare in the post-Mo era.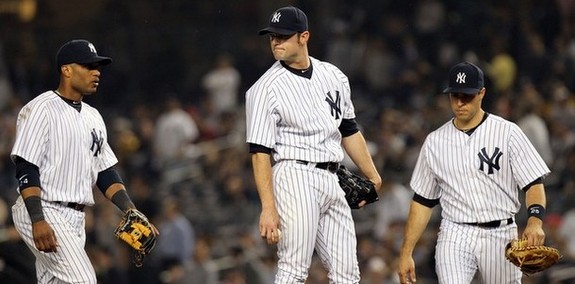 Blown Save
It took David Robertson all of six pitches to load the bases in the ninth inning. Sean Rodriguez led off with a first pitch ground ball single through the left side, Brandon Allen followed up with a solid first pitch line drive single to right, then Ben Zobrist drew a four-pitch walk. Six pitches, three base runners, and one of them was a walk. That's hard to do.
The Houdini Act finally caught up to Robertson on Wednesday night, as his team handed him a one-run lead and he couldn't convert it to a win. B.J. Upton plated the tying run with a sacrifice fly — Nick Swisher nearly threw the runner out at the plate, surprisingly — and Matt Joyce broke things open with a two-strike, three-run homer one batter later. It was a total Yankee Stadium cheapie off the top of the wall in right-center, but they all count the same. It was the first homer Robertson allowed to a left-handed batter in more than two years, since Matt Wieters got him in Baltimore in May 2010.
Blown saves do not sit well with the natives, and there are going to be a lot of questions about the security of the ninth inning over the next few weeks. It's the nature of beast. Robertson is as qualified to close as anyone, but he's going to have to show everyone he can actually do it. This is a results town. "Tomorrow can't come fast enough," said David after the game and that's all anyone can do, turn the page and look forward to the next game. At some point soon, Robertson will have a chance to redeem himself.
He Belongs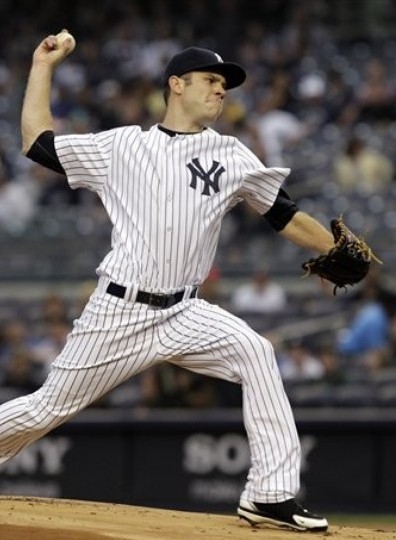 David Phelps is going to lose his rotation spot this weekend through no fault of his own, really. Andy Pettitte is coming back and someone has to go, and it's very likely the rookie will head back to the bullpen. Other than throw a no-hitter, there was pretty much nothing Phelps could have done to save his job against the Rays, but he took care of business and showed the team that whenever they need another starter — and they inevitably will at some point — he's the man for the job.
A double and two walks made the first inning a bit of a nightmare, but Phelps escaped unscathed by getting Will Rhymes to ground out weakly to second. That started a string of seven straight and 12 of 13 retired by the Yankees' right-hander before he ran out of gas with two outs in the fourth. Having spent most of the year in the bullpen, hitting the wall at 75-80 pitches isn't a surprise. Phelps allowed another double to Ben Zobrist and issued two straight walks before being lifted for Boone Logan, who struck out Matt Joyce to end the threat.
Four walks, three strikeouts, five ground balls, four fly balls, and two doubles allowed in 4.2 innings doesn't look great in the box score, but Phelps sure looked like he belonged on Wednesday night. The starting pitching has started to sort itself out over the last two weeks or so, and part of that turn around has to do with Phelps' solid work to bridging the gap between the awful Freddy Garcia and the un-retired Pettitte. Nice job, kiddo.
NOffense
Not to absolve Robertson of anything — bottom line, he's gotta close the game out — but the Yankees can't expect to win many games by scoring only one run. Not against an AL East rival and definitely not in Yankee Stadium. The only run they did score came on a two-out opposite field double from Robinson Cano in the very first inning, driving in Derek Jeter all the way from first. The Yankees were a slightly better relay throw away from being shutout.
Unsurprisingly, the team went hitless in eight at-bats with men in scoring position. That's a pretty good explanation of why they only scored the one run. The worst instance of RISPFAIL came in the sixth, after Alex Rodriguez stole third (!) with one out. Mark Teixeira couldn't put the ball in play and struck out, then Nick Swisher flew out to end the inning after an 11-pitch at-bat. The Yankees also had runners on first and second in the eighth before Tex grounded into a well-turned inning-ending double play. One run's not enough, fellas.

Leftovers
Give Joe Girardi major props for lifting Phelps when he did. It would have been very easy to leave him in to face Joyce in an effort to get him a win, but the quick hook — and Boone's four sliders — preserved the one-run lead in the middle innings. We all wanted to see Phelps escape the jam and stuff, but the team win is more important and Girardi make a big-time move to help the cause. Too bad they couldn't finish it off.
It's pretty easy to forget that before Robertson's blow save, Rafael Soriano nearly coughed things up in the eighth. A throwing error by Cano put runners at first and second with no outs, but Soriano escaped the inning with a strikeout, a great play on a hot shot ground ball by Teixeira, and a fly ball. Big ups to Cory Wade for retiring all four men he faced between Logan and Soriano.
Jeter became the fastest Yankee ever (ever!) to 50 hits in a season with his first inning excuse-me single. He did it in just 30 games. Coming into Wednesday night, Derek had six more hits than any other player in the majors. That's not a small margin, folks.
Cano, A-Rod, and Swisher all had two hits while Jeter, Raul Ibanez, and Russell Martin had one each. Robbie's double was the only extra-base hit and Ibanez was the only batter to draw a walk. The Yankees have only drawn 20 walks in their last nine games, well below their usual rate. It's not a coincidence that they've only scored 3.2 runs per game during that stretch.
Two streaks came to an end on Wednesday night. Robertson's scoreless streak dating back to September 1st of last year ended at 27 innings, and Curtis Granderson's streak of reaching base in 28 consecutive games came to an end as well. Both were bound to end sometime.
Box Score, WPA Graph & Standings
Now that's an eyesore, yikes. MLB.com has the box score and video highlights, FanGraphs some other stats, and ESPN the updated standings.

Source: FanGraphs
Up Next
It's a battle of ace left-handers in the rubber match Thursday night, when CC Sabathia gets the ball against David Price. If you want to check that one out, give RAB Tickets a look for the latest and greatest deals.