Some wins don't really feel like wins because someone gets hurt, and this game kinda has that feel. The Yankees potentially lost four players in Monday night's win over the Orioles, though technically one of those players was injured a few days ago and we just didn't know about it.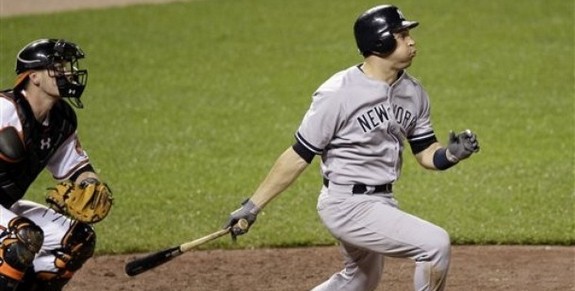 Teixeira Contributes
It's been a rough start to the season for Mark Teixeira offensively, but he has consistently provided stellar glovework at first base throughout his Yankees tenure. On Monday night, he finally contributed something with the stick. His tie-breaking, two-run homer off former teammate Luis Ayala in the seventh inning turned a 5-5 game into a 7-5 game, a lead the Yankees would never relinquish. The homer came in a two-strike count and after Teixeira fouled off a tough two-strike slider to stay alive.
The blast cleared the tall wall in right and frankly, it was unexpected. Tex has been pretty awful this season — .231/.286/.403 even after his 2-for-4 effort in this game — and it's easy to expect a weak pop-up or a strikeout on offspeed stuff whenever he comes to the plate. Ayala missed his spot and left a pitch right in the happy zone, and Teixeira did exactly what he was supposed to do. Hopefully these two hits — the second was a booming double off the right field wall — plus Sunday's dinky little infield single get him going, but we've said that a few times already this season.
Eutaw, Not Utah
There aren't many people who can hit a baseball further than Curtis Granderson, which is impressive considering how damn skinny the guy is. Granderson clubbed a go-ahead solo shot onto Eutaw Street in the fifth inning, his 12th dinger of the season. Ten of those 12 homers have come at home in Yankee Stadium, the other two in Camden Yards. Curtis has hit homers in old two parks this season, but I'm sure that will change soon enough.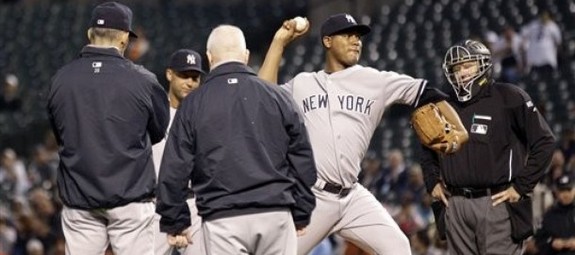 Nova's Problems Continue
Ivan Nova been hit very hard this year, coming into this game with a .325/.376/.618 batting line against and he did nothing to improve it. The Orioles tagged him for five runs on seven hits and three walks in 5.1 innings, including two doubles, one triple, and one homer. Nova's now allowed 20 doubles, three triples, and nine homers on the season, nine more extra base hits than any single batter has recorded in 2012 — Josh Hamilton leads baseball with 23 multiple base knocks. That's a problem and that's what happens when you leave pitches up in the zone. They get hit hard.
Another problem is that Ivan left the game with an injury, specifically a contusion and sprain of his right ankle and foot. He got hit by a comebacker in the third inning and appeared to aggravate things fielding a ball in the sixth before being removed. X-rays were negative, but obviously this is a concern. David Phelps could easily step into the rotation if need be, but I'd rather see Nova out there working on whatever needs to be worked on to stop giving up all these extra-base hits.
Bumps and Bruises
What a rough night. In addition to losing Nova, the Yankees also lost Clay Rapada (viral infection), Raul Ibanez (hit-by-pitch in elbow), and David Robertson (ribcage). It was obvious something was up with Robertson not only when Rafael Soriano came in to close, but also when Boone Logan and Cory Wade split eighth inning duties. There's no definitive timetable for any of these guys, so keep your fingers crossed.
Leftovers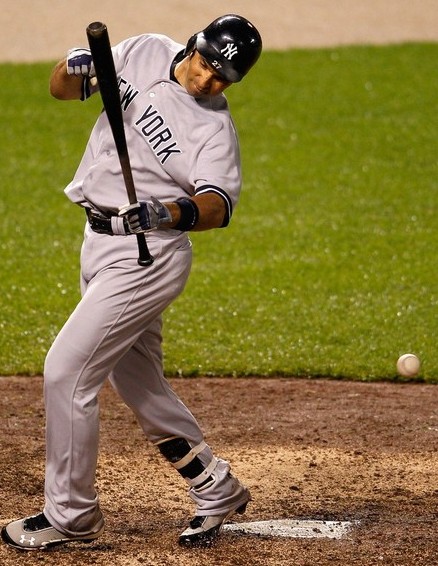 The bullpen is losing pieces to injury left and right, but how about Logan? He struck out all three batters he faced on Monday and has now struck out five consecutive batters and nine of the last 12 he's faced. That's pretty awesome. Phelps allowed three singles (two infield singles) in his inning of work, and there's a chance he could see some more leveraged relief work given Robertson's injury. That's if he isn't needed in the rotation to replace Nova. Sigh. Those three hits were the only hits the bullpen allowed in 3.2 innings, so big ups to them.
Derek Jeter's stuck in his first slump of the season, going 1-for-5 and hitting into two rally-killing double plays in this game. After grounding into one double play in the first 33 games of the season, the Cap'n has now bounced into four twin killings in the last two games. It was bound to happen at some point; you really didn't think he'd hit .400+ all season, did you?
Robinson Cano's resurgence continued with a 2-for-5 night, including a hot shot double to the opposite field. He also turned a sweet defensive play on a ground ball single up the middle. Alex Rodriguez's hot hitting continued with a three-single night, raising his season line to .292/.391/.431. The power isn't there anymore, but he's doing everything else. Nick Swisher reached base three times, including a two-run double into the gap that tied the game at two in the fourth inning. Russell Martin drew a pair of walks and Eric Chavez both singled and drove in an insurance run with a sacrifice fly.
Box Score, WPA Graph & Standings
MLB.com has the box score and video highlights, FanGraphs the advanced stats, and ESPN the updated standings.

Source: FanGraphs
Up Next
Game two of this quick two-game set will be played Tuesday night … or maybe not because the forecast again looks pretty crummy. If they do play, it'll be CC Sabathia against Wei-Yin Chen. Given the loss of Robertson, a fifth straight start of eight innings out of Sabathia would be very appreciated.