The forecast said they wouldn't get the game in, and frankly a postponement didn't sound all that bad given how the Yankees have been playing. Instead, they played all nine innings and the team put together their most satisfying win in what feels like an eternity.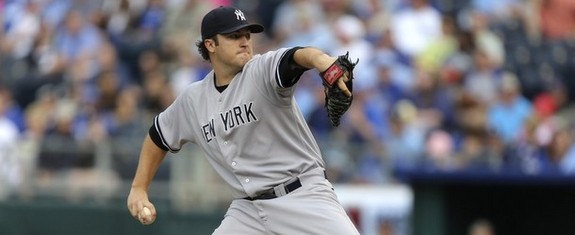 Hughes Da Man
It's been a very rough season for Phil Hughes and I've been pretty hard on him over the last few weeks, but he had his best start of the season (by far) against the Royals on Sunday. Ironically enough, it took him all of three batters to allow a run in the first thanks to an Alex Gordon walk and a Billy Butler double into the gap. Hughes settled down in a big way after that, retiring 12 of the next 14 men he faced before Kansas City pushed another run across in the fifth. His 115th and final pitch was a solo homer by Humberto Quintero with two outs in the seventh, though that doesn't bother me at all considering the context of the game — late innings, Yanks up big, challenging a bad hitter, yadda yadda yadda.
Pitch efficiency has been a huge problem for Hughes this year, but he threw 15 pitches or fewer in four of his seven-ish innings and never more than 21 pitches in an inning. The PitchFX gun is notoriously hot in Kansas City, but it's very encouraging that Phil was able to maintain his velocity through his start (pitch-by-pitch plot). Again, I wouldn't read much into the exact readings — consistently 94-95– because of the PitchFX issues, just that he held it throughout. Hughes struck out seven and walked just one, generating a dozen swings and misses including eight on the fastball. That's his most whiffs in a single start since August of 2010. It's going to take more than one good start to show he's the right guy for one of the club's five rotation spots, but Phil took care of business against the Royals and I hope he can build on it going forward.
The Offense Returns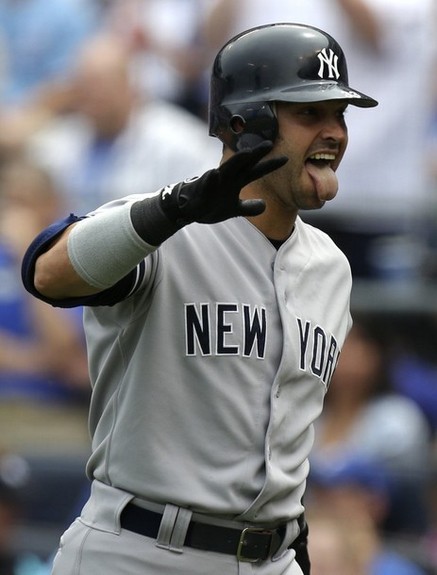 There's nothing more frustrating than watching a team underachieve, but the Yankees' lineup finally came back to life on Sunday. Coincidentally — or maybe not — Nick Swisher played in his first game since coming down with a low-grade hamstring strain last weekend. He hit a solo homer to cap off a six-run third inning, and inning that included a Robinson Cano grand slam. After swinging through a 2-0 changeup from Luke Hochevar, Robbie sat on the pitch in the 2-1 count and hit it just short of the fountains in right. That's the guy we've been looking for.
Raul Ibanez started the scoring with an RBI single in the second and Alex Rodriguez ended it with a three-run homer in the eighth. He's quietly on pace for 29 homers this year. Every player in the starting lineup had a hit except for Mark Teixeira (two walks instead) and Russell Martin (didn't reach base). Derek Jeter, Curtis Granderson, A-Rod, Cano, and Ibanez all had two hits each to highlight a total team effort. The ten runs equaled the Yankees' output from the previous four games combined and was just their third time scoring double-digits this season — the first time since the big comeback in Fenway Park. It's been a while, so enjoy it.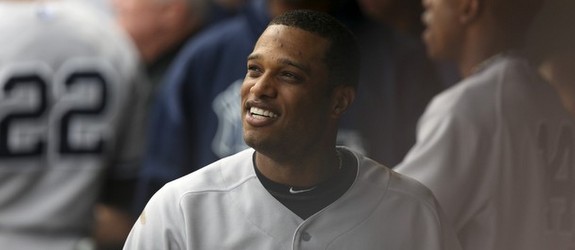 Leftovers
Granderson's third inning single to right was his 1,000th career hit, so congrats to him. Jeter went 2-for-3 with a double and two walks, raising his season line to .397/.439/.595. Teixeira's walks were his first walks in 75 plate appearances and first unintentional walks in 83 plate appearances. That dates back to the home-opener series against the Angels. Crazy. He's in a 7-for-49 rut (.143) but did hit a few balls on the screws in this game, including one ball to the warning track that I thought was gone off the bat.
The bullpen — Boone Logan (one out), Rafael Soriano (three outs), and Cory Wade (three outs) — weren't perfect but didn't have to be with a huge lead. Wade allowed the only run, though it was unearned. It was the his first run he allowed since the series with the Twins. Losing Mariano Rivera is going to hurt, but the entire cast has been consistently strong this year.
We can smile about this because the run didn't score, but how about Irving Falu? Kid has spent nine years in the minors — all with the Royals — and he tripled in his first big league at-bat off Hughes. YES showed his family in the standings cheering, it was pretty awesome. Hard not to love stories like that.
Box Score, WPA Graph & Standings
Been entirely too long since we've seen a WPA graph like this. MLB.com has the box score and video highlights, FanGraphs some more stats, and ESPN the updated standings.

Source: FanGraphs
Up Next
The Yankees are off on Monday, then will open a three-game set against the Rays at home in the Bronx. I won't call it a big series this early in the season, but it's definitely more meaningful than your typical early-May series. Ivan Nova and Jamie Shields get the party started on Tuesday night. RAB Tickets has the latest deals on tickets if you want to attend.