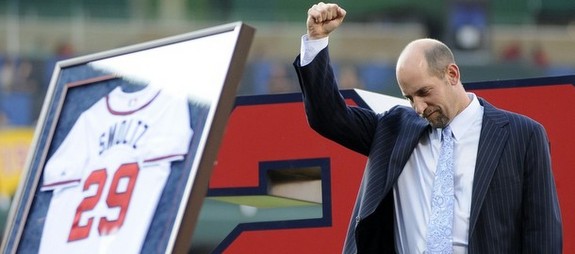 The last time the Yankees visited Atlanta, Brian Cashman took a trip down to visit a team that was struggling to score runs and had lost five of their previous six games. Frankie Cervelli responded with a big solo homer and Cashman's club went on a major second half run that resulted in a World Championship. Thankfully, the Yankees don't need that kind of wake-up call at the moment.
What Have They Done Lately?
The Braves have been quite streaky of late, losing eight in a row at the end of May before following it up with eight wins in their last ten games. They lost yesterday but took two of three against the Blue Jays this weekend. Overall, the Braves are 34-26 with a +31 run differential, he third and fourth best marks in the NL, respectively.
Offense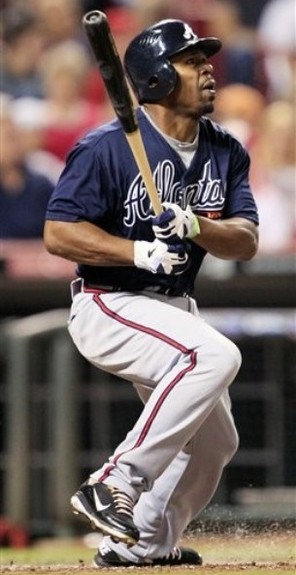 At 4.80 runs per game, the Braves are a top-five offense in baseball. Their 288 total runs are the third most in the NL and seventh most overall. The Yankees are seven runs back of Atlanta, though they have played one fewer game. It all starts at the top of the lineup with Michael Bourn (132 wRC+) and Martin Prado (140 wRC+), the best one-two lineup combination in baseball this season. The former has already set a career-high in homers (six) while the latter has set a career-high in steals (seven).
Brian McCann (95 wRC+) is having a down year by his standards but remains incredibly dangerous. Chipper Jones (132 wRC+) just returned from his latest DL stint, and those two tend to rotate in the three-hole. Dan Uggla (136 wRC+) pumps out 30+ homer seasons like clockwork (11 already this year) and handles cleanup duties. Youngsters Freddie Freeman (102 wRC+) and Jason Heyward (113 wRC+) add left-handed depth, so expect to see a lot of Boone Logan and Clay Rapada these next few days. Andrelton Simmons recently took over as the everyday shortstop and owns a 98 wRC+ in eight games.
Atlanta boasts a very strong bench/supporting cast, led by the best backup catcher in baseball: David Ross (111 wRC+). He gave McCann a rest yesterday and with three night games on the schedule, we might not see him this series. Juan Francisco (93 wRC+ vs. RHP) is the thump from the left side, Matt Diaz (130 wRC+) the thump from the right side. Former Yankee Eric Hinske is off to a slow start (69 wRC+ vs. RHP) but can still go deep at any time. Jack Wilson (-5 wRC+) is both the utility infielder and terrible. Here's pretty much the only guy on the roster you don't have to worry about.
Pitching Matchups
Monday: RHP Ivan Nova vs. RHP Randall Delgado
The 46th best prospect in baseball coming into the season according to Baseball America, the 22-year-old Delgado has pitched to a respectable 4.26 ERA (4.07 FIP) in eleven starts so far. His strikeout rates (7.19 K/9 and 18.6 K/9) are solid and his ground ball rate (52.6%) is fantastic, though like most young pitchers he tends to walk a bunch of guys (4.40 BB/9 and 11.4 BB%). Delgado sits in the low-90s with both of his fastballs (two and four-seamer), and his top secondary offering is a low-80s changeup. He'll also throw an upper-70s curveball on occasion. Although he's coming off a gem (two hits and one run in 6.1 IP against the Marlins), Delgado has only completed six full innings three times this year.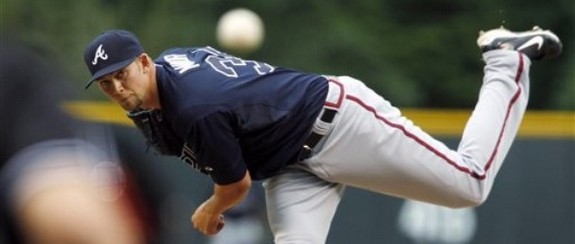 Tuesday: LHP CC Sabathia vs. LHP Mike Minor
Minor looked like one of the best young pitchers in the game in Spring Training, but by fWAR (-0.4) he's been the second worst pitcher in baseball in the regular season. His 6.57 ERA is backed up by an unsightly 5.51 FIP, mostly because he's extremely homer prone — 2.00 HR/9. Considering he plays in a pitcher's park in the NL, that's pretty terrible. Minor's strikeout (7.86 K/9 and 19.9 K%) and walk (3.71 BB/9 and 9.4 BB%) rates are good enough, though he is a fly ball guy (33.2%). A true four-pitch pitcher, the southpaw will pitch off his low-90s fastball with a mid-80s slider, a low-80s changeup, and an upper-70s curveball. Minor has recorded more than 15 outs just once in his last six starts. Kinda hard to believe.
Wednesday: RHP Hiroki Kuroda vs. RHP Tim Hudson
Fresh off a complete game shutout of the Marlins, Hudson received a cortisone shot to alleviate pain in his left ankle and skipped his previous start. Well, they didn't really skip it. They just pushed him back three days. The 36-year-old* sinkerballer has pitched very well after spending the first few weeks of the season on the shelf with back problems, posting a 3.83 ERA (3.13 FIP) in eight starts. Hudson is all about getting ground balls (57.4%) and limiting walks (2.50 BB/9 and 6.7 BB%), not striking dudes out (5.17 K/9 and 13.8 K%). His sinker is mostly upper-80s these days, and he'll also mix in mid-to-high-80s cutters and four-seamers. He'll throw a curveball roughly once every 12 pitches, but otherwise it's all fastball. Believe it or not, Hudson hasn't faced the Yankees since way back in 2006.
* Can you believe Tim Hudson is 36 already? I feel like he just came up with a Athletics. He's going to be 37 next month. Crazy.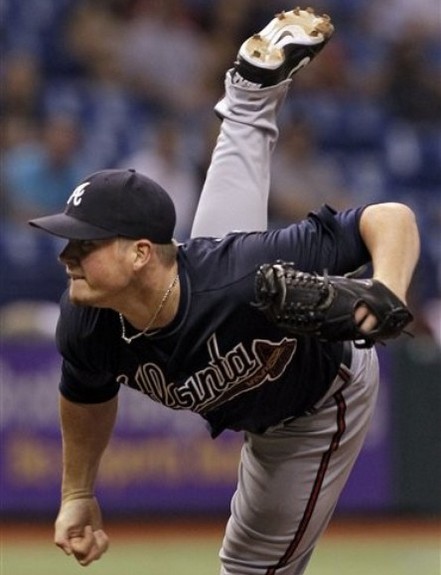 Bullpen Status
Like the pre-injury Yankees, Atlanta's strength is their lights out bullpen. Reigning NL Rookie of the Year Craig Kimbrel (1.13 FIP) is a strikeout machine (14.48 K/9 and 41.1 K%) in the ninth inning, though setup man Jonny Venters (4.17 FIP) has seen his ground ball rate drop in a big way this year. Of course, it's still at 56.3% after 72.5% (!) last season. He's had some homer issues in recent weeks. Middle men Eric O'Flaherty (2.74 FIP vs. LHB) and Cristhian Martinez (1.95 FIP vs. LHB) are both hell on lefties, though the latter is a right-hander. Chad Durbin (5.73 FIP) and Livan Hernandez (4.68 FIP) are the garbage time guys.
The Blue Jays did the Yankees a favor by roughing up rookie right-hander Julio Teheran yesterday, forcing Livan (37 pitches) and Martinez (47 pitches) to make lengthy relief appearances. Durbin threw 19 pitches as well. The Braves demoted Teheran after yesterday's game and called up right-handed reliever Cory Gearrin (1.72 FIP in Triple-A) for some added bullpen depth. Kimbrel, Venters, and O'Flaherty each had yesterday off but have pitched in three of the last five days. When push comes to shove in the late innings, manager Fredi Gonzalez will have his go-to guys available tonight.
The Yankees are going to need some length out of Nova tonight. Rafael Soriano, Logan, Cory Wade, and Rapada have all pitched in each of the last two games while Cody Eppley has either pitched or warmed up in four straight. Wade and Rapada have appeared in three of four as well. I suspect we'll see David Phelps make his first appearance in nine days tonight. Hopefully he's not rusty. Check out our Bullpen Workload page for exact reliever usage details. For the latest and greatest on the Braves, we recommend Capitol Avenue Club.