Got five questions for you this week. Make sure you use the Submit A Tip box in the sidebar to send us mailbag questions or anything else at any time.

Biggie asks: Joel Sherman wrote an article about how the Rockies would benefit from trading Carlos Gonzalez, who after this year has five years around $73M left on his deal. I know Sherman was reaching, but what would it take to land the talented CarGon? He would look great in Yankee pinstripes and cost, per year, about the same as Nick Swisher.
Gonzalez is a star of the first order, a career .384 wOBA hitter with base-stealing skills (career 76-for-94, 80.4%) and average defense in the outfield. Yes, he has a massive home/road split — .432/.332 wOBAs — but I don't believe his true offensive talent is essentially Denard Span or Will Venable outside of Coors Field. Plus if you put him in New York and Yankee Stadium, he'd still have the ballpark going for him. CarGo isn't quite Carlos Beltran circa 2005, but he's not all that far off.
Anyway, Gonzalez would be a perfect fit for the Yankees as a young (27 in October), left-handed hitting outfielder that is under contract for the next five seasons at a below market rate ($11.4M average annual value/luxury tax hit). The Yankees targeted Nick Swisher and Curtis Granderson for similar reasons in recent years, but CarGo is a better player. The problem is that I don't think the Yankees have the pieces to get him, unless they're willing to part with Ivan Nova. The Rockies need pitching in the worst way and I highly doubt David Phelps, Adam Warren, or the injured Manny Banuelos will grab their attention, ditto the Low-A kids who are years away from the bigs. If we knew Michael Pineda was going to be fine going forward, then sure include Nova in a potential package. Obviously we don't, however.
Chris asks: How have the Yankees defensive metrics been this year? It seems like missing Brett Gardner in left field hasn't been that big of a deal. Are they average, above or below compared to everyone else and how are they doing compared to last year's team?
As a team, the Yankees rank 26th in UZR (-14.4) and 20th in DRS (-12), so they've been a bad defensive team so far this year. Obviously you have to take defensive stats with a massive grain of salt this year early in the season, so keep that in mind. I think the Yankees get consistently elite defense from only one position on the field and it's (arguably) the least important: first base. I consider Curtis Granderson, Nick Swisher, and Alex Rodriguez to be average at their positions, Cano a bit above average at second, and both Raul Ibanez and Derek Jeter well below average at their positions. Ranking in the bottom third of the league defensively certainly passes the sniff test.
The advanced stats were split on New York last year, ranking them top ten in UZR (+23.2) and nearly bottom ten in DRS (-12). Pick your poison here. I think they were probably in the middle, an average defensive club overall with most of that due to Gardner running everything down. For a quick and dirty look at a team's defensive performance, just use 1-BABIP. The Yankees are at .703, so right now three out of every ten balls put in play off the team's pitchers are falling in for hits. That's one of the worst marks in the game (21st). The Yankees had a pretty good defensive club last year and the year before, but I definitely think it's fair to say they've taken a step back this year, with or without Gardner.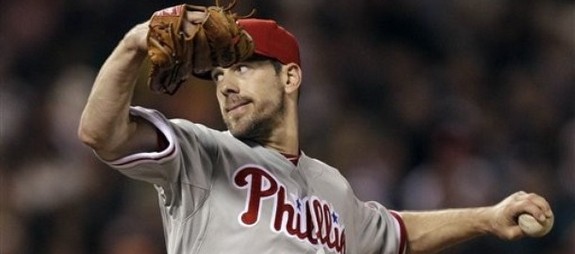 Alec asks: Mike, since the day the Yankees missed out on Cliff Lee, what kind of pitcher has he been? Do you think he has been earning him money or is it a blessing in disguise that he wanted to go to Philly?
Oh no, this isn't a blessing in disguise. Lee has continued to be one of the very best pitchers in baseball since the start of last season, right on par with the guy he was before hitting free agency. You can't look at his win total (zero!) this year and draw any conclusions from that, Lee's been absolutely stellar for the Phillies…
| | ERA | K% | BB% | HR% | fWAR/200 IP | bWAR/200 IP |
| --- | --- | --- | --- | --- | --- | --- |
| 2008-2010 | 2.98 | 19.8% | 3.5% | 1.7% | 6.3 | 4.9 |
| 2011-2012 | 2.67 | 25.8% | 4.6% | 2.2% | 5.5 | 6.4 |
Yeah, he's been pretty fantastic. We could spend all day playing the What If Game had the Yankees signed Lee — Jesus Montero is never traded, Nova is never given a real chance, etc. — but the only thing know for sure is that the guy was a brilliant pitcher before signing his megacontract and he has continued to be a brilliant pitcher since.
Mike asks: What would you think of the idea of trading for Ichiro or signing him in the offseason? He's nothing like the Ichiro of old, but could still be a ok half of a platoon split for a stop gap RF next year or feel in while Gardner is out.
Since the start of last season, a span of 1,023 plate appearances, Ichiro is a .269/.303/.347 hitter. That includes a .264/.288/.375 batting line in 302 plate appearances this year. At 38 years old. There should be alarms going off in your head. Hitters that old who see their performance decline that much are most likely done being effective big leaguers. The odds of Ichiro rebounding next year (in any uniform) are tiny, miniscule compared to the odds of him getting worse. I know he's a brand name and all that, but I can't see any way a contending team could add Ichiro, play him full-time, and expect to improve their club. This is just … no.
Hanks asks: Here's a question I've had on my mind for a while. We've been spoiled by over 15 years of winning teams, and there appears to be no end in sight. Surely "what goes up must come down" and at some point the Yankees will go through a long stretch where they are bottom dwellers. But, I just can't envision how that would happen – it seems like they are primed to keep on winning indefinitely. Given the current landscape of the league can you describe a scenario that would see the end of this great run?
The easy answer would be to say it'll happen when all of their older and higher priced players all collapse at the same time, but it's not that simple. Sure, the Yankees are locked into CC Sabathia, Mark Teixeira, and Alex Rodriguez for all eternity, but they'll have the opportunity to change their second base, catcher, and two of three outfield situations in the next 18 months. That's just the offense. Ivan Nova gives the team some long-term youth in the rotation and the one-year deals for Hiroki Kuroda and Andy Pettitte give them a lot of flexibility.
For the Yankees to have a true collapse and go into a long stretch of suckiness, a lot of their younger and prime years players are going to have to drastically under-perform while the old guys start playing like real old guys. They have the money to cover up the typical year-to-year injuries and player evaluation mistakes, so it'll take a whole bunch of them at one time. Maybe I'm just biased, but I think situations like 2008 — missing the postseason for one year before getting right back to contending the next year — is "bottom dwelling" for the Yankees. Given how the team is built right now, it's really hard to see how they'll be non-competitive over multiple, consecutive seasons.