For the first time since 2009, the Yankees have won nine straight games. For the first time since 1998, the Yankees have swept three straight three-game series. The hottest team in the game beat the Nationals by the score of 4-1 on Sunday, a fantastic Father's Day gift if you ask me … even though I'm not a father.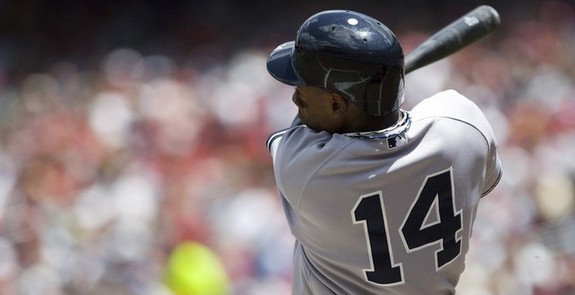 Not A Homerun Hitter
If you ask Curtis Granderson if he's a homerun hitter, he'll tell you no. They just come he says, and yet Curtis leads all of baseball with 62 homers since Opening Day of last season. That 62nd homer broke a one-all tie in the fifth inning on Sunday, a sweet little hanging changeup in a 1-1 count that landed in the home bullpen down the right field line. Granderson is on the exact same long ball pace — 21 homers in the team's first 65 games — as last year, which I find to be downright amazing. He's not a homerun hitter though, just ask him.
No Hits
The Yankees went 0-for-12 (!) with runners in scoring position but they managed to score two non-homer runs anyway. Mark Teixeira plated Derek Jeter with a sacrifice fly in the first, though getting just one run out of a bases loaded, one-out situation always feels like a disappointment. Teixeira came across to score the team's fourth run on a wild pitch in the seventh after doubling and moving to third on a ground out. I had no idea he was even on third. There were a bunch of pitching changes and whatnot and I had lost track of the baserunner. As you can imagine, I was quite surprised when I initially thought Tex was about to score from second on a wild pitch.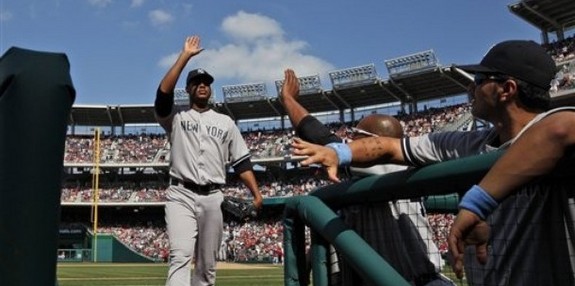 Second Half Nova
After racking up just 14 quality starts in their first 50 games, the Yankees have gotten 14 quality starts in their last 15 games. Quality starts aren't the best way to evaluate pitching, but I definitely consider them winnable games for a team with an offense and bullpen like the Bombers have. Ivan Nova was the latest starter to toss a gem, holding the Nationals to just one run — a second inning solo homer by Adam LaRoche — in 7.2 innings on Sunday. He struck out four, got ten ground balls against just five fly balls, and recorded 18 of his 23 outs on the infield overall. With men on the corners with one out and the score tied in the fourth, Nova coaxed a big inning-ending double play out of Danny Espinosa. He also had a four-pitch inning against Washington's 3-4-5 hitters.
The beginning of the season was a little rough, but Ivan has really started to settle in these last few weeks and looks a lot like the pitcher we saw in the second half of last summer. His strikeout rate has started to come down a bit while the ground ball rate has climbed upward, a result of him getting his fastball down in the zone. He was leaving it up earlier in the year and hitters were just tattooing him for extra-base hits. Nova seems to have corrected that problem to a certain extent and has really stepped up to solidify what has been a powerhouse rotation in recent weeks.
Leftovers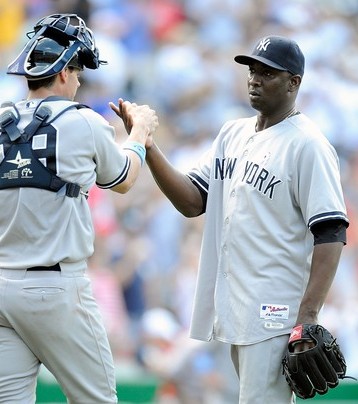 Rafael Soriano fired a perfect ninth inning — his second true 1-2-3 inning of the season — to record his 13th save of the campaign. He's the first non-Mariano Rivera pitcher to save that many games in a single season for New York since John Wetteland in 1996. Steve Karsay had been the previous leader with a dozen in 2002.
Between the end of Saturday's game and the start of Sunday's, Robinson Cano drew walks in four consecutive plate appearances. Three of them were intentional, but I can't imagine the four straight walks thing has happened many times in his career, if at all. Robbie came into the series with a 7.5% walk rate and left with a 9.3% walk rate because Washington wanted nothing to do with him at the plate. Judging by his opposite field solo homer in the seventh, they had the right idea.
Alex Rodriguez and Raul Ibanez combined for an ugly 0-for-10, but every other non-pitcher in the starting lineup combined to go 10-for-23 with five walks. Granderson, Cano, Teixeira, and Chris Stewart (!) all had multiple hits, including at least one for extra bases. Andruw Jones went hitless in three at-bats but did draw two walks, one to start a rally by leading off an inning — RISPFAIL snuffed it out — and another while Teixeira's scored on the wild pitch.
I don't want to make a big stink about it, but I didn't like the call to sacrifice bunt with Nova in the sixth. The Yankees had men on the corners and none out, let him swing the bat. It was a one-run game at the time and you've got three chances to get that run in, don't forfeit one. The Yankees didn't score after Nova got the bunt down — Jeter flew out to medium center field and Granderson grounded out — but it really didn't matter given the final score. Just irked me at the time.
As I said earlier, the Yankees have now won their last nine games. They've also won 12 of their last 13, 14 of their last 16, and 19 of their last 23. New York has had the best record in the AL for a few days now but had the Dodgers not managed their ninth inning comeback against the White Sox, the Yankees also would have had the best record in baseball (by winning percentage).
One final note: big ups to the Nats and the Mets. Washington swept the Red Sox (in Fenway!) then got swept by the Yankees. The Mets got swept by the Yankees and then swept the Rays (in Tampa!). That's some mighty fine work by those two clubs and I just want to let them know it was appreciated.
Box Score, WPA Graph & Standings
MLB.com has the box score and video highlights, FanGraphs the advanced stats, and ESPN the updated standings.

Source: FanGraphs
Up Next
The Yankees return home after a massively successful six-game road trip and will welcome the Braves to the Bronx for three games starting Monday evening. It'll be a rematch of last Tuesday's starters, southpaws CC Sabathia and Mike Minor. If you want to head up to the Stadium to catch the game, check out RAB Tickets.