There's nothing quite like beating the tar out of the first place team in the division, is there? It's games like this that make me appreciate how fans of other teams feel when they whoop the Yankees. Despite their sometimes sluggish play during the first third of the season, the Yanks are just a half game back of first place and not that far back (either 1 or 1.5 games, depending on the outcome of the Texas-Oakland game) of the best record in the AL. Good times are ahead.
Age don't mean a thing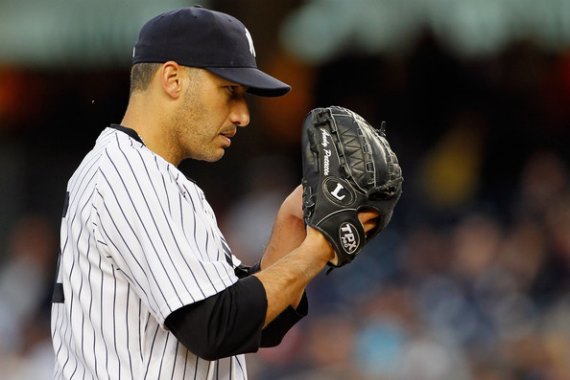 Ten days from his 40th birthday, Andy Pettitte threw was what debatably his best start of the season. He used 103 pitches to retire 22 Rays, striking out 10 of them and allowing just two hits. Of those two hits, only one reached the outfield. At no point during the game did Pettitte make us feel uncomfortable. In fact, there were times when I'd glance down to read a paragraph or two, and look up to see he'd retired a batter and was two strikes deep on the next one.
There was certainly an uneasy feeling surrounding Pettitte's return in May. I was excited as anyone — it's Andy freaking Pettitte, after all, my absolute favorite Yankee of my lifetime — but there were legitimate questions about his ability to succeed at age 40 after a year away from the game. Add to that the Yankees' absolute need for starting pitching at the time, and it seemed like a tall task. Yet Pettitte has shown he's up to it. Even his rough starts haven't seemed all that bad.
RISP when they need it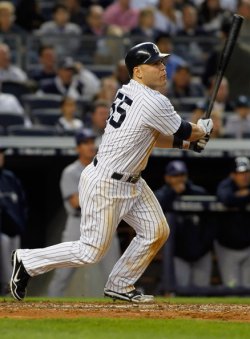 With eight hits and four walks, the Yankees inevitably saw plenty of situations with runners in scoring position. While they did manage to raise their season average, they did so only slightly, going 3 for 12. Yet they got the one hit they needed, exactly when they needed it. With one out in the fourth they loaded the bases off James Shields, bringing Russell Martin to the plate. And oh boy did Russell deliver.
He went up there looking for a pitch to hit, taking aggressive swings at the first two pitches and pulling them foul. After going inside with the first two pitches Shields worked away from Martin on the 0-2 pitch, but it got enough of the plate that Martin put the fat part of the bat on it. Away it went, clearing the fence in right for a much-needed grand slam. Believe it or not, despite their horrific overall results with the bases loaded, the Yankees are tied for the league lead in grand slams.
Finally figuring out Shields
For the past two seasons, James Shields has gotten the best of the Yankees. Sure, he's 4-4, but many of those losses came on the strength of the Yankees pitching staff. In 76.1 innings from 2010 to 2011 Shields pitched to a 2.83 ERA, striking out 71 and walking just 22. This year, though, it seems they have him figured out.
Even with the two unearned runs in the first inning, Shields still yielded five runs in five innings, bringing his total to 14 earned runs in 16 innings this season (7.88 ERA). He has struck out just nine while walking 10 and surrendering four homers. Shields hasn't been performing well overall this year, but he's been at his worst when facing the Yankees. Given his previous results, it's quite satisfying.
Leftovers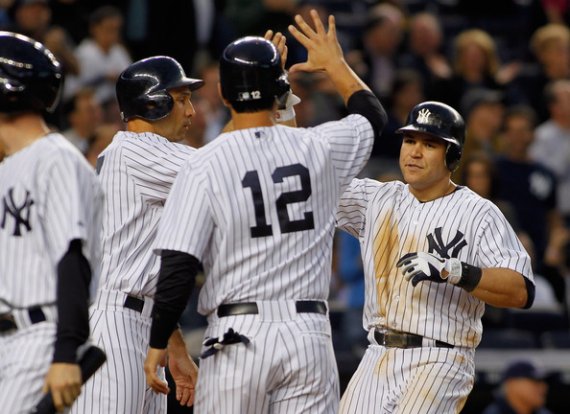 Russell Martin raised his average 17 points with his 3 for 4 performance, taking the exit off the interstate and landing at .211.
After terrorizing the Yankees in the season opening series (6 for 12 with two homers and a double), Carlos Pena has gone 2 for 15 with no extra base hits against them.
Raul Ibanez drew two walks, after having not drawn one since May 17th in Toronto, a 51-PA walkless stretch. (Yet he managed seven extra base hits in that span.)
Freddy Garcia lives! He got into his first game since May 21st, when he gave up two runs in 2.1 innings against Kansas City. Last night he allowed two hits but allowed no runs in 1.2 innings of relief. Since his ouster from the rotation he has allowed two earned runs in 9.1 innings, though he has struck out four and walked three. That's mop-up duty for you.
Box Score, WPA Graph & Standings
You know the drill: MLB.com for basic box score and video highlights, FanGraphs for all the nerdery you can handle, and Mike likes ESPN for the standings and I'm not going to interrupt his usual thing.

Source: FanGraphs
Up Next
Game 2 of this three-game set pits Ivan Nova against Alex Cobb. Maybe the ball stays inside the ballpark this time, hmmmm, Ivan?