Remember when Buck Showalter's magic turned the Orioles into legitimate contenders? Since peaking at 27-14 in mid-May, Baltimore has gone 26-35 and sunk back into the middle of the AL East pack. They're better than I thought they were coming into the season, but the O's seem to have mastered the art of the hot start and midseason fade.
What Have They Done Lately?
The Orioles just lost two of three to those powerhouse Athletics and have lost five of seven overall. At 53-49, they are tied with the Rays for second place in the AL East, eight back of the Yankees in the loss column. Their -58 run differential is the fourth worst in the AL.
Offense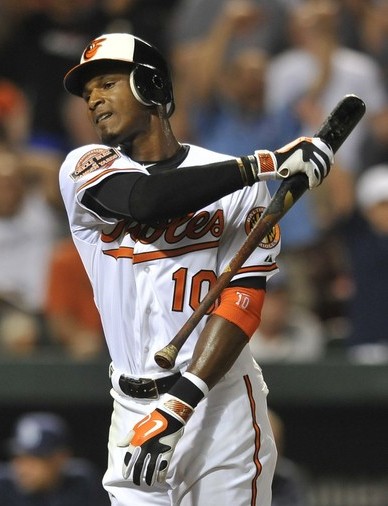 With an average of 4.2 runs per game, Baltimore somewhat surprisingly is a bottom five offense in the AL. I thought they were much better for some reason. Adam Jones (134 wRC+) has been their best player by a large margin this season, and he ranks ninth in the AL with 24 dingers. Nick Markakis (114 wRC+) provides solid support, and lately he's been batting leadoff as Showalter tries to find someone to ignite the offense.
The Orioles added a big bat in Jim Thome (118 wRC+ vs. RHP), their regular DH against righties. They tend to rotate against lefties. J.J. Hardy (69 wRC+) and Matt Wieters (96 wRC+) fill out the top five of the lineup while Chris Davis (103 wRC+) and Wilson Betemit (93 wRC+) provide some depth at the bottom of the order. Baltimore just recalled Lew Ford (!) after he hadn't appeared in the big leagues since 2007, and he went 0-for-3 with a walk in his first game yesterday. Can't believe that guy is back in the show. Seriously.
The bench is filled out with the likes of backup catcher Taylor Teagarden (-18 wRC+ in limited action), infielder Ryan Flaherty (47 wRC+), and outfielder Endy Chavez (23 wRC+). The recently acquired Omar Quintanilla (124 wRC+ in limited time) is now playing second base regularly with Brian Roberts and Robert Andino both injured. The Orioles have hit the third most homers in baseball (127), so they'll make you pay when you make a mistake.
Pitching Matchups
Monday: RHP Freddy Garcia vs. RHP Miguel Gonzalez
A former Rule 5 Draft pick of the Red Sox, the 28-year-old Gonzalez has pitched to a 4.28 ERA (5.51 FIP) in four starts and three relief appearances since making his big league debut earlier this season. The strikeout rate is solid (7.49 K/9 and 19.1 K%), but the walk (4.28 BB/9 and 10.9 BB%), homer (1.60 HR/9), and ground ball (35.7%) rates all leave a lot to be desired. Gonzalez is a five-pitch guy, using low-90s fastballs (two and four-seamer) to setup his low-80s slider, low-80s changeup, and upper-70s curveball. The curve and two-seamer are scarcely used fourth and fifth offerings, however.

Tuesday: RHP Ivan Nova vs. RHP Chris Tillman
The Yankees have seen an awful lot of Tillman through the years — they've tagged him for a .394/.468/.532 line in five career starts and he also surrendered the single that pushed Derek Jeter past Lou Gehrig for the franchise's all-time hits record. He's pitched to a shiny 1.77 ERA (3.35 FIP) in four starts since returning from Triple-A, with career best strikeout (7.06 K/9 and 18.3 K%) and homer (0.42 HR/9) rates. The walk (3.74 BB/9 and 9.7 BB%) and ground ball (36.4%) numbers are in line with his career norms. Tillman, 24, has gotten some velocity back and now sits in the low-to-mid-90s with the four-seamer. He also throws a low-80s cutter, a low-80s changeup, and an upper-70s curveball. This isn't the same guy we saw over the last few seasons.
Wednesday: RHP Phil Hughes vs. LHP Zach Britton
After missing the start of the season with a shoulder issue, the 24-year-old Britton has pitched to a 5.74 ERA (5.82 FIP) in three starts since returning. He's walked more batters than he's struck out (11 BB and 8 K) with a dynamite 66.0% ground ball rate in just 15.2 innings. Britton's break-and-butter is a power low-90s sinker that is legitimately one of the best sinkers in baseball. He'll also mix in a four-seamer at the same velocity with the requisite low-80s slider and low-80s changeup. The Yankees saw Britton a few times last year, but there are only so many adjustments you can make against a sinker-slider type.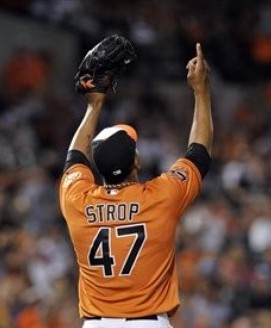 Bullpen Status
Although Wei-Yin Chen failed to complete six innings yesterday, the Orioles don't have a single reliever who's pitched in each of the last two days. Setup man Pedro Strop (3.46 FIP) and middle guy/former Yankee Luis Ayala (4.00 FIP) both threw an inning yesterday, as did righty specialist Darren O'Day (3.12 FIP). Lefty specialist Troy Patton (3.53 FIP) recorded an out as well. Closer Jim Johnson (3.83 FIP) hasn't pitched since a massive meltdown two days ago, but he'll be fine. He's really good. Righties Kevin Gregg (4.31 FIP) and Matt Lindstrom (3.58 FIP) fill out the rest of the bullpen.
Despite the extra innings loss yesterday, the Yankees are in pretty good shape in the bullpen. Rafael Soriano has appeared in two straight games but only needed eight pitches last night. Check out our Bullpen Workload page for exact usage details, and check out Camden Crazies for some fantastic Orioles coverage.
Ticket Info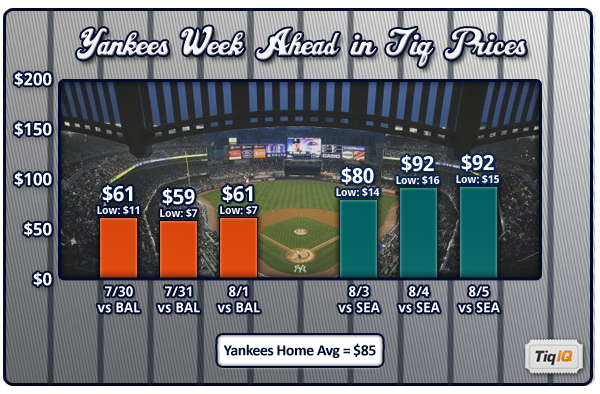 Besides the already low prices for this week's series in the Bronx, TiqIQ also has some great ScoreBIG/Make-An-Offer deal opportunities for you to rack up even more savings. These make an offer deals can't be beat and tickets can sometimes be had for as low as $10, and you don't have any pesky service or shipping fees to worry about. Just name your price and avoid all the hassles.
Click here to sign up for for your own ScoreBig account and start saving today: http://tiqiq.us/CRt

7/31 vs Baltimore: Save 53% and offer $52 for 3-star seats (List price: $110.64)

8/1 vs Baltimore: Save 51% and offer $35 for 2-star seats (List price: $71.72)

8/3 vs Seattle: Save 50% and offer $98 for 5-star seats (List price: $195.00)

8/4 vs Seattle: Save 25% and offer $95 for 4-star seats (List price: $127.32)

8/5 vs Seattle: Save 28% and offer $80 for 3-star seats (List price: $110.64)
Click the Golden IQ to make an offer and get to The Stadium for less!
And to see our entire ticket inventory, click here: http://tiqiq.us/CSl