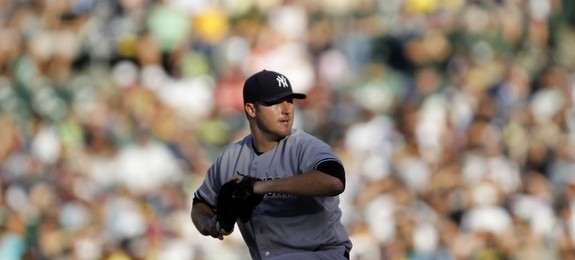 I don't know the answer to this — I'm not even sure how I would go about finding the answer without doing it manually — but when was the last time the Yankees and Red Sox met this late in the season (~100 games in) with one club being in first and the other being in last? Probably back during the early-1990s before the wildcard era, no? Either way, it's been a really long time. Here's the starting nine…
SS Derek Jeter
CF Curtis Granderson
2B Robinson Cano
1B Mark Teixeira
LF Raul Ibanez
DH Andruw Jones
3B Eric Chavez
RF Ichiro Suzuki
C  Russell Martin
RHP Phil Hughes
Tonight's game starts a little after 7pm ET and can be seen on YES locally and MLB Network nationally. Enjoy.
Nick Swisher Update: Swisher (hip) did all the drills — batting practice, sprints, running the bases, etc. — and is available as a pinch-hitter tonight if Joe Girardi is willing to use him. I suppose that means he could be back in the starting lineup as soon as tomorrow, thankfully.
Joba Chamberlain Update: Joba (elbow, ankle) will make his next minor league rehab appearance with Double-A Trenton on Sunday. He said he feels fine physically but needs a "couple more" rehab appearances to shake the rust off, basically.