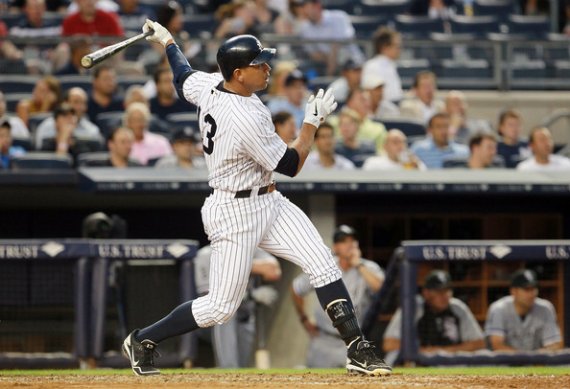 Off the bat it looked like he'd tied it. On the first pitch in the bottom of the eighth, just after the Yankees had relinquished the lead, A-Rod nearly brought them back. Joel Perlta delivered a curveball that fell into the lower half of the strike zone, middle-away. That's a pitch that Rodriguez has handled well in the past. Using his superhuman opposite field power, Rodriguez put a good swing on it and seemingly caught it on the at part of the bat. It was high, it was far…
But it was not gone. Instead it fell into Ben Zobrist's glove just before it hit the top of the wall. You weren't alone if your first thought was, "two years ago that would have been gone." Despite the clarity of that thought, the reality took some time to sink in. The time of Alex Rodriguez as a premier hitter in the majors has seemingly passed. This is a particularly harrowing idea considering the future commitment the Yankees have made to him.
Heading into the season I retained guarded optimism for Rodriguez's turnaround. His underperformance in 2011 was largely due to injuries. First the torn meniscus in his knee played a part in his waning power, and then it caused him to miss more than a month. September injuries further sapped his performance and his on-field time. After a winter spent getting platelet-rich plasma injections and working with Mike Clark to restore his bodily balance, there certainly remained the chance that he'd return to at least his 2010 form, if not his 2008-2009 form.
While Rodriguez has been healthy this year, playing in 76 of the Yankees 79 games, his production has shown no signs of improving. In fact, his power numbers are lower than they were last year, while his other numbers are seemingly in line. He has hit just nine doubles this year in his 76 games, down from 21 doubles in 99 games last year. Even at 150 games, A-Rod is on pace for only 17 or 18 doubles this year.
In the last two seasons combined, in which Rodriguez has played 175 games and has amassed 753 plate appearances, he's hitting just .272/.360/.450. An .810 OPS isn't all that bad; it ranks fourth among qualified third basemen in the last two seasons. But it's a far cry from the .888 OPS he produced from 2009 through 2010. That mark ranked second in the majors among full-time third basemen, behind only Ryan Zimmerman. The most striking change from the 2009-2010 to the 2011-2012 period is Rodriguez's power numbers. He went from a .241 ISO during those seasons to a .178 ISO in the last two.
The good news is that Rodriguez is still relatively productive among his peers. He ranks seventh in the majors in OPS among third basemen, and fourth in the AL. We can take solace in that when Rodriguez hits another single. Yet at his salary, and at his expectation level, the commendation falls a bit flat. The Yankees expected superstardom for a longer span than they realized. Those days, it appears, are in the past.
We've seen veteran players turn things around after slow first halves before. Jason Giambi got off to a slow start in 2005 before battering the competition in the second half. Just last year Derek Jeter exploded in the second half after hitting just .270/.330/.353 in the first half. There is hope, then, that Rodriguez can turn things around. But at this point it's difficult to maintain even guarded optimism. The evidence of the last few years just doesn't seem to point in that direction.