I suppose the good news is that the Yankees didn't lose by one run. All those close losses were getting to be a little too infuriating. Instead they lost by six runs after blowing a five-run first inning lead. Hey, if you're going to stink, you might as well go all out and get booed off the field.

Remember A Friend
One of Ivan Nova's best friends on the team last year was A.J. Burnett, and apparently he's decided to honor his traded friend by pitching just like him. Not the good Pirates version of Burnett, the bad version that polluted the Yankee Stadium mound for the last two years. After allowing a career-high nine runs in five innings to the Orioles — he said after the game that this start was a product of bad luck — Nova owns a 4.53 ERA (4.44 FIP) that is far too close to the 5.20 ERA (4.80 FIP) that A.J. posted from 2010-2011 for my liking. Ivan has allowed at least six runs for the third time in his last six starts and raised his July ERA to 5.97. June is the only month of the season in which he's had a sub-5.00 ERA (1.26).
The worst part of it all is that all seven runs in that second inning scored with two outs. Nova had noted whiffed machine Mark Reynolds in an 0-2 hole with men on the corners and a chance to escape the inning unscathed when he hung a slider that was ripped just fair for a ground rule double. It just snowballed into a disaster inning from that. That "hung a slider" part was a common theme all night — Nova consistently made mistakes out over the plate…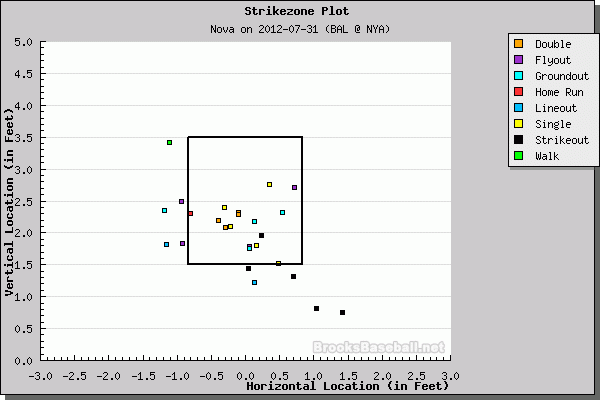 Nova looks nothing like the pitcher we saw in the second half last season and really hasn't for most of the season. He's kinda lucky that Andy Pettitte is injured and David Phelps has been shoe-horned into a relief role — in part because the Yankees never bothered to add a non-matchup reliever over these last few weeks — because otherwise he'd be back in Triple-A. The trip to the minors did him a world of good last year, but now he's got to figure it out at the big league level where the hitters are less forgiving. The sooner Nova stops pitching like crap, the better.
Cheap Suit
The Yankees exploded for those five runs in the first inning and it was glorious. They hit homers, had regular old base hits with runners in scoring position, they scored on an out, the defense made an error, there was something for everyone in that inning. New York's offense folded right up after that, recording just five hits — including two infield singles by Derek Jeter — the rest of the way. Only two Yankees made it as far as second base after that first inning. I really don't have the motivation to write about this, they've been stinking the place up with the bats since the start of the West Coast trip.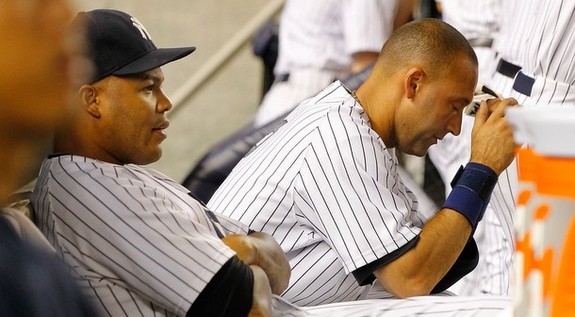 Leftovers
Since the start of the Red Sox series, the Yankees' cleanup hitters are a combined 1-for-20. This lineup is just so much different without Alex Rodriguez, he changes everything. Robinson Cano and Curtis Granderson have a combined two hits in their last 33 at-bats, both of which came in that first inning (single by Grandy, homer by Robbie)
The Yankees have drawn one walk in these two games, which is very un-Yankee-like. You can tell when this offense is in a funk because they aren't racking up big pitch counts and drawing those base-on-balls. They're all trying to force something that isn't there. On the other hand, every starter had at least one hit, but most of them came in that first inning. Jeter had three and was the only guy with multiple knocks.
For a guy with a great arm, it sure seems like a lot of base-runners have taken the extra-base on Ichiro Suzuki since he came to New York, no? Maybe my expectations were too high. Either way, he slapped a ground ball single back up the middle to extend his streak of exactly one hit in every game with the Yankees to eight.
Clay Rapada allowed a two-run homer to Nick Markakis, pretty much a no-no for a left-handed specialist. Boone Logan and Cody Eppley otherwise pitched well after Nova bit the bullet for five innings. The bullpen was short with Chad Qualls on his way to Pittsburgh and David Phelps unavailable after throwing nearly 40 pitches on Monday.
Box Score, WPA Graph & Standings
MLB.com has the box score and video highlights, FanGraphs some other stats, and ESPN the updated standings. The Yankees are still six games up in the loss column in the division.

Source: FanGraphs
Up Next
The Yankees will look to salvage this pathetic excuse of the series on Wednesday afternoon, when Phil Hughes gets the ball against Zach Britton. Check out RAB Tickets if you want to catch the matinee.