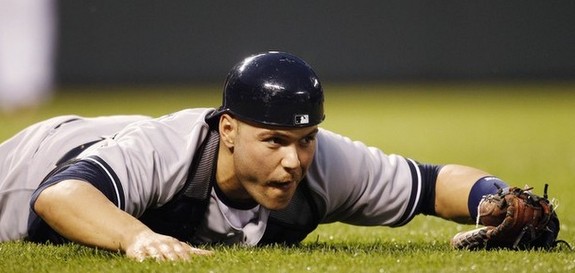 I think we all knew that the post-Jorge Posada era would be a shock to our system, at least initially, but I'm not sure we expected it to be this bad. Posada was one of the greatest offensive catchers in history and as of right now, the Russell Martin-Chris Stewart catching tandem has combined for a .204/.295/.340 batting line. That's a combined 73 wRC+ which ranks 23rd among the 30 clubs. Catchers across baseball are averaging .247/.315/.398, which seems Ruthian compared to New York's backstops.
As the starter, Martin gets the majority of the blame. He proclaimed that he was "starting to feel dangerous at the plate" after hitting two homers (including a walk-off) in a game against the Mets last month, but he's followed up that statement with four (!) hits and four walks in his last 58 plate appearances. He hasn't reached base in his last 27 (!!!) trips to the plate. That's dragged his season line down to .178/.297/.347 through 81 team games, a lowly 77 wRC+. Dating back to May 25th of last season (an admittedly arbitrary endpoint), Martin is hitting .203/.330/.353 in 554 plate appearances. This isn't a small sample.
Stewart has hit an empty .270 as Martin's backup, slapping singles off infielders' gloves and dunking bloops into shallow left seemingly once a start. He doesn't walk or hit for any power, which is why his batting line sits at .270/.295/.311 in limited playing time. For all the talk about his clutch hits, Stewart has six singles in 29 plate appearances with runners in scoring position this year (.222/.214/.222). The guy has never really hit before, hasn't hit this year, and there's no reason to expect him to hit in the future. He is who he is.
Offense is obviously not the team's strong point behind the plate, but defense supposedly is. Stewart has allowed the fifth most passed balls in the league (five) despite being a backup, and he's only thrown out four of 14 attempted basestealers. That's a league average 28.5%, hardly what you expect from someone touted as a defensive standout. Stewart seems like a classic Nichols Law of Catcher Defense guy, frankly. Martin has allowed four passed balls of his own and has only thrown out 12 of 51 attempted basestealers (below average 23.5%). The Rays showed him no respect by stealing seven bases (in seven attempts) over the last two games. Anecdotally, I consider the two to be about average or maybe even slightly above averageon defense, underwhelming compared to expectations and reputations.
I can't remember the last time a team won the World Series without an above average offensive catcher. I suppose the 2006 Cardinals with a young Yadier Molina, but then you have to go back to the Joe Girardi era mid-1990s Yankees. It's not early anymore, the season is officially halfway complete and the Yankees have gotten little production from their catchers. You may disagree and feel Martin and Stewart have been very good on defense, but I have a hard time believing their glovework has made up for the limp bats. I don't think calling up Frankie Cervelli — 86 wRC+ in Triple-A — is the answer, but he'd probably be an upgrade at this point. Either way, the Yankees need to serious consider going out and addressing their catcher situation at the trade deadline. These two aren't cutting it at all.